McCarthy whiffs nine, but D-backs fade in opener
Righty takes MLB-high eighth loss; Gregorius hits second leadoff blast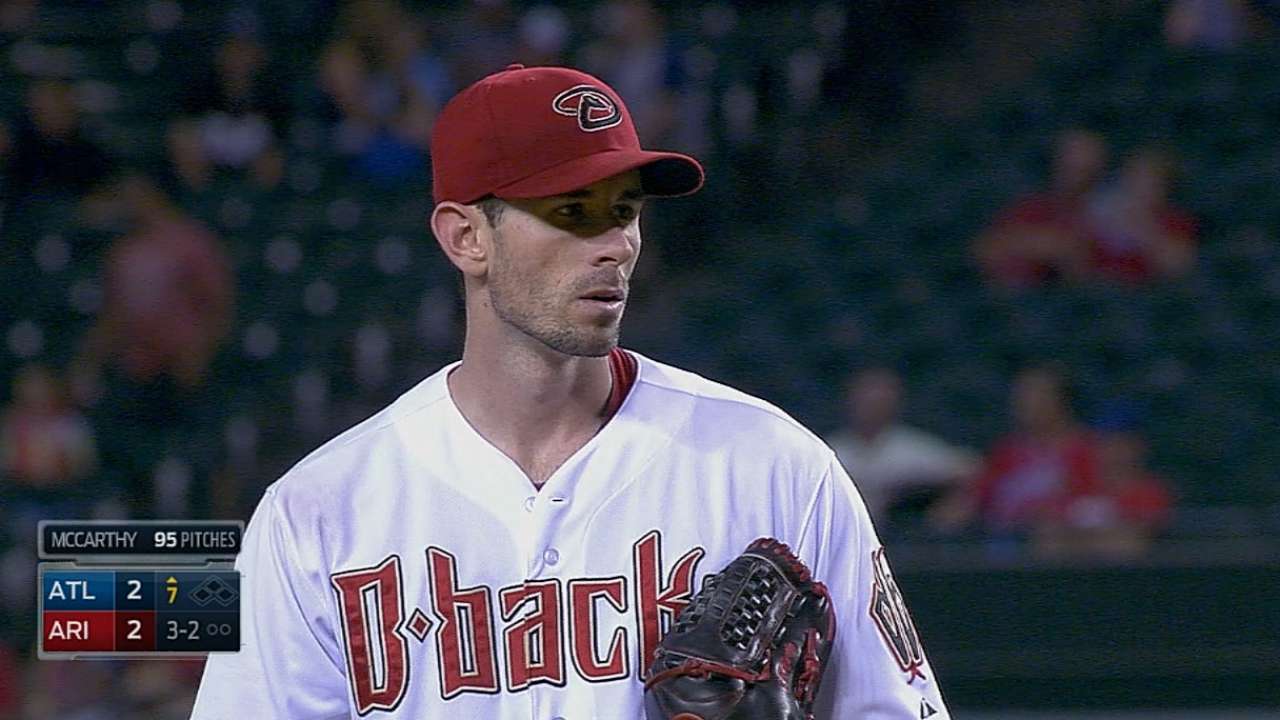 PHOENIX -- Brandon McCarthy avoided the big inning that has plagued him all season, but it wasn't enough to give the D-backs a series-opening win Friday.
McCarthy picked up his fifth quality start of the season and struck out nine batters, but he still fell to 1-8 -- the most losses in the Major Leagues -- and the D-backs dropped the game, 5-2, to the Braves at Chase Field.
"He threw the ball good," D-backs manager Kirk Gibson said. "[He] gave us a chance to win and we just couldn't get enough runs tonight."
Like he had in previous starts, McCarthy (1-8) ran into trouble in the middle innings. Coming into Friday's game, he had an 11.91 and 7.84 ERAs in the fourth and fifth innings, respectively. His fourth-inning ERA went down after Friday's game, but his fifth-inning mark went up.
In the fourth, he gave up a double to catcher Evan Gattis, but poor baserunning from Gattis allowed second baseman Aaron Hill to tag him out on a fielder's choice, helping McCarthy escape the inning unscathed.
It was a similar theme at first in the fifth inning. McCarthy gave up a leadoff double to center fielder Jordan Schafer, but after getting opposing starter Julio Teheran to strike out, right fielder Jason Heyward launched a home run the opposite way to give the Braves a 2-1 lead.
"A fastball up and away, I believe," Heyward said. "I have long arms and I can reach over. Again, I wasn't trying to do too much. Just trying to get a pitch to hit hard, and it happened to get out of here."
Said McCarthy: "It was more meant to set up something else. It was a pitch I don't expect to get hit at all. It was right where I wanted it. It's just a hard four-seam [fastball] up and away. I wanted to use it to establish something else, and he took a swing at it and hit a home run. So it was pretty surprising."
McCarthy regained control after the home run and even helped his own cause in the bottom half of the inning.
Rookie left fielder David Peralta led off the inning with a double, but after Tuffy Gosewisch popped up and Ender Inciarte struck out, it looked like the inning was doomed. McCarthy came into the game with a .044 career batting average, but that didn't stop him from slapping a single between the third baseman and shortstop, scoring Peralta and tying the game at 2. It was the fourth hit of his career and his first ever RBI.
"I think I got lucky," McCarthy said. "I think [Teheran] hung a slider.
"It's a good thing to get that, but I think now I have as many RBIs as I have wins and we're in the second week of June, so that's probably not a great thing. But at least for that moment it was kind of a cool thing."
McCarthy's opponent, Teheran, also had his hiccups. The first batter he faced, shortstop Didi Gregorius, hit a home run over the right-field fence, making Gregorius the first D-backs player to lead off two consecutive starts with home runs. He also hit one to begin the D-backs' 16-8 win against the Rockies on Wednesday.
"He's a really good pitcher, so you have to give him that," Gregorius said. "He threw me a fastball inside, and luckily I hit it out."
But Teheran's offense provided for him, and he moved to 6-3 on the season after shortstop Andrelton Simmons put the Braves ahead 3-2 in the seventh inning, scoring Heyward with an RBI double, which proved to be the final run the Braves would need -- though they added two more in the ninth inning off reliever Trevor Cahill.
"The ball moves all over, he changes speeds on all his pitches," Gibson said. "We hung in there 'till the end."
Adam Lichtenstein is an associate reporter for MLB.com. This story was not subject to the approval of Major League Baseball or its clubs.