Ross' hot streak ends with loss to Nationals
Starter allows two-run homer in the first, four runs in messy sixth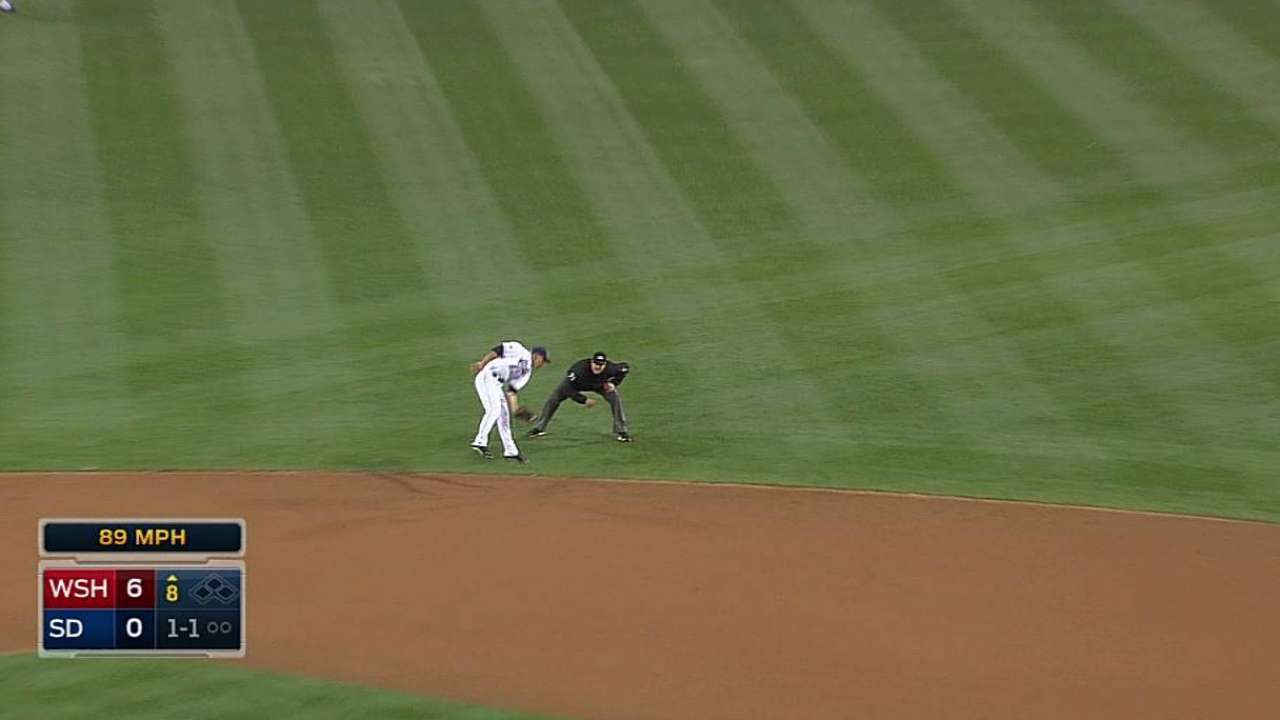 SAN DIEGO -- The Padres were nearly one-hit for the second straight game Friday night, falling to the Nationals, 6-0, behind a four-run sixth inning, a two-run homer from Anthony Rendon and a dominant performance by Washington's Tanner Roark.
It was another frustrating offensive performance for the Padres (27-34), who are falling further out of the NL West race. Washington (31-28) stayed one game behind Atlanta in the NL East.
Aided by nine walks, San Diego had managed to beat Pittsburgh, 3-2, on Wednesday despite mustering just one hit. But Roark made sure they wouldn't come close to pulling off such a feat again Friday, allowing one hit through the first seven frames before allowing two more in the eighth.
"We're not swinging the bats collectively very well," said Padres manager Bud Black. "You just gotta keep putting your nose to the grindstone and keep working."
It was Roark's second stellar outing against the Padres this season. Roark threw his first -- and only -- career shutout against San Diego on April 26 in Washington, D.C, allowing three hits over the complete game. He came close to matching that feat Friday, setting a career high with 11 strikeouts.
"He's a guy that kind of has that little late bite to [his fastball]," said Padres first baseman Yonder Alonso, whose second-inning double was San Diego's only extra-base hit of the night. "It comes, runs back in inside, or it just blows it past when he comes up."
Roark (4-4) had lost his last three starts, but the Padres, who have totaled just eight runs and 15 hits over their last five games, proved to be the perfect cure to his troubles.
"I have no idea [why]," Roark said. "I'm just doing my thing. I'm throwing strikes, not worried about what team we are facing."
The game was a continuation of several individual slumps for the Padres.
Carlos Quentin has no hits in his last 16 at-bats after going 0-for-4 with two strikeouts Friday. Over that span, his averaged has dropped from .370 to .233 in a season that's seen him play in just 17 games due to groin and knee injuries.
Chase Headley is 5-for-38 in his last 11 games with one walk and 13 strikeouts, and is now hitting .192 on the season.
"We gotta have better at-bats," Alonso said. "We knew we had to get [Roark] early on and we weren't able to."
The only hits Roark gave up were the double to Alonso and a pair of eighth-inning singles to Tommy Medica and Rene Rivera, who was the only starter in Friday's lineup who also had a hit against Roark on April 26.
In May, Tyson Ross (6-5) had given up just one earned run in five of his six starts. But before he could even record an out against Washington, Rendon launched a 425-foot bomb into the second deck beyond left-center field.
Over the next four frames, Ross would allow just one hit while striking out six Nationals. But in the sixth, a close game turned into a rout as six straight Nationals reached base. Ross had a throwing error followed by a wild pitch before allowing a walk, a ground-rule double to Wilson Ramos, a walk, a hit by pitch and a two-run single to Nate McLouth. Suddenly, the Padres were down 6-0.
"In the sixth inning something was off and I just kind of lost my release point," Ross said. "I needed to make an adjustment and get myself back on track but it kind of snowballed on me. They really made me pay."
Across 5 1/3 innings, Ross allowed a season-high six runs (five earned) and five hits, while walking three and striking out seven.
Washington has now won four in a row and six of its last seven, while the Padres have lost four of their last five.
The teams resume the three-game series on Saturday at 7:10 p.m. PT.
Will Laws is an associate reporter for MLB.com. This story was not subject to the approval of Major League Baseball or its clubs.