Two homers lift Stroman in opener vs. Cards
Bautista, Lowrie help rookie pitcher go 2-for-2 in career starts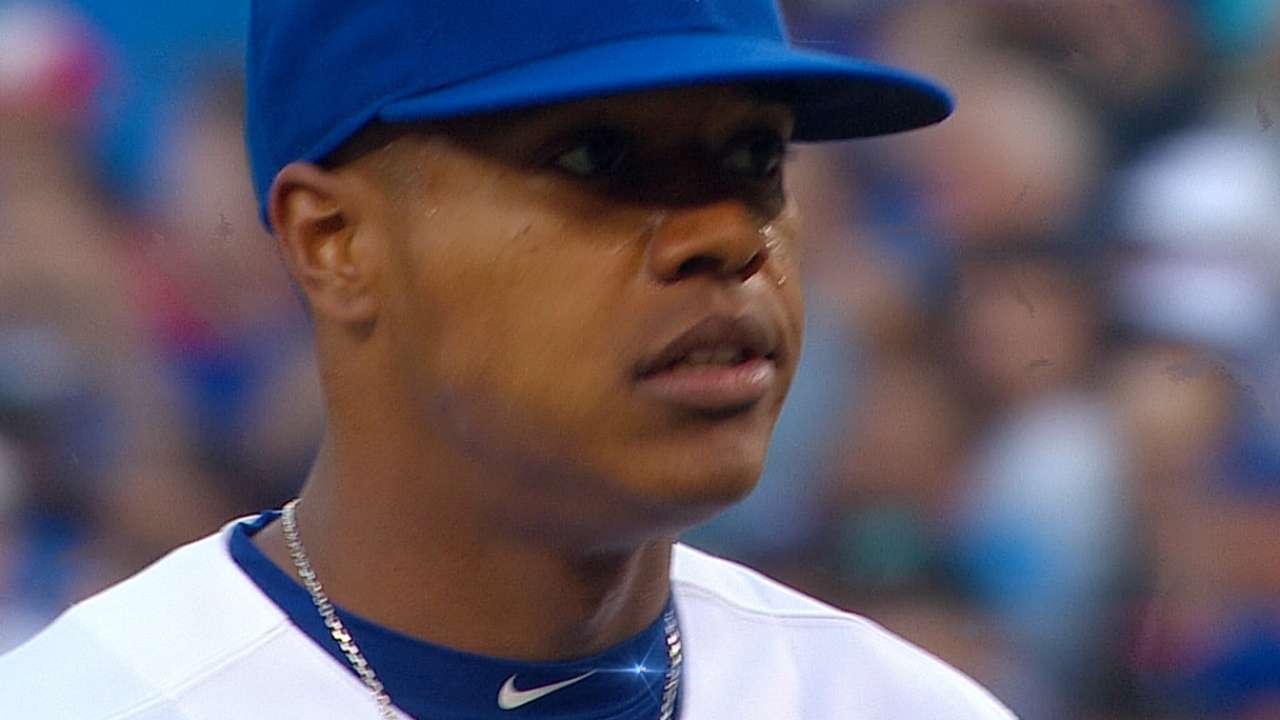 TORONTO -- There's a confidence in the Blue Jays dugout that's contagious. Manager John Gibbons knows it's still early, but he also knows his American League East-leading club is playing good baseball.
"They've got that good feeling in the dugout that you've always got a chance," he said before Friday night's game, and his team didn't prove otherwise.
Brett Lawrie's solo homer in the fifth tied his career high of 11 and was Toronto's go-ahead run in a gritty 3-1 win over the visiting Cardinals at Rogers Centre.
The Blue Jays' sixth consecutive victory was no player's lone effort. Rookie starter Marcus Stroman collected the third win of his young career, striking out seven over six-plus innings and using all of his pitches to stifle the St. Louis offense. He allowed one earned run on seven hits to the reigning National League champs and walked two.
"It's huge. He's young and new to the big leagues -- it's a big thing for his confidence, you know, 'Hey, I can face some pretty good hitters and make some pretty big pitches at the right time,'" Gibbons said after the win. "The kid believes in himself as much as anybody, and he just attacks you. He's a great competitor. He's on a mission, and he's off to a good start."
Stroman walked off the field to a standing ovation from the 33,528 in attendance after allowing a single to Tony Cruz to open the seventh.
"It's pretty special," he said of the moment. "I tried to do my best tough-guy impersonation and tried not to smile. But it was definitely pretty special walking off."
The right-hander's only major blemish was a leadoff walk to the first batter of the game, Matt Carpenter, who has now reached safely in 21 of his past 22 games. The Cardinals third baseman came around to score with two outs in the first, but the Blue Jays' defense saved any further damage. When Matt Holliday gambled on an early chance to give St. Louis a two-run lead, he tested the wrong right fielder.
With Holliday trying to score from second, Jose Bautista produced a laser of a throw to backstop Dioner Navarro to save a run and get the second out of the inning. With the play, Bautista earned his MLB-leading sixth outfield assist.
Stroman said he left his fastball up in the first, and save for a hit-by-pitch jam in the third, he settled down to retire 11 of the final 13 batters he faced.
"That's huge. I have always felt that when guys get on, I feel I have been able to buckle down and really be at my best," he said. "That's something I have always prided myself on."
Toronto knocked out Cardinals starter Lance Lynn after five innings. Though the home team loaded the bases twice on Lynn's watch, he escaped any substantial damage in limiting his earned runs to two solo shots. Bautista hit his 15th homer of the season off of Lynn on a 2-1 count in the third, extending his hit streak to 12 games and adding to his club's Major League-leading home run tally, which moved to 89 on Lawrie's blast.
"I think we were real fortunate to be in that game like we were," Cardinals manager Mike Matheny said. "You're looking at every inning having guys all over the bases and this kind of offense being able to throw a lot of runs together.
"[Lynn] made pitches when he had to, but man, it was hard. We just couldn't stack them on top of each other for ourselves. He fought and got out of some jams that were pretty early and often."
Just two starts removed from throwing a shutout, Lynn needed 110 pitches to survive five innings at Rogers Centre. The big righty's four walks matched a season high.
Bautista gave St. Louis reliever Sean Maness a lucky break in the sixth. The slugger lined into a 4-6-3 triple play that nearly took out second-base umpire Manny Gonzalez. It was the seventh triple play an opponent had turned on the Blue Jays. The previous one occurred during the second game of a doubleheader on May 12, 2008, in Cleveland.
Closer Casey Janssen shut down the visitors in the ninth for his 76th save and passed B.J. Ryan for sole possession of fourth on the club's all-time saves list.
Asked about the fans' level of excitement, Bautista acknowledged he had always felt the support of the crowd. Now, they're just a lot louder.
"I think they've always been on board," Bautista said. "It's more evident [that] they're excited and rightfully so. We're playing great baseball, and we're enjoying it."
The Blue Jays had not started the month of June with a 5-0 run since 1988.
"It's a lot of fun when you're winning," Bautista said. "It's the first time I've ever experienced anything like this at this level."
Steph Rogers is a contributor to MLB.com. This story was not subject to the approval of Major League Baseball or its clubs.