Rockies take eighth straight loss in Butler's debut
Colorado's No. 2 prospect allows six runs on 10 hits vs. Dodgers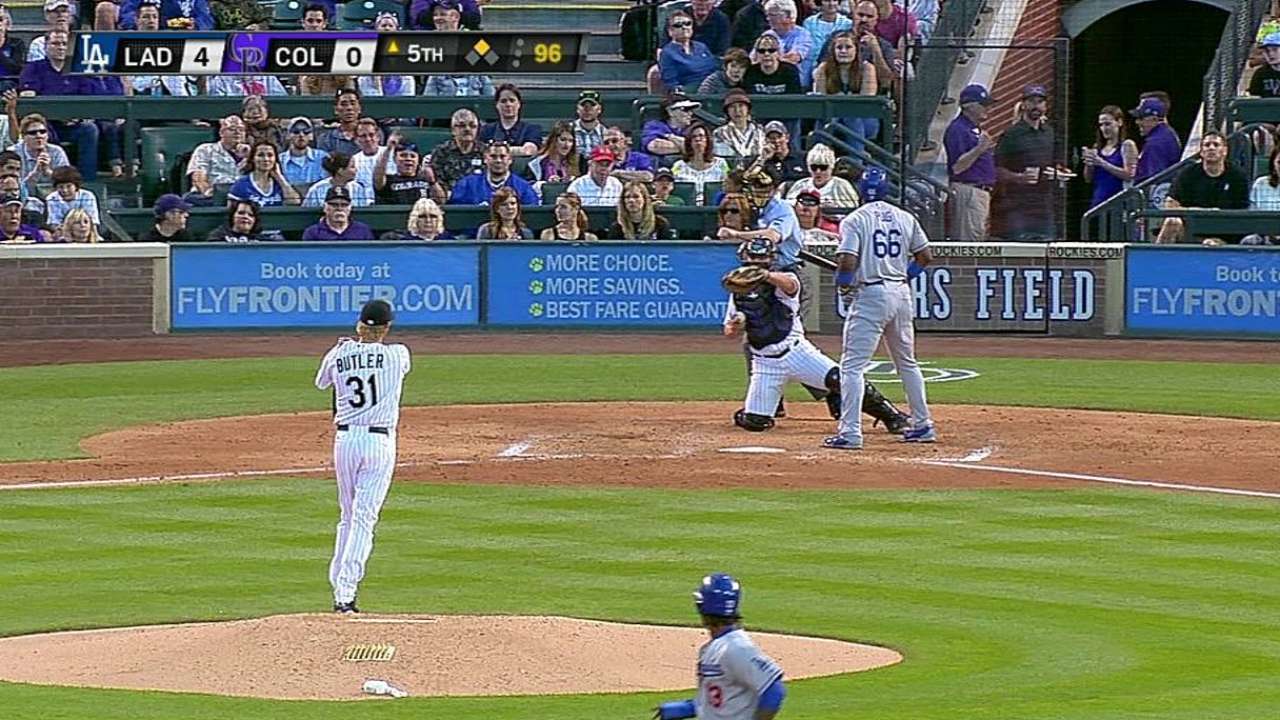 DENVER -- Two pitches was all it took for Eddie Butler to realize that Major League hitters are a breed apart from those he had faced this season at Double-A Tulsa.
Dodgers leadoff hitter Dee Gordon lashed a 96-mph fastball inside first base for a triple. First baseman Justin Morneau got a glove on the ball, but it went into the right-field corner, and the speedy Gordon ended up with a triple. It was the start of a very good game for Gordon and a difficult learning experience for Butler in his debut, a 7-2 Rockies loss on Friday night at Coors Field.
"I missed a few times over the heart of the plate, and they don't miss it here," said Butler, the 46th player taken in the 2012 Draft.
The loss was the eighth straight for the Rockies, who are in their worst slide since they dropped nine consecutive games from Sept. 15-23, 2012.
The 28th starting pitcher in history to make his Major League debut for the Rockies, Butler (0-1) worked 5 1/3 innings. The 23-year-old right-hander, who replaced Franklin Morales in the rotation after going 4-4 with a 2.49 ERA in 11 starts for Tulsa, gave up six runs on 10 hits and three walks. He actually pitched better than that line indicated and gave the Rockies reason for plenty of optimism.
"The guy has got a very bright future in this league," manager Walt Weiss said. "He showed big-time stuff. The Dodgers had some timely hits so the line [wasn't] all that pretty. He's a big-time arm. His fastball was beating the bat a lot of times tonight. He showed a very good changeup. Very poised, good pace. He's going to help us."
Butler was consistently 94-96 mph with his fastball, 90-91 mph with his slider and 89-90 mph with his changeup. Despite all the traffic, he threw just 87 pitches because the Dodgers were on the attack, often swinging early in the count. Butler recorded two strikeouts, both against Yasiel Puig.
"The opposing hitters were firing early because he was around the zone," Weiss said. "With his stuff, as a hitter you're not all that comfortable getting deep into counts with guys that are on like that. He's got the ability to be efficient and get quick outs."
Gordon tripled twice, singled and drove in three runs against Butler, who failed to set the side down in order in any inning and faced 13 batters with runners in scoring position. Meanwhile, Hyun-Jin Ryu, making his first career start at Coors Field, held the Rockies scoreless until Drew Stubbs hit a solo home run with one out in the sixth. It was Stubbs' fourth homer of the season.
Michael McKenry doubled with two out in the same inning, and scored when Charlie Culberson followed with a triple to cut the Dodgers' lead to 6-2. But Ryu (7-2) got pinch-hitter Brandon Barnes to fly out on his 100th and final pitch.
"I could tell right away why a lot of pitchers don't like throwing here," Ryu said. "It was a difficult outing out there. All aspects of gripping the ball was tough today. I just tried to keep the ball low the entire game."
The Dodgers scored once in each of the first two innings. After his game-opening triple, Gordon scored on Hanley Ramirez's grounder to shortstop. In the second, Andre Ethier singled with one out, took second on Justin Turner's groundout and scored when No. 8 hitter Drew Butera, who was batting .211, doubled into the gap in left-center.
Ryu started a two-run fifth with the first of three successive hits off Butler, a double on a 1-1 fastball over the heart of the plate that was followed by Gordon's triple and Ramirez's single.
Turner led off the sixth with a single, and Butera walked. After Ryu's sacrifice, both runners scored on Gordon's single. Butler then walked Ramirez and gave way to Tommy Kahnle, who stranded the runners.
Butler began the game with a 96 mph fastball to Gordon, a pitch that was up and away and catcher McKenry had to reach for. Butler said he settled down after that initial pitch to Gordon and didn't feel overly excited or nervous.
His next start is scheduled for Wednesday here against the Braves. There will be more normalcy, because Butler won't be making his Major League debut, which for better or worse, he'll always remember.
"I definitely want to have a better start than that and give the guys a chance to win," he said. "Gave up six runs in 5 1/3 -- it's not bad but it's not great. We kind of got shut down a little bit, especially in key situations. I didn't help out there either."
Butler was referring to his two at-bats in the second and fourth when he grounded out to end the innings with runners on first and second.
The Rockies went 1-for-10 with runners in scoring position as they fell to 0-4 on their current 10-game homestand.
Troy Tulowitzki was ejected for the second time this season for arguing balls and strikes in the ninth inning.
Jack Etkin is a contributor to MLB.com. This story was not subject to the approval of Major League Baseball or its clubs.