Royals foiled by Yanks rookie in series opener
Cain, Salvy manage RBI hits; Guthrie yields key three-run double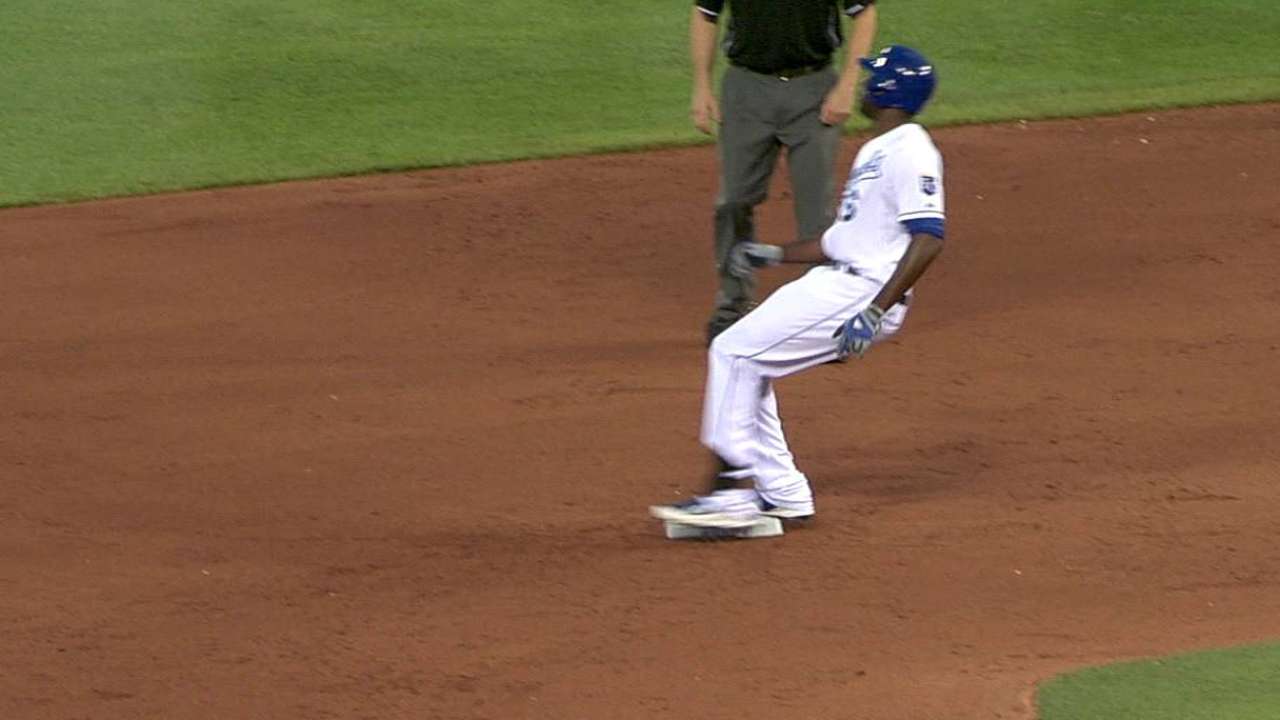 KANSAS CITY -- It looked so promising, as if lightning was about to strike for the Royals in the ninth inning. One of those moments that could change not just a game but perhaps ignite a season.
"We need some of those, we haven't had a lot of those," said the Royals' Alex Gordon.
But they didn't get it this time and the New York Yankees finalized a 4-2 victory on Friday night at Kauffman Stadium to give rookie right-hander Chase Whitley the first win of his Major League career.
Yankees closer David Robertson struck out Omar Infante and Eric Hosmer to open the ninth and put the Royals within an out of defeat. But Billy Butler ripped a double to the left-center-field wall. For a moment, it appeared as if he'd finally banged his second home run.
"I hit it on the line. This is a big park, you never know if it's outta here," Butler said. "I knew it had a chance, but I knew I hit it on the line as well."
Then, Gordon drew a walk on four pitches and the crowd of 23,418 was buzzing as Salvador Perez approached the plate.
"I had a good feeling there in the ninth inning," Royals manager Ned Yost said. "After Billy's double, Gordy got on and I was hoping Sal could get hold of one."
It didn't happen. Perez rapped into a forceout and the game was over. The momentum the Royals had built by beating their cross-state rivals, the Cardinals, in three of four games had been muted.
"Robertson's a good closer, he learned a lot from [Mariano] Rivera," Gordon said. "He does well in that position so it was good that we could get something going off him. We had a rally and just came up short. It's tough to wait that long and just try to get the closer. We need to try to do a better job in the early innings."
The early innings were where the Yankees did good job against Royals starter Jeremy Guthrie. They got a run in the second inning which was matched by the Royals in the bottom half when Gordon doubled and scored on Perez's single.
The killer came in the third inning after the Yankees loaded the bases. Jacoby Ellsbury and Brett Gardner each singled and moved up as Carlos Beltran grounded out. Mark Teixeira was hit by a pitch.
Up came Brian McCann, one of eight left-handed hitters in the Yankees' stacked lineup. Guthrie threw ball one and McCann fouled off four pitches.
"I tried to go up and away off the plate, and he went out there and slapped it," Guthrie said.
Sure did -- down the left-field line for a double that sent all three runners homeward bound.
"That's the first ball he's hit down the left-field line all year long. So a good piece of hitting by McCann," Yost said.
After that Guthrie was virtually invincible. From that point, he faced the minimum 14 batters until his last pitch in the seventh inning. That stretch was interrupted only by Brendan Ryan's single and he was thrown out by Perez trying to steal third.
Francisley Bueno and Wilking Rodriguez, two recent additions to the Royals' staff, finished up with a scoreless inning each. That gave the nucleus of the bullpen a much-needed breather.
Whitley, from Radburne, Ala., and Troy University, is a former Minor League reliever, who was making his fifth start since being called up by the Yankees from Triple-A.
He's working on improving his slider and Butler, checking out the rookie, had an unpleasant encounter with the pitch in his first at-bat when he struck out.
"I swung at a slider way out of the zone. It had nothing to do with me seeing him for the first time. It was just a reaction," Butler said. "My mind was saying 'No' and my hands swung. Sometimes that happens."
Whitley gave up a second run in the fifth when Gordon led off with a single, stole second and scored on Lorenzo Cain's double.
"I'd never seen him before. He attacked the strike zone. I don't know how many guys he walked, probably not that many," Gordon said. "Zero? Yeah, so he attacked the strike zone and offensively we just didn't do anything."
That was true enough. Whitley faced the minimum three batters in five of his seven innings. That was a welcome development after his rocky warm-up session before the game.
"I don't think I threw a strike in the bullpen. I was all over the place," he said. "But . . . I've heard guys say that when they don't have good stuff in the bullpen, they go into the game sometimes and it's really good. So, I thought: 'Maybe it will happen today.'"
It did, with no walks and 51 strikes among Whitley's 87 pitches.
"That's why bullpen sessions are irrelevant," said McCann, his catcher. "When the lights come on, it's a different story."
And the story was that the Yankees, after losing five of their previous seven games, got back on track and the Royals, after winning five of eight, had their momentum slowed.
"We just couldn't get that big hit offensively, but we were putting good swings on it all day," Butler said. "We were hitting 'em and we just couldn't find holes. We were putting some good at-bats together with no results. Those days are kind of frustrating."
Dick Kaegel is a reporter for MLB.com. This story was not subject to the approval of Major League Baseball or its clubs.