Whitley stymies Royals to earn first MLB victory
Righty fires seven solid innings; McCann hits bases-clearing double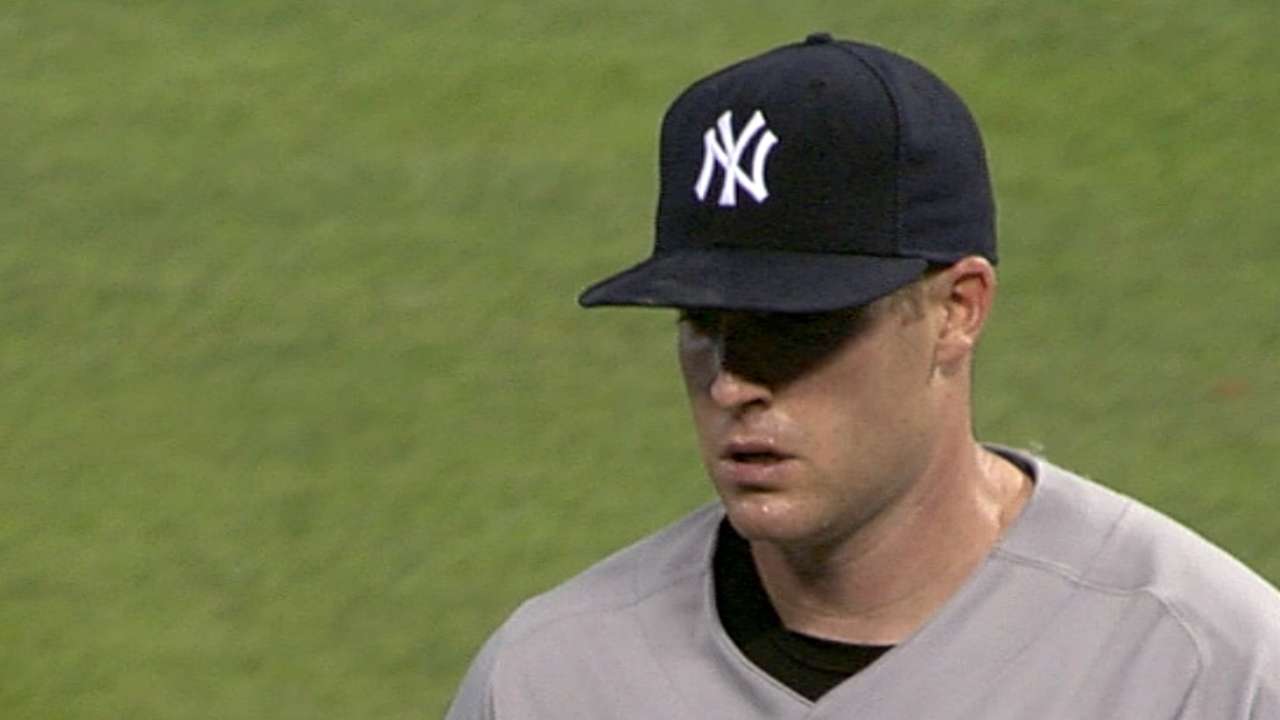 KANSAS CITY -- Through his first four starts with the Yankees, right-hander Chase Whitley was Mr. No-Decision. But in his fifth start, Whitley pitched so decisively that there was no denying him a first Major League victory.
Whitley finally got over the hump for that elusive "W" by working a career-high seven innings and allowing just five hits and two runs in New York's 4-2 victory over the Royals on Friday night at Kauffman Stadium. Not bad for a Spring Training non-roster invitee who has suddenly burst onto the scene to help rescue an injury-plagued rotation.
"Tonight's a big night," said catcher Brian McCann, who provided most of the offense with a three-run double in the third. "''We're all happy for [Whitley]. He has worked very hard to get here."
Whitley received two baseballs in honor of his milestone win -- one for his parents and one for himself. On a night when Whitley needed just 87 pitches to get through seven innings and didn't issue a walk, his pregame warmup provided no clue that such an outing was forthcoming.
"I don't think I threw a strike in the bullpen," Whitley said. "I was all over the place. But one thing I did was keep a good routine. I've heard guys say that when they don't have good stuff in the bullpen, they go into a game sometimes and it's really good. So, I thought 'maybe it will happen today.'"
Whitley, a former reliever, had a nifty 2.37 ERA entering the game, but hadn't been past five innings. With McCann guiding him from behind the plate, Whitley stubbornly protected a lead that McCann had provided when his bases-clearing double off Royals starter Jeremy Guthrie snapped a tie in the third.
Dellin Betances took over in the eighth and David Robertson closed it out despite allowing two baserunners in the ninth.
Whitley talked about an improved slider being a big factor in his success and McCann was quick to agree with that assessment.
"It [the slider] is getting tighter," McCann said. "He's using it backdoor and back foot to lefties. He has been everything we could have asked for."
McCann wasn't alarmed that Whitley didn't show good control in his pregame warmup.
"That's why bullpen sessions are irrelevant," McCann said. "When the lights come on, it's a different story."
The Yankees used an RBI single by Brian Roberts to break on top in the second. But the Royals tied it in the bottom half on a run-scoring single by Salvador Perez. Then New York got it done with a top-of-the-order attack that was minus a resting Derek Jeter.
Jacoby Ellsbury and Brett Gardner opened the third with singles and the runners moved up on Carlos Beltran's groundout. After Mark Teixeira was hit by a Guthrie pitch, McCann put together a solid at-bat before lining his opposite-field double to the left-field wall.
"He fouled off some tough pitches and then got a ball up," Yankees manager Joe Girardi said.
Although the Yankees' offense was shut out after the third, Whitley and Co. had enough ammunition with which to work.
The Royals were surprised to see McCann go the other way for the go-ahead double.
"Guthrie tried to go up and away on a power pull hitter," Royals manager Ned Yost said. "That's the first ball he has hit down the left-field line all year long. So, it's a good job of hitting by McCann."
Whitley surrendered a one-out RBI double to Lorenzo Cain in the fifth that brought the Royals within 4-2. But Whitley got the next two and was feeling good when third baseman Yangervis Solarte made an outstanding reaction catch on Nori Aoki's liner to begin the sixth.
"Getting that first out in the sixth was key," Whitley said. "Just to say I had finally gotten past five [innings]. I made pitches, the defense made plays behind me and I followed Mac."
While he'll always be able to savor this first Major League win, Whitley wasn't taking a "me first" outlook as the media converged around him.
"It's good," Whitley said. "But the most important thing today is we got the win as a team."
Robert Falkoff is a contributor to MLB.com. This story was not subject to the approval of Major League Baseball or its clubs.