Seventh-round pick's injury history not a worry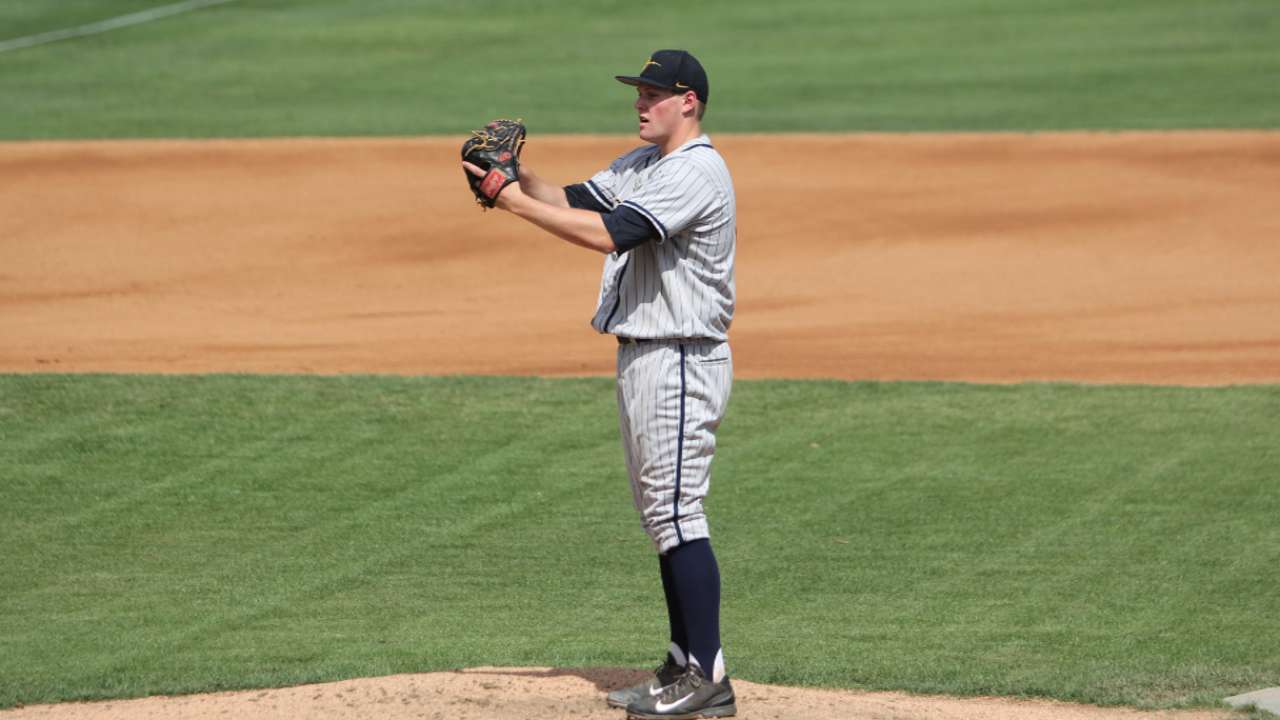 Maybe in the past, the name "Tommy John" would scare off teams on Draft day. But not this year and not for the Dodgers, who took their second post-Tommy John surgery pitcher, Trevor Oaks, in the seventh round (No. 219 overall) of the First-Year Player Draft on Friday.
For Oaks, a 6-foot-3, 220-pound right-hander out of California Baptist University, the surgery was a blessing in disguise.
"I don't even feel like I had the surgery, other than the scar," Oaks said. "I really support it, and I think it's an amazing procedure. I definitely learned a lot about myself and how hard you have to work to get past that type of stuff.
"And so, I think in the end, it made me a better person and helped me understand the value of perseverance. That can really help me going forward, going to the Minor Leagues and stuff."
Oaks joins the Dodgers' fourth-round pick, Jeff Brigham, as a fellow college arm who had the procedure.
The Draft concludes on Saturday with exclusive coverage of Rounds 11-40 beginning on MLB.com at 10 a.m. PT.
Now three years removed from his surgery, Oaks said he feels great. He can touch the low 90s with his fastball, and according to MLB.com's scouting report, he mixes in an average fastball and slider along with a good fading changeup. He went 11-0 for California Baptist, with a 1.68 ERA and 107 strikeouts in 107 innings.
From Riverside, Calif., Oaks is a Dodgers fan and a big Clayton Kershaw fan. He said he likes the way Kershaw and fellow starter Zack Greinke pound the zone on the mound. He said he also admires them for their character.
"One of my good friends that I went to school with, he converted me from an Angels fan to a Dodgers fan when we were like 9 or 10," Oaks said. "I didn't think that this would ever happen. This was kind of a fantasy, I guess."
Michael Lananna is an associate reporter for MLB.com. This story was not subject to the approval of Major League Baseball or its clubs.