Hopes dashed in 10th, O's drop opener in 11
Two runners thrown out at plate, including Cruz's attempt to steal home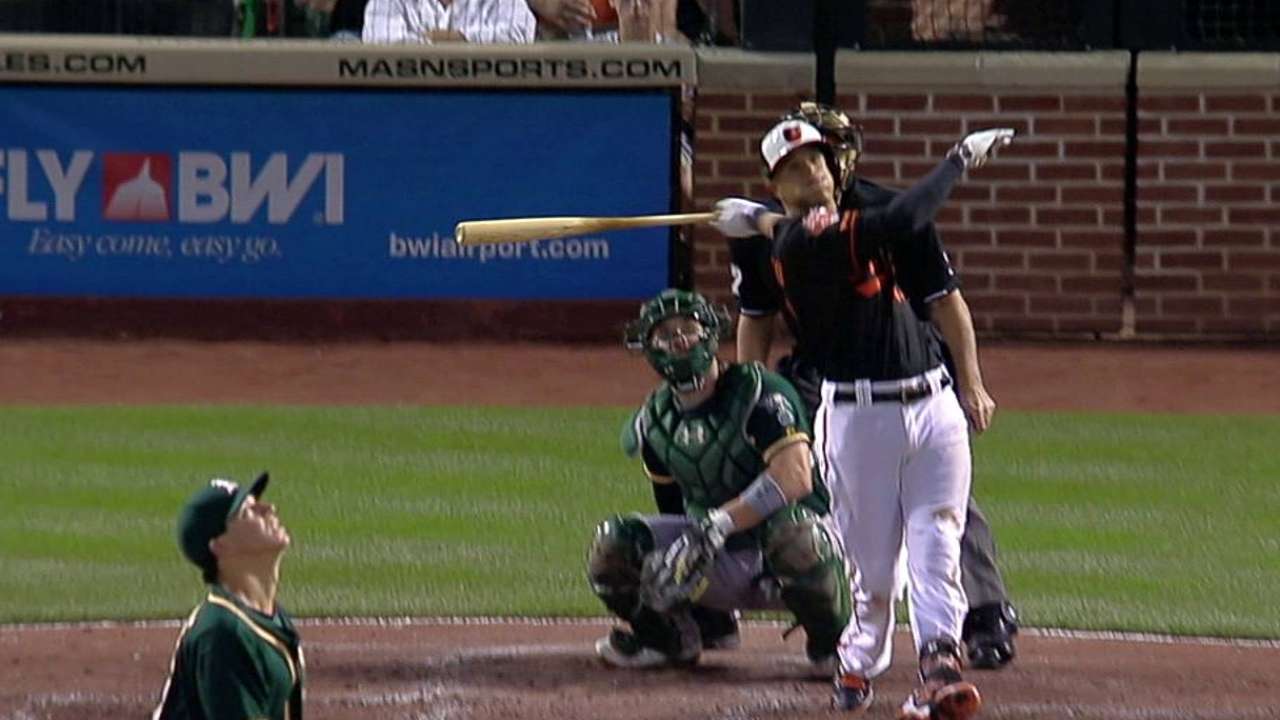 BALTIMORE -- Nelson Cruz thought he could make it. Moments earlier, third-base coach Bobby Dickerson thought the same of Nick Markakis.
Instead, both runners, one attempting to steal home and the other running hard around third base to get there, were thrown out at the plate trying to score the game-winning run in the 10th inning. Instead, the Oakland A's ended up scoring the winning run in the next inning.
Manny Machado homered after being at the center of a benches-clearing incident, but the Orioles missed late chances and eventually let the A's off the ropes in a 4-3 loss in 11 innings on Friday night.
Cruz was caught attempting to steal home moments after A's right fielder Brandon Moss threw Markakis out at the plate with the game tied in the 10th.
Asked if Cruz's attempted was a straight steal, Orioles manager Buck Showalter said, "I think so. Saw it, felt it, went for it, didn't work out. We'd be talking the other way. A lot of good things went on. We just couldn't get over the hump."
Chris Davis homered for the Orioles (30-29), who have lost two straight after winning four in a row. This setback came in their first meeting this season with the American League West-leading A's (38-23) and as Baltimore returned to Oriole Park at Camden Yards after a splitting a 10-game road trip.
It also occurred despite Baltimore leading 3-2 with two outs in the eighth. Yoenis Cespedes' two-out double off Darren O'Day tied the game.
Markakis opened the 10th with a single off Fernando Abad (1-3) and moved to second on Machado's sacrifice bunt. After Abad intentionally walked Cruz, Adam Jones singled to right, but Moss threw Markakis out. Replay confirmed the putout.
"Bobby does a great job over there," Showalter said of his third-base coach. "Bang-bang play at the plate."
Cruz went to third base on the throw home and Jones later moved to second on catcher's indifference with Davis at the plate. With a 2-2 count on the left-handed hitting Davis, Cruz attempted to steal home.
"They had one of their best hitters at the plate. I'm glad he [ran]," A's third baseman Josh Donaldson said.
Abad quickly threw to Derek Norris, who once again tagged a runner out at the plate.
"Obviously, I wanted to let Davis hit with two strikes. I thought I had a shot, so I went for it," said Cruz, now 1 for 5 on stolen-base attempts this season.
John Jaso doubled off Evan Meek (0-2) to open the 11th. He went to third on J.J. Hardy's fielding error and scored on pinch-hitter Stephen Vogt's base hit. Hardy has committed four errors in two games.
"I tried to be too quick and was thinking about going to third," said the Gold Glove shortstop, who was at a loss for words over recent struggles in the field. "I can't explain it. It's really frustrating."
Machado's solo blast in the fifth off Tommy Millone came after a brief, but heated confrontation with fellow third baseman Donaldson in Baltimore's half of the third.
With Machado on second base and two outs, Donaldson fielded a Jones grounder and aggressively tagged out Machado running to third.
Well outside the base path when the tag occurred, Machado appeared to throw down his helmet and then walked in Donaldson's direction. That led to players from both sides running onto the field from the dugouts and bullpens. No physical altercation took place during the fleeting incident.
"[Donaldson] made the right play, but just didn't agree on the tag that he made on me and I just had to get up and confront him," Machado said. "You get in the heat of the moment and things start flying. It's part of the game and you're going to have to continue."
With one out in the fifth, Machado turned on a 0-1 fastball and sent the ball over the center-field wall for a 3-2 lead, which Baltimore kept until the eighth.
Sean Doolittle pitched the 11th for his eighth save. The Orioles fell to 5-3 in extra-inning games.
Wei-Yin Chen was solid one game after Chris Tillman's brutal one-inning start.
The lefty allowed two runs on five hits including solo homers to Donaldson and Norris in the first and second inning respectively. Chen settled down from there, retiring 10 straight batters during the middle innings and left with a 3-2 lead.
Jonathan Schoop's RBI single in the second and Davis' homer tied the game at 2 in the fourth. Hardy had three of Baltimore's 13 hits.
There was plenty to like from the Orioles' perspective, until there wasn't.
"I mean, it was all there," Machado said. "It was all there. We had it from the get-go. Tough loss, tough loss."
Jeff Seidel is a contributor to MLB.com. This story was not subject to the approval of Major League Baseball or its clubs.