Dingers do in De La Rosa in Detroit series opener
Back-to-back Tigers homers in fifth off righty factor big in defeat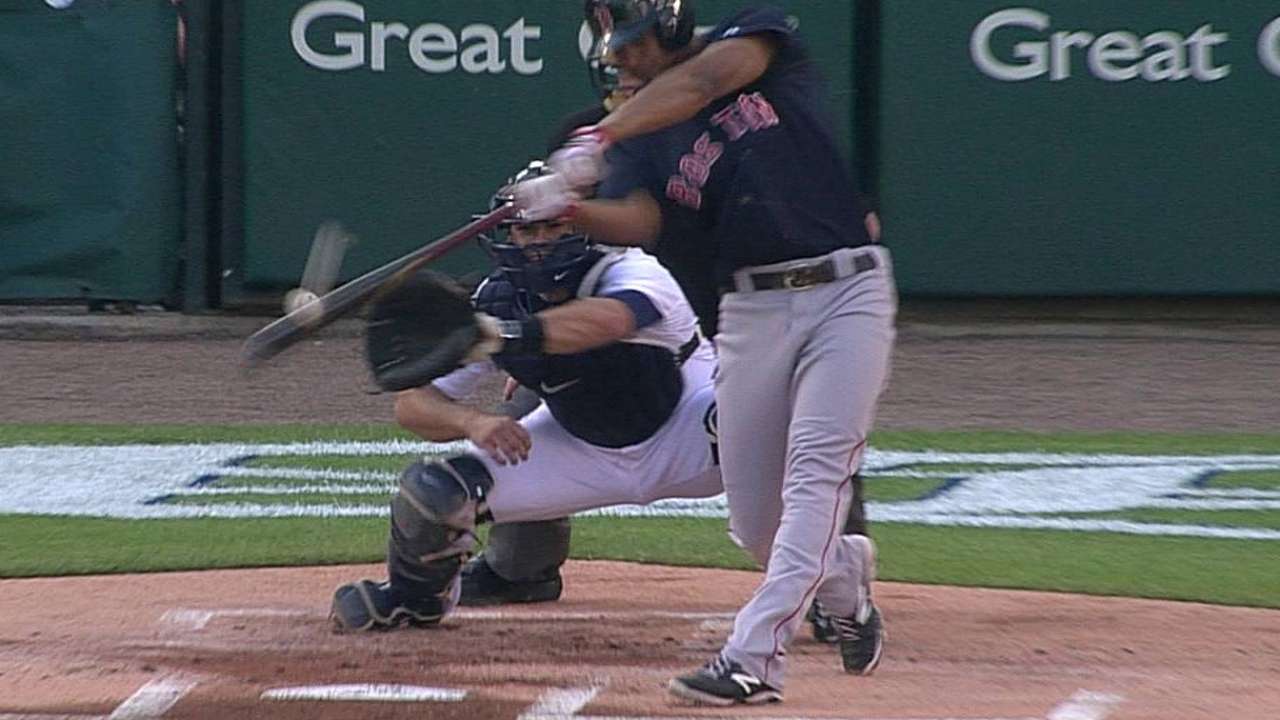 DETROIT -- Rubby De La Rosa left pitches up on Friday, and the Tigers hit them hard. In a rematch of last season's American League Championship Series at Comerica Park, the Tigers pounded out 13 hits to beat the Red Sox, 6-2.
The streaky Sox have now lost four straight, and four in a row this season to the Tigers, who swept Boston earlier this season at Fenway Park.
Friday started nicely for Boston. Brock Holt led off the game with a single off Tigers starter Drew Smyly. Xander Bogaerts followed with a double off the top of the wall in left-center, scoring Holt to make it 1-0.
Bogaerts couldn't believe the ball stayed in the park.
"I hit it pretty good," he said. "I thought I had it, but it stayed in."
The offense couldn't get much going after that.
"You'd like to think, with a run in and a man on and the heart of your order coming up, we've got a chance to put a crooked number on the board," said manager John Farrell.
Farrell said Smyly exposed some weaknesses in his team's lineup.
"At times, our lineups are managed by passing it on, by the opposing pitcher, to look to attack another hitter."
De La Rosa, who was brilliant in his season debut last weekend, got hit around.
"I thought he had pretty good stuff," Farrell said. "They've got some professional hitters, and they squared them up when [the pitches] were up in the strike zone."
Tigers second baseman Ian Kinsler -- who hit the first of back-to-back homers off De La Rosa in the fifth inning -- was impressed with the righty.
"That guy's going to be tough in the future," he said. "He's got a really good arm. Luckily, we were able to get to him tonight."
Farrell said it was all about location.
"When he was down in the zone, he handled everybody in their lineup," said Farrell. "On a couple of occasions, when he got two quick outs, there were some mislocated pitches, and he ended up paying for them."
De La Rosa agreed.
"I made a couple of mistakes, and I paid the price," he said. "I was missing up. I've got to make better pitches."
After a six-pitch first inning, and a relatively short second, the Tigers figured out De La Rosa, with the hit barrage beginning in the third. The Tigers scored on a single by Andrew Romine, who came in batting just .202. They got another run in the fourth on a sacrifice fly off the bat of Victor Martinez.
Jackie Bradley Jr. ran it down in deep right center for the defensive highlight of the game. With runners at the corners and no outs, Martinez drove one that looked destined for extra bases, and over Bradley's head, but the speedy center fielder ran it down and doubled off Miguel Cabrera. Cabrera, who was on first to begin the play, was halfway between second and third when Bradley made the catch, leading to an easy double play.
"He made a heck of a play in center field to prevent any further damage," said Farrell. "He's contributing defensively."
After Kinsler's fifth-inning homer, Torii Hunter followed with one of his own off De La Rosa.
The Sox have been incredibly streaky. They'd lost 10 in a row, then won seven straight, and have now lost four consecutive games. The inconsistency is hard to explain.
"I don't think it's a lack of concentration," said Farrell. "To me, you look at some at-bats in there. Look at Jonny Gomes' at-bat [in the sixth inning] where he had an eight, nine pitch at-bat [actually 12], where he ends up with a sac fly. [Dustin Pedroia] had a couple of deep at-bats."
The players think they'll figure things out, eventually.
"We're a pretty good team," said Bogaerts. "I'm really confident in the guys we have here. We'll definitely bounce back, just like the way we bounced back after that losing streak."
"We've got a long way to go," said Pedroia. "We've got 100 games left."
Pedroia doesn't think the team is pressing.
"Pressing? We've just got to play better."
The Sox are now 10 games out of first place in the AL East. When asked if he was surprised by that fact, Pedroia said, "It just means we better be plus-10 the rest of the way… or plus-11."
Matthew Wentworth is a contributor to MLB.com. This story was not subject to the approval of Major League Baseball or its clubs.