Smyly stymies Sox, while Tigers power up in win
Lefty allows one earned run over six; Kinsler, Hunter go back-to-back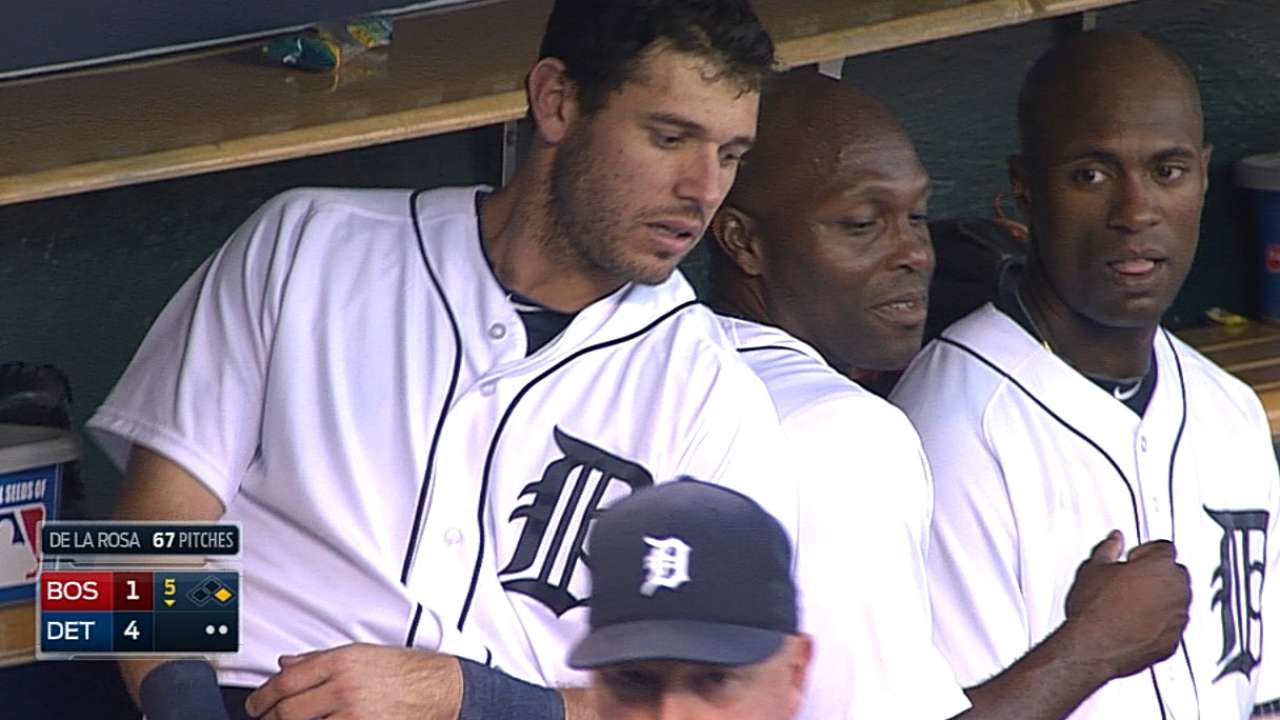 DETROIT -- The Tigers' success evaporated around the time they began wearing Zubaz.
Following a sweep of Boston last month, the last series Detroit has won, the team boarded a flight bound for Cleveland decked out in the tiger-striped pattern. A mechanical problem that caused a lengthy delay of the flight was just the start of what many have come to call the "Curse of the Zubaz."
Determined to prove there is no curse, Torii Hunter wore a full Zubaz outfit, from sandals to sweatshirt, before Friday night's game, "just to let them know it had nothing to do with anything," he said. Hunter picked up three hits, including the second homer of back-to-back shots with Ian Kinsler, and the Tigers won, 6-2.
Hunter tried to get his teammates to join in wearing Zubaz, which had quietly disappeared from their lockers after they'd gone 4-13 since sweeping the Red Sox at Fenway Park. They didn't listen, but he might have turned some of them into believers with his performance Friday night.
"For everybody who's listening and on Twitter, it's not the Zubaz," said Joba Chamberlain, who bought the Zubaz for the team earlier this season as a bonding ritual and also pitched a perfect eighth inning Friday. "Don't knock the Zubaz. It's unbelievable."
For the first time in a long time, as Kinsler put it, "It all went as planned tonight." The win snapped a five-game losing streak -- Detroit's longest since also losing five straight in April 2012.
One of the brightest spots was the performance of starting pitcher Drew Smyly, who threw six innings and allowed only one earned run. Smyly attacked with his fastball early, getting ahead, 0-2, on the first two batters of the game. On the third pitch of each at-bat, Boston knocked a base hit, plating the game's first run.
"I think I was throwing too many good strikes," Smyly said. "It didn't really affect me. My mindset was the same -- just keep throwing strikes."
A rejuvenated offense, which clubbed 13 hits, combined with three strong innings of relief to secure Smyly's first win in over a month.
"He pitched much more efficiently tonight," Tigers manager Brad Ausmus said. "He gave up the run in the first and didn't let it rattle him."
Ian Krol pitched the seventh, Chamberlain handled the eighth, and Joe Nathan, in desperate need of a smooth outing, finished it off. To do it, after two losses in his last three appearances, Nathan said he focused on using his height to keep a downward plane.
"I think I almost forgot I was [6-foot-5]," Nathan said. "Throwing downhill has always been my strength. I think I've gotten away from it, in part, by trying to do a little bit too much."
The closer said he visualized there was a rod running through his body, keeping him erect. That's more important, he said, than dipping down to pick up only an extra mile per hour or two on his pitches.
The Tigers' silent bats, the latest ailment during the recent skid, seemed that they might stay that way early on. Red Sox starter Rubby De La Rosa retired the first six batters he faced. But Nick Castellanos led off the third with a double, and scored when Andrew Romine followed with a single to center.
An inning later, Detroit took the lead with the help of a sacrifice fly from Victor Martinez that scored Hunter, who had singled and then gone from first to third on another hit.
"I went first to third to pump the guys up a little bit," Hunter said. "It's just little things that you can do to kind of pick your team up. It's like a domino effect.
"That's what we need. That's the positive stuff that we need flowing around here on a daily basis."
The biggest spark came in the fifth inning, however, when Kinsler and Hunter put the Tigers up 4-1 with homers on 1-0 offerings from De La Rosa. In the eighth inning, Victor Martinez added a solo home run of his own, his 14th blast of the season. The outpouring of solo shots provided ample cushion for the bullpen to close out the game in short order.
"Joba did exactly what he's been doing, and Joe was good, too," Ausmus said. "I think it was important to get Joe back on the mound, [even in a non-save situation]."
Entering Friday's game, Detroit's lead in the AL Central had fallen to just 2 1/2 games, and the club sat just six games above .500.
Ausmus noted that one game can't make up for about three weeks of poor overall performance.
"But it certainly makes it easier to leave the ballpark with a win, especially with the way we've been playing," he said.
Matt Slovin is an associate reporter for MLB.com. This story was not subject to the approval of Major League Baseball or its clubs.