Offense unable to help Cueto in loss to Phillies
Right-hander gives up four runs over just five innings in rare shaky start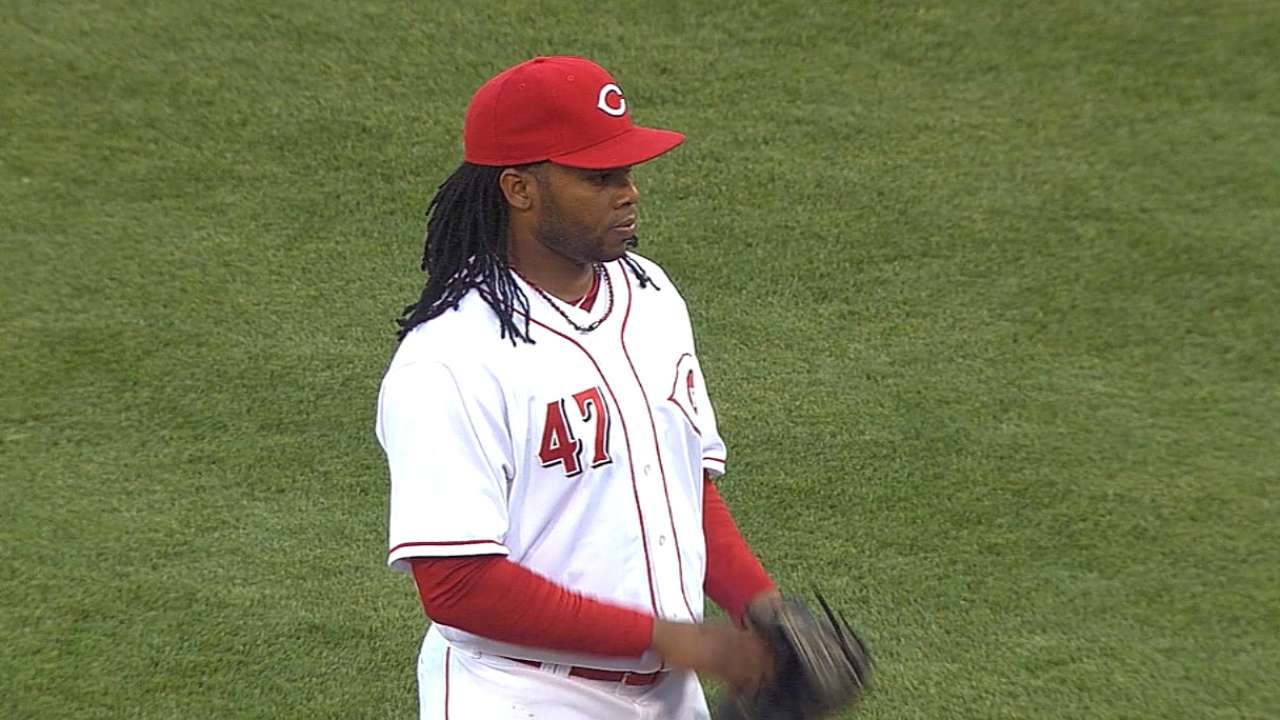 CINCINNATI -- It's usually a safe bet to assume a game started by Johnny Cueto and Cole Hamels will be a low-scoring pitching duel. But that wasn't the case on Friday night in the Reds' series opener with the Phillies at Great American Ball Park.
For only the second time this season, Cueto gave up more than two runs -- four to be exact -- and it was more than enough for a sensational Hamels in an 8-0 Cincinnati defeat, the Reds' third consecutive loss.
Cueto was cruising along until the fourth, when with two outs and nobody on, he lost his balance a bit on a 3-2 fastball and walked Ryan Howard. He then hit Marlon Byrd, his second hit-batsmen of the inning (he picked Chase Utley off after grazing him earlier in the frame) and fifth in his last four outings.
Domonic Brown followed with a two-run double to left, and John Mayberry grounded an RBI single to left to give Philadelphia a 3-0 lead.
"That was the inning that killed me," Cueto said through interpreter Tomas Vera. "Two hit batters, it's something I don't want to do. But that's how life is: things happen that you don't want to happen."
Cueto lamented just how close he was to getting out of the fourth unscored upon with two strikes on Howard.
"It's always one little thing that happens, but you've got to keep your head up and you've got to keep going."
Jimmy Rollins hit a solo home run just inside the right-field foul pole in the fifth to extend Philadelphia's lead to 4-0. The fifth inning would be Cueto's last of the night even though he had thrown 92 pitches, making it his shortest outing of the season. But Reds manager Bryan Price didn't want to tax the right-hander's arm unnecessarily.
"After five I took him out simply because we've asked a lot of Johnny," Price said. "We've asked him to throw seven to nine innings darn near every start. He's thrown 100-plus pitches often. It just seemed like one of those days where I didn't want to ask him to continue to do more on a day where we should ask him to do less."
Cueto allowed four runs on six hits while walking one, hitting two and striking out five. He is now 1-4 with a 5.58 ERA in his career against the Phillies.
"I probably have to make an adjustment," Cueto said. "I have to check it out, see what I'm doing [against them], because every time I face them they feel really confident that they can hit me, and they do it."
The Phillies added four more in the ninth against relievers Sam LeCure and Jonathan Broxton.
Meanwhile, Hamels continued his career dominance of Cincinnati with 7 2/3 shutout innings. He has never lost to the Reds, and is now 10-0 with a 1.36 ERA in 13 starts against them, including the postseason.
"Any time I'm here and going up against that team, it's what I associate: those positive memories. That kind of jumpstarts [it]," Hamels said. " … This ballpark can be very dangerous. Mistakes can be hit out of the ballpark, so you have to grind away and keep the ball in the bottom part of the zone and see what happens. That's what I was able to do."
The Reds have now been shut out in their last 17 2/3 innings, not having scored since Todd Frazier's solo homer in the first inning of Thursday's loss to the Giants. Friday's loss was their seventh shutout defeat in 2014, and Cincinnati hasn't overcome a deficit of more than two runs this season.
"It'll be a defining characteristic to our team and what type of year we have, because we are going to be behind," Price said. "Unfortunately, there are going to be times where we don't have the lead …. I'm stupefied by the rarity where we come back from a two or three run deficit, especially early in the game when you're not facing the back end of the bullpen, but quite often an average starter, though not in this case with Hamels. But we see our fair share of average starters."
Even though he can't understand why the Reds are having such difficulties at the plate, particularly when trailing, Price still believes in the talent on his roster.
"I realistically feel that if you have to get out there and constantly motivate players to play the game well, you've got the wrong players," Price said. "And I don't feel like we do; I feel like we have good players here. I have not lost confidence in the dynamics of our lineup, our ability to do things.
" …We have to fight way harder than we've fought to this point."
Manny Randhawa is an associate reporter for MLB.com. This story was not subject to the approval of Major League Baseball or its clubs.