Hamels shuts down Reds to end Phillies' skid
Rollins nears hit milestone, tallies solo home run in victory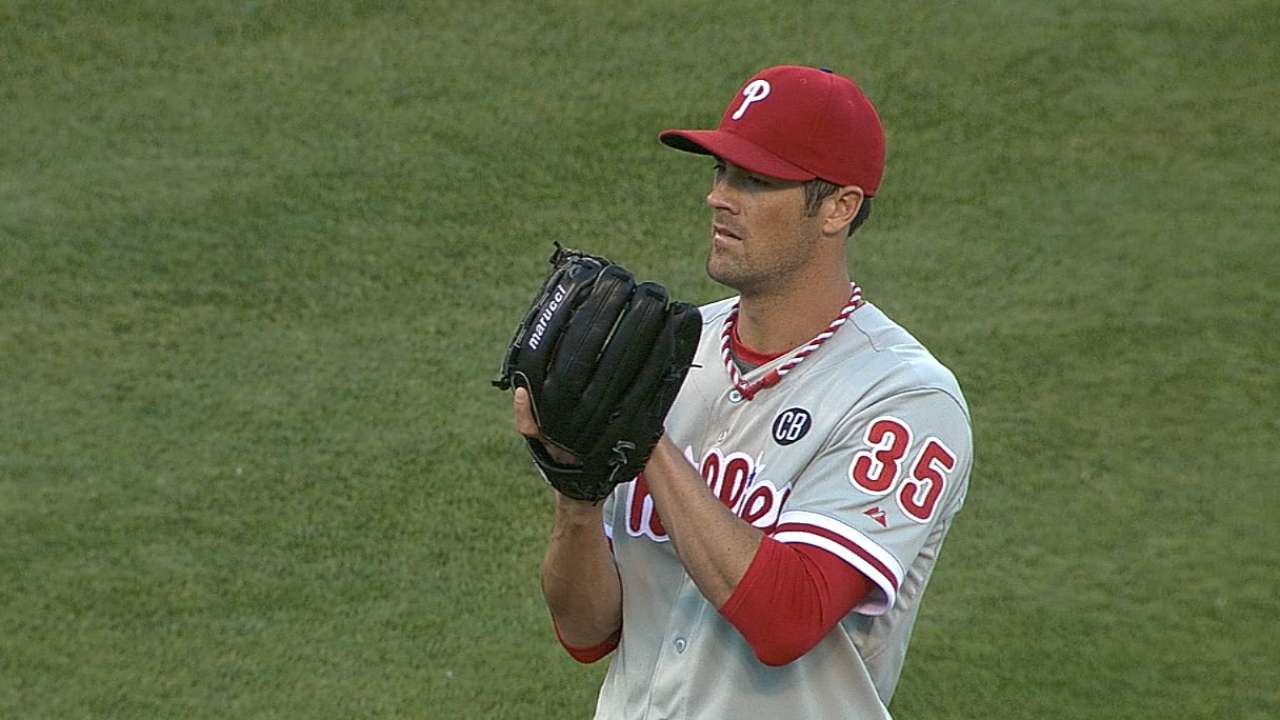 CINCINNATI -- If Cole Hamels could not beat the Reds on Friday at Great American Ball Park, it might have been time for the Phillies to drive the 'For Sale' sign into the front yard.
Hamels has completely dominated the Reds in his career. He entered Friday 9-0 with a 1.49 ERA in 12 starts against them -- the Phillies went 12-0 in those games -- which included his big league debut in 2006, a 15-strikeout complete game in 2007 and a shutout in Game 3 of the 2010 National League Division Series. If he could not help the Phillies snap their six-game losing streak, could anybody?
But Hamels continued his supremacy over the Reds in an 8-0 victory. He allowed five hits, two walks and struck out seven in 7 2/3 scoreless innings. The victory moved the Phillies to 25-34, but for one night anyway, they could leave a ballpark and feel good about the way they played.
"I don't know how to explain it," Hamels said of his success against the Reds. "When you have something that positively affects your life, anytime I'm here and going up against that team, it's what I associate with, those positive memories. That kind of jump starts [it]. When I face them, when I'm here, things are already in a better zone."
Of course, Hamels needed runs and runs had been in short supply during the losing streak. But the Phillies took a 3-0 lead in the fourth inning against Reds right-hander Johnny Cueto, the first time they held a lead of more than one run since May 28.
The inning nearly ended before it began. Cueto hit Chase Utley with a pitch with one out, but Utley was picked off for the second out. Utley is one of the best baserunners in baseball history -- his 87.8 stolen base percentage is first among players with 120 or more stolen base attempts in their career -- but even he has not been immune from the Phillies' physical and mental lapses lately.
Cueto walked Ryan Howard and hit Marlon Byrd with a pitch to put runners on first and second. Domonic Brown stepped to the plate after grounding out in the second inning. He entered the night with a .567 OPS, which was the fifth-lowest out of 168 qualifying players in baseball. But he ripped a double to left field to clear the bases to make it 2-0.
Interestingly, Brown is hitting .333 (18-for-54) with four doubles, three home runs and 27 RBIs this season with runners in scoring position. He scored on a ball John Mayberry Jr. hit past Reds shortstop Zack Cosart to make it 3-0.
"I don't know if it's focus or what," Brown said of his success with runners in scoring position. "I've been taking that same approach the last couple of weeks. I know with time and playing every day I'll be back where I need to be. But it's definitely good to be hitting with runners in scoring position. It's keeping me happy every day, for sure. I'm still having fun out there. I think the team is as well. It feels good to get that monkey off our backs."
Jimmy Rollins hit a solo home run to right field in the fifth to make it 4-0. It was Rollins' seventh homer of the season, one more than he hit in 2013. It also moved him within seven hits of setting the franchise's all-time hits record.
Rollins has 2,228 hits. Mike Schmidt holds the record with 2,234.
The Phillies put the game out of reach in the ninth, scoring four more runs.
Cueto's night ended after five innings, his shortest outing of the season. He entered the night 5-4 with a 1.68 ERA and had pitched seven or more innings in 10 of his first 12 starts. But he dropped to 1-5 with a 5.15 ERA in nine career starts against the Phillies, including the postseason.
"I probably have to make an adjustment," Cueto said through interpreter Tomas Vera. "I have to check it out, see what I'm doing [against them], because every time I face them they feel really confident that they can hit me, and they do it."
Hamels' 15-strikeout effort in 2007 followed a team meeting before the game to discuss its 4-11 start, which was the worst record in baseball. The Phillies went 85-62 the rest of the way, which was the best record in the National League.
"I remember the fun meeting," Hamels said with a smile.
These are different times with a much different team, but Hamels would like to think this victory could right the ship.
"Hopefully, guys can take this in the right stride, come in tomorrow with the same approach and battle," Hamels said. "It's not easy. We've dug ourselves a pretty big hole. We're going to have to grind and claw our way out. It's not going to be something that happens overnight. It's going to take all month to claw tooth and nail to get back to the type of baseball we know we're capable of playing, and obviously the place in the standings that really matters."
Todd Zolecki is a reporter for MLB.com. This story was not subject to the approval of Major League Baseball or its clubs.