Bucs ride eight-run sixth to blow out Brewers
Martin's three-run double highlights frame; McCutchen, Mercer homer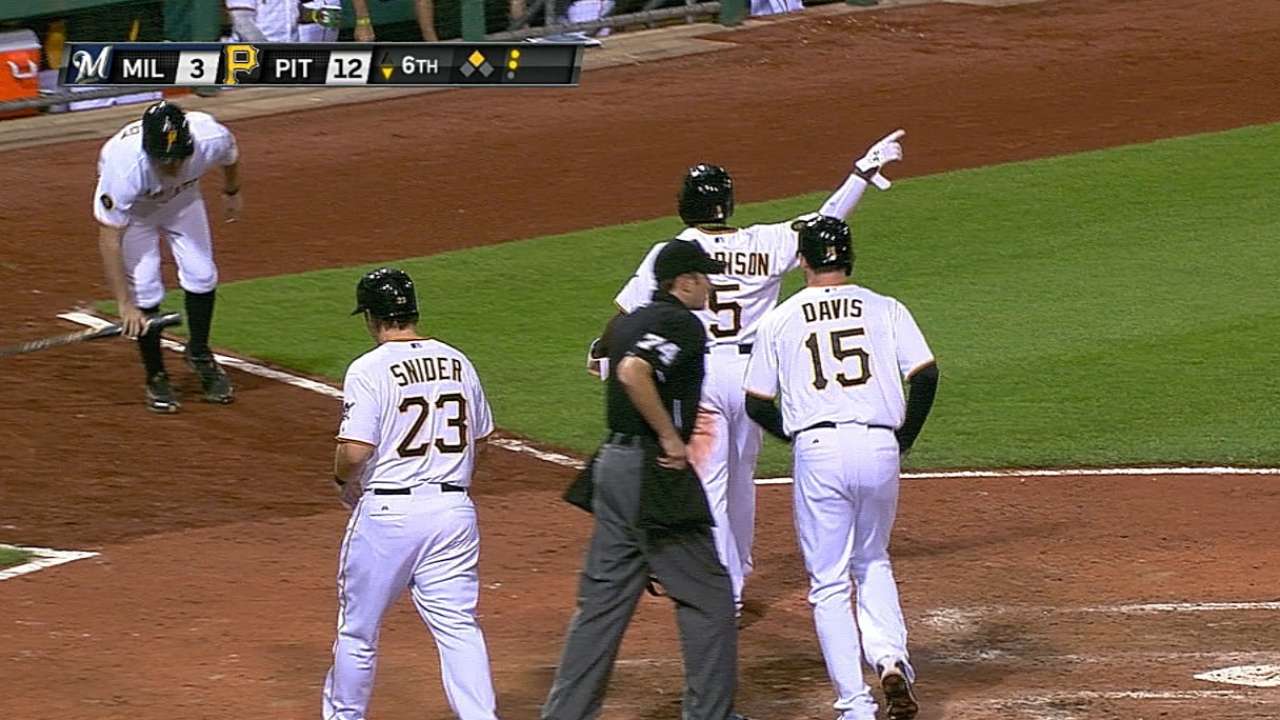 PITTSBURGH -- The Pirates had a good night at the plate Friday. They scored eight runs on six hits and worked two bases-loaded walks -- and that was just in the sixth inning.
The Bucs' sixth-inning eruption against the Brewers marked the best inning they have had at the plate all season. They turned a two-run lead into a double-digit cushion and breezed to a 15-5 win against the first-place Crew at PNC Park.
"When everyone is hitting like that, you want to join the party," said shortstop Jordy Mercer, who singled and scored in the sixth and also homered while collecting three RBIs in the rout.
But it's far from a good time when a party is being had at your expense.
"It was a bad night, all around," said Brewers starter Kyle Lohse -- who was pulled in the sixth inning after giving up three straight singles to start it and ultimately charged with eight runs, tying a career high. "I made some bad pitches, some good pitches, and it kind of went their way tonight."
In relief of Lohse, Brewers manager Ron Roenicke turned to Tyler Thornburg, and the inning quickly became his nightmare.
Right away, Thornburg -- who needed 40 pitches (23 of which were balls) to get three outs -- allowed the fourth consecutive single, this one to Mercer, which allowed the second run of the inning to cross the plate. Pinch-hitter Travis Snider and Josh Harrison then drew back-to-back walks, the second of which added another run. Thornburg struck out Neil Walker and Andrew McCutchen, who have been the Pirates' two most reliable hitters this season, but he wasn't out of trouble yet.
After another run scored when Ike Davis drew the inning's third free pass, Russell Martin -- who began the marathon inning with a single -- cleared the loaded bases with a double on a shot to center field that missed leaving PNC Park by a few feet.
"The guy's been fighting to throw strikes the whole time," said Martin, who had four RBIs. "… I knew that he was going to try and get ahead some way, and I was just going to be aggressive on the fastball. He threw the fastball over the plate, and I put a good swing on it."
And if that wasn't enough, Jose Tabata singled home Martin for the second time in the inning. When the dust around home plate settled after 13 batters, the Pirates scored eight runs in an inning for the first time since Aug. 12, 2012, and got a standing ovation from a crowd of 35,544.
"We were able to barrel some balls, and we took some walks. They almost got out of it -- two strikeouts -- but we got a big swing from Russ. It was just a good inning," Pirates manager Clint Hurdle said. "A good inning to get Lohse out. Throughout the night, I thought we battled well."
Before the run parade, it looked as though McCutchen was going to be the offensive star, as he drove in two runs in his first two at-bats with a double and a solo homer, his seventh of the season. Seven other Pirates went on to record at least one RBI.
Pirates starter Brandon Cumpton recovered after a rough outing his last time out against the Dodgers, against whom he surrendered 10 earned runs in 3 2/3 innings. Friday's outing wasn't a gem, but Cumpton went 5 1/3 innings and gave up three earned runs on eight hits to go with three strikeouts.
"I tried to push the last start out of my head and get up there and attack guys," he said. "Me and Russ worked together well, our defense played great behind me, the bullpen came in behind me and shut them down, and we had pretty good hitting tonight."
With the lopsided victory, the Pirates have now outscored the Brewers 52-44 in their 11 meetings this season. But even with that advantage, due to some close losses, the Pirates are just 3-8 against the division leaders.
The win put Pittsburgh two games under .500 and six games back of Milwaukee. The eight-run inning and season-high 15 runs were nice, but there's still work to be done.
"Any time in the season where you're able to feed off each other like that, it's going to be a fun time. Especially against a team we're trailing right now, they're a good team," Martin said. "If you can beat up on a good team, it definitely builds confidence. I think we all understand it's one game, we have to get ready for tomorrow. It's already over."
Stephen Pianovich is an associate reporter for MLB.com. This story was not subject to the approval of Major League Baseball or its clubs.