Lohse, Brewers overwhelmed by relentless Bucs
Starter allows career-high eight runs; Thornburg toils in eight-run sixth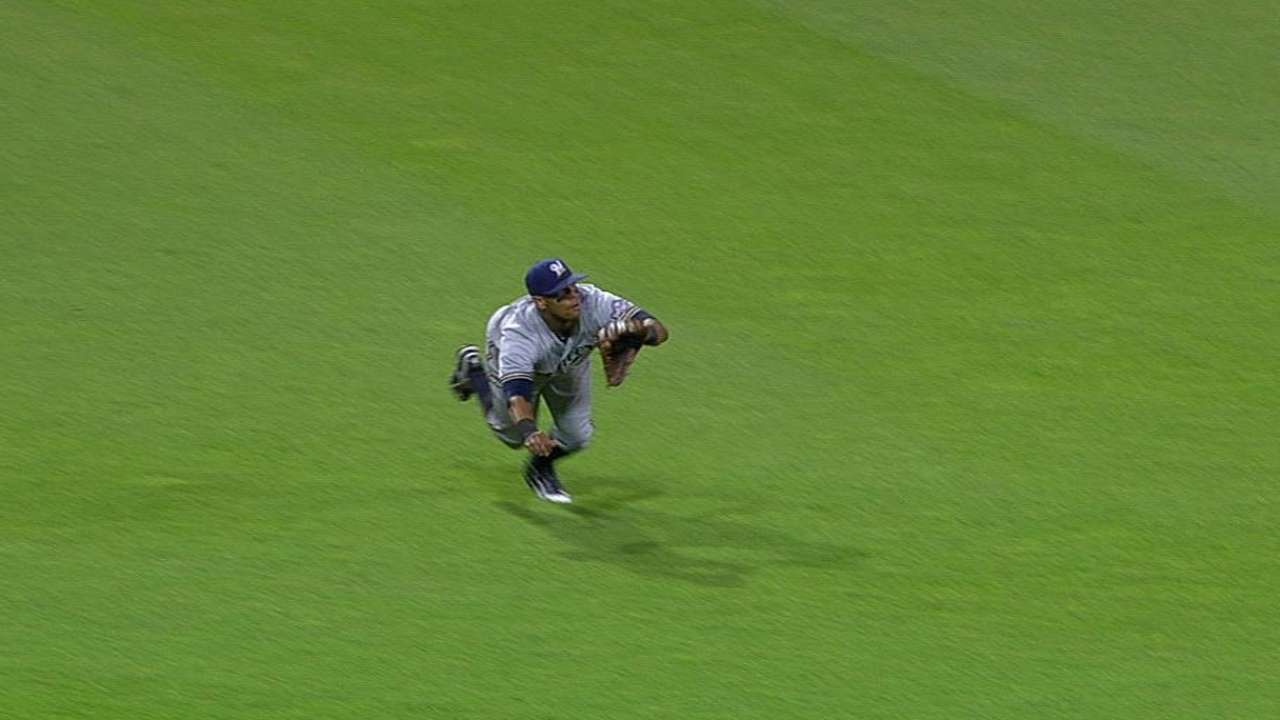 MILWAUKEE -- The Brewers' recent pitching funk on Friday infected the one man who had seemed immune.
Kyle Lohse threw his final pitch after manager Ron Roenicke had sent him to the Brewers' dugout, where Lohse fired his glove into the bench in disgust over an outing that was about to get worse. The veteran left two baserunners behind and both scored against reliever Tyler Thornburg, who endured an even tougher night of his own in a 15-5 loss to the Pirates at PNC Park.
In that single inning -- the sixth -- the Pirates sent 13 men to the plate and scored eight runs on six hits and four walks, transforming what had been a back-and-forth hit fest into an all-out rout.
"A lot of things went wrong tonight," said Lohse, "and it adds up to that score."
It added up to the Brewers' most lopsided loss of the season, even after they scored twice in the ninth inning. It was also Lohse's worst start, statistically speaking, in his season-plus pitching for the Brewers.
Coming off a 93-pitch, three-hit shutout of the Cubs earlier in the week, Lohse lasted five-plus innings and was charged with eight earned runs, matching a career high he'd last endured in August 2011 while pitching for the Cardinals. He also surrendered nine hits, issued one costly four-pitch walk to the opposing pitcher, threw a wild pitch, hit a batter and surrendered two home runs.
Before Friday, Lohse's poorest outing in 2014 was a 6 2/3-inning, four-run effort against the Orioles on May 26. He'd allowed three or fewer earned runs in his other 11 starts, including a pair of victories against the Pirates in which he had allowed two total earned runs in 15 innings.
On Friday, the Pirates had a 2-0 lead by the end of the first inning.
"It was a bad night, all around," Lohse said. "I made some bad pitches, some good pitches, and it kind of went their way tonight. You turn the page. Just like I turned the page on the last outing, which was really good, I turn the page on this one, which was really bad. That's how the season goes."
Things began going the Pirates' way in that first inning, when Josh Harrison led off by chopping a weak single to shortstop. Two batters later, Andrew McCutchen delivered a double over the head of Brewers sure-handed center fielder Carlos Gomez, who was fighting a setting sun.
Said Lohse: "Walking in from the bullpen [he thought], 'It would be a bad time to have a fly ball to center early.' Sure enough. It wasn't where I wanted that pitch to be, anyway, so it was my fault."
"They just had the momentum coming in, when you have the leadoff guy hit a ball into the ground," catcher Jonathan Lucroy said. "It's one of those days, which is fine. You're going to have days like that. I lined out twice, what are you going to do? We're going to lose on days like this, but we're going to score and win on days like this, too."
Brewers hitters, led by Khris Davis' two RBIs, actually kept the game close through the middle innings, such that when Lohse surrendered three straight singles and a run to open the sixth, the Brewers found themselves only trailing, 6-3.
Thornburg entered the game and saw it get completely away.
Jordy Mercer greeted Thornburg with an RBI single before Thornburg issued successive four-pitch walks, the second to Harrison with the bases loaded to close the book on Lohse. Thornburg appeared to regain control when he struck out Neil Walker and McCutchen, but the next four hitters reached safely, including Ike Davis on another bases-loaded walk and Russell Martin on a back-breaking, bases-clearing double. Only after that hit did Brewers left-hander Wei-Chung Wang start stirring in the bullpen.
Jose Tabata added one more run-scoring single for good measure before Mercer grounded into a fielder's choice, ending the Brewers' worst inning this season.
"When everyone is hitting like that," said Mercer, who homered in the fifth inning and finished with three RBIs, "you want to join the party. It's fun, tonight was a lot of fun. That's why we play this game."
Since Roenicke had already visited earlier in the inning, it was up to Lucroy and third baseman Aramis Ramirez to visit later on, while Thornburg was desperately seeking the final out.
"We were trying to get him calmed down," Lucroy said. "He was out there panicking. He wasn't comfortable. He didn't have a feel. He was trying to throw strikes so much that he couldn't do it. He was just panicking, so we said, 'Calm down, throw strikes down in the zone, playing catch.' Try to simplify things. That's all you can do."
Roenicke didn't rescue Thornburg earlier because "we really needed that inning," the manager said. Several relievers were off limits Friday because of recent usage.
"We're in a tough spot now, and we knew we were going to be in a tough spot in that game tonight if we can't get him through some innings," Roenicke said. "[Thornburg] knows what's going on. He knows guys are 'down' out in that bullpen tonight and he had to be the guy who had to get through an inning."
Lohse's outing continued a tough turn through the Brewers' rotation. Each of the last four starters --Yovani Gallardo, Marco Estrada, Wily Peralta and Lohse -- have surrendered at least four earned runs while combining for a 9.43 ERA (22 earned runs in 21 innings).
It was only the Brewers' third loss in 11 games against the Pirates this season.
"Like I said, turn the page," Lohse said. "Tomorrow, I'm going to look forward to the next game where I start against the Mets. That's how it would have been, good or bad."
Adam McCalvy is a reporter for MLB.com. Read his blog, Brew Beat, and follow him on Twitter at @AdamMcCalvy. This story was not subject to the approval of Major League Baseball or its clubs.