Choice provides jolt of power for Rangers
Outfielder's go-ahead solo shot in the seventh inning beats Indians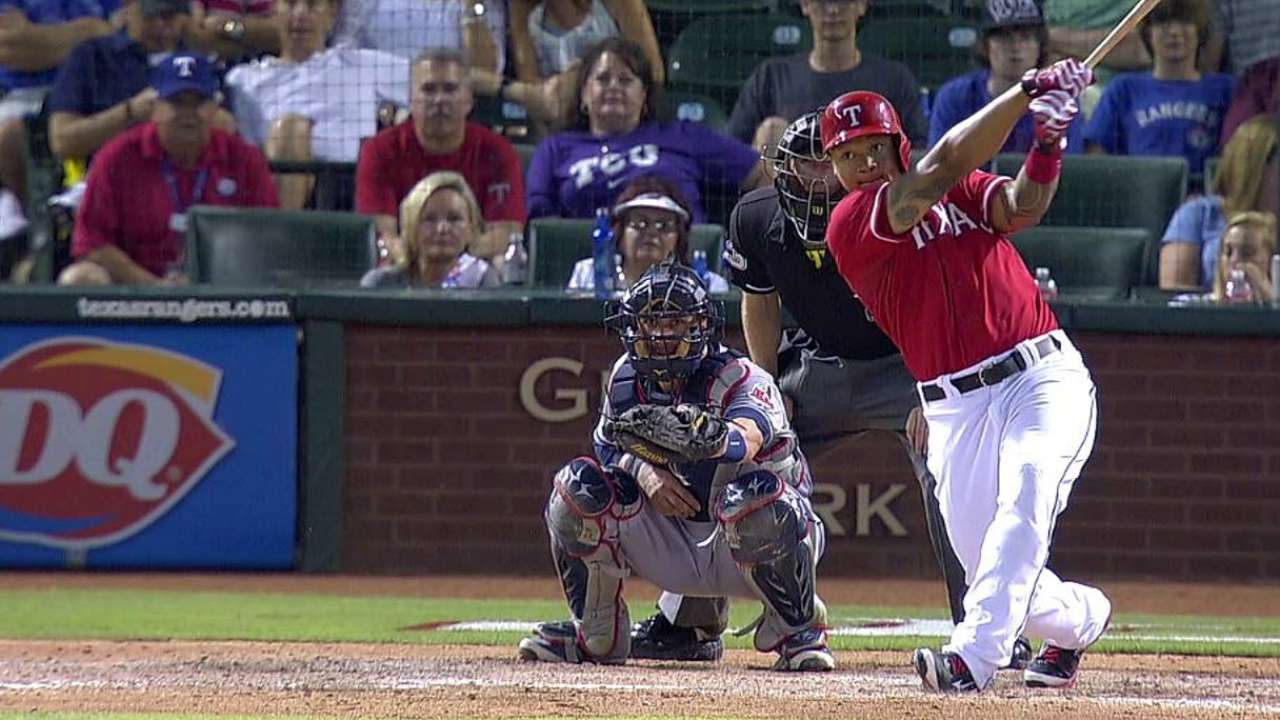 ARLINGTON -- Michael Choice welcomes the pressure. It makes him less picky at the plate. It forces him to be more assertive.
So with the game tied in the bottom of the seventh inning against the Indians Friday, the Rangers outfielder wasn't looking for the perfect pitch, wasn't looking to over-analyze the situation.
Instead, with two outs, Choice settled on the first pitch he got, a 92 mph sinker. Home run.
It was the run that made the difference in the Rangers' 6-4 win, and the run that nearly doubled Choice's home run count heading into a nine-game homestand that started Tuesday. Just Tuesday, he had three. He now has five.
"I would say that ... if it's a situation where there's runners on, or a situation where the game is closer, I think it makes me a little bit more aggressive at the plate," Choice said. "Games where it's a little bit more wide open … it becomes more of an individual battle for [pitchers] and they don't want to jack up their ERA. So they just flip a whole bunch of stuff up there and see if they can get you out that way."
With Choice's go-ahead home run and an eventual Texas win, the Rangers extended their winning streak to two, and claimed back-to-back victories in Arlington for the first time since May 8-9. And though it seemed as if the victory would come easily after the Rangers built a four-run cushion in the second, it proved to be anyone's game -- all the way up until the ninth.
In the fourth, Alex Rios singled and eventually scored on a sacrifice fly from Leonys Martin. Chris Gimenez doubled and sprinted home from second when Choice singled, and Choice scored when Rougned Odor recorded his second home run of the season.
But an uncharacteristic beginning from Rangers ace Yu Darvish, who is now 6-2 with a 2.36 ERA after giving up a season-high nine hits, allowed the Indians to score three in the third and one in the fourth to tie it before Choice broke the tie in the seventh. In the third, Lonnie Chisenhall sent a three-run homer off the right-field foul pole for his first career homer on a full count. In the fourth, Asdrubal Cabrera followed suit with a home run of his own.
"I think the strike zone was a little bit smaller today," Darvish said. "So I had to be creative."
With the nine hits, Darvish snapped a 42-start streak of giving up eight hits or less, the second longest active streak in the Majors to his teammate Alexi Ogando.
But when Darvish exited after seven innings, he hadn't allowed a run in the fifth, sixth, or seventh -- and that's what Rangers manager Ron Washington said kept his team in the game.
"He bent, he didn't break," Washington said. "The guy's a good pitcher. It's the Major Leagues, and sometimes he's going to have to go out there and fight like he did tonight. He showed some heart out there tonight."
But Darvish wasn't the only one.
Heading into Friday's matchup, Rangers shortstop Elvis Andrus had hit safely in all 37 of his career games against Cleveland, good for the third longest streak against the same opponent since 1900.
Just moments after he turned an inning-ending double play in which he attempted to jump over, but then spun around Carlos Santana to send a rocket to Mitch Moreland at first, Andrus approached his last at-bat 0-for-3.
Indians reliever Scott Atchison wound up for a curveball. Ball one. Then he sent a slider across the plate, this time 10 mph faster -- ball two. And then he sent the fastball -- the pitch that cruised into right field and kept Andrus' steak alive when he singled. Later in the inning, Andrus scored an insurance run for the Rangers on an Adrian Beltre sacrifice fly.
"That fourth at-bat -- that was one of the best sensations ever," Andrus said. "I just wanted to get a hit and just see how long I can go. I have no idea how long I can, but I don't have any plans to stop right now."
And with two consecutive wins at home for the first time in nearly a month, neither do the Rangers.
Grace Raynor is an associate reporter for MLB.com This story was not subject to the approval of Major League Baseball or its clubs.