Tribe's road woes continue as bullpen has late lapse
Indians fall to 9-20 away from home after Rzepczynski allows homer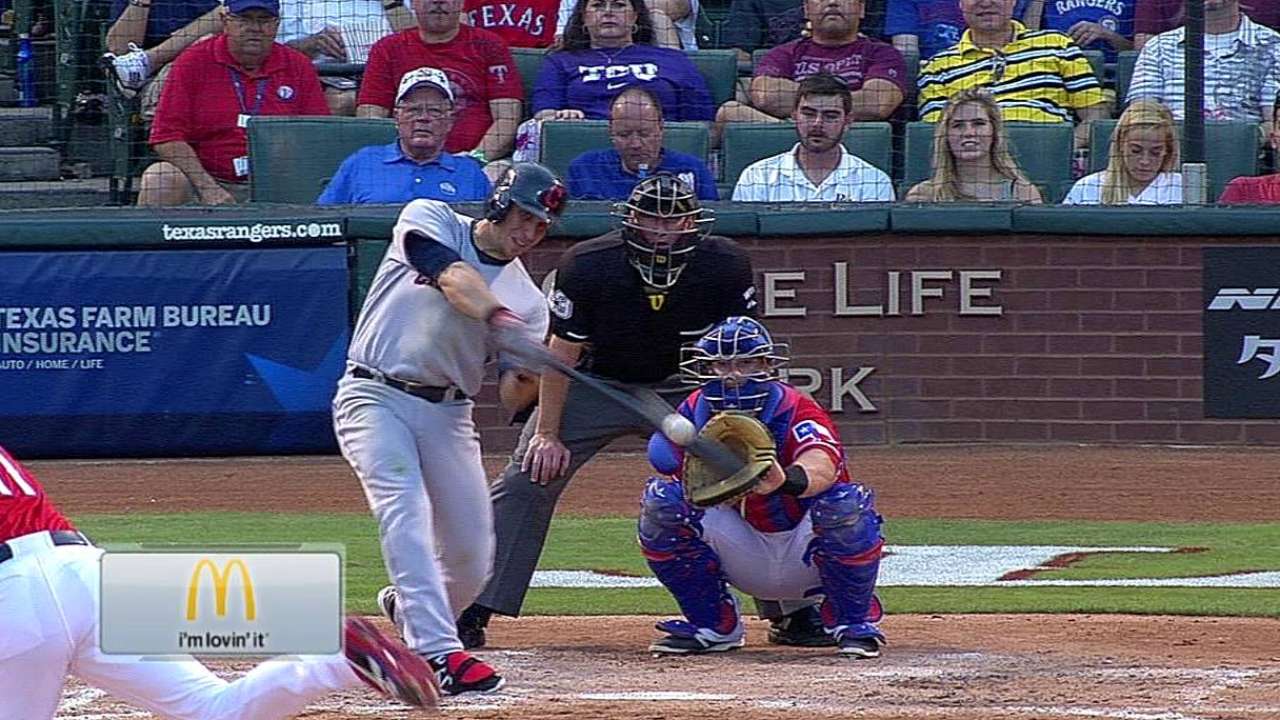 CLEVELAND -- Mike Aviles knows how it looked. It looked bad and there was no way around that fact. When a couple reporters approached the Indians infielder at his locker following Cleveland's loss to the Rangers on Friday night, a frustrated Aviles wanted to clarify what happened in the eighth inning.
The highlight shows will focus on Rangers shortstop Elvis Andrus, who who was nearly toppled over by Carlos Santana at second base before collecting himself, spinning and throwing Aviles out at first for an unlikely double play. The Texas faithful roared delight and Aviles ran through the bag knowing it looked like he gave up on the rally-killing play.
"It wasn't that I didn't hustle -- I can promise you that," Aviles insisted after the Indians' 6-4 defeat to the Rangers in the opener of this four-game series. "You've been around me enough to know that that's the last thing I'm going to do."
Aviles said an injured toe -- hurt during an ill-fated trip to the hotel bathroom in the middle of the night -- was the culprit.
The play was glaring for a couple of reasons.
First and foremost, it seemed uncharacteristic for Aviles -- one of the vocal leaders inside Cleveland's clubhouse and an important role player -- to not run hard up the line. Second, the inning-ending groundout was magnified because the Indians lost a close game due to one bad inning from starter Trevor Bauer and one bad pitch from lefty Marc Rzepczynski.
The loss, which snapped Cleveland's season-high winning streak at six games and continued the club's season-long road woes, was not on the shoulders of Aviles. The missteps on the mound, combined with a couple missed chances against Texas righty Yu Darvish, paved the way for the Tribe's trip to the loss column.
"We had an opportunity," Indians manager Terry Francona said. "[Darvish] made some really good pitches."
After Darvish's bowed out following seven innings, the Indians had another chance in the eighth inning. With the Rangers clinging to a 5-4 lead, Santana drew a one-out walk against reliever Jason Frasor. Aviles then chopped a pitch from the right-hander up the middle, where Andrus gloved the ball and stepped on second base.
Santana slid into the bag and crashed into Andrus, nearly toppling the shortstop. Their collision led to a spin from Andrus, who noticed that Aviles had not made it that far up the first-base line. Andrus' second attempt at a throw was on target and easily beat Cleveland's third baseman.
"I want to show everybody that I have a really good ballerina move," Andrus quipped. "No, I mean I was about to jump and throw the ball while I was jumping, and I saw the guy actually he didn't hustle. He didn't try to rush to get to first base. I knew that I still had a lot of chance."
Even Francona thought Aviles' slow jog to first base was the result of frustration.
"I think he kind of assumed [it was a double play], because it was hit right at the bag," Francona said. "That's unfortunate, because that's not him. It won't happen again. It is unfortunate and he's probably kicking himself more than anybody."
Aviles was definitely upset, but he wanted to be clear about what happened.
"I stubbed my toe last night and couldn't run," Aviles said. "I'm not even going to lie about it. I'm not going to sit here and say I was just mad. I've hit into a bunch of double plays in my life. I'm going to keep hitting into double plays, because that's just how this game is. It had nothing to do with me not running hard. I wanted to go, but it just wasn't there.
"Anybody that knows me knows that I run hard. Most of it is completely out of anger that I did hit the ground ball. But, in that situation, I wanted to go. My toe just wouldn't bend."
In the ninth inning, Texas closer Joakim Soria handled the top of the Tribe's order to collect his 13th save, sending the Indians to their 20th loss in 29 road games this year.
Darvish (6-2), who allowed four runs for only the second time in 11 starts this season, picked up the win for Texas. Cleveland struck for three runs in the third inning on a home run by Lonnie Chisenhall and added one more in the fourth courtesy of a solo shot from Asdrubal Cabrera. Overall, though, the Indians went 1-for-10 with runners in scoring position on the night.
Bauer also gave up four runs, but all in the second inning. Rangers second baseman Rougned Odor capped off that outburst with a two-run home run that sailed into the right-field seats. Following that blast, Cleveland's starter cruised through 15 consecutive hitters without relinquishing a hit before Francona handed the ball to Rzepczynski with one out in the seventh.
"He still competed," Francona said of Bauer. "Except for the inning where he ran into trouble, he kept them off the board. Now, if you're giving up four in an inning, especially when a guy like Darvish is pitching, is a lot to come back from."
Francona turned to Rzepczynski in the seventh because the left-handed-hitting Leonys Martin was due to hit, followed by Michael Choice, who had a .191 average against lefties going into the night. Rzepczynski struck out Martin, but then watched Choice ambush a first-pitch sinker for a laser shot to right that put Texas up for good.
"It was just a sinker that didn't sink," Rzepczynski said. "The ballpark here, the ball has a pretty good chance of carrying to right. It was a line drive that went out."
It happens.
As for Aviles, he hopes his right foot issue will not happen again.
"I'm not trying to make an excuse. I'm not trying to do any of that," Aviles said. "I didn't not run because I didn't want to. Not in that situation. Not even in the first inning down 10. That's not me."
Jordan Bastian is a reporter for MLB.com. Read his blog, Major League Bastian, and follow him on Twitter @MLBastian. This story was not subject to the approval of Major League Baseball or its clubs.