Nats go with two-way player to open Day 2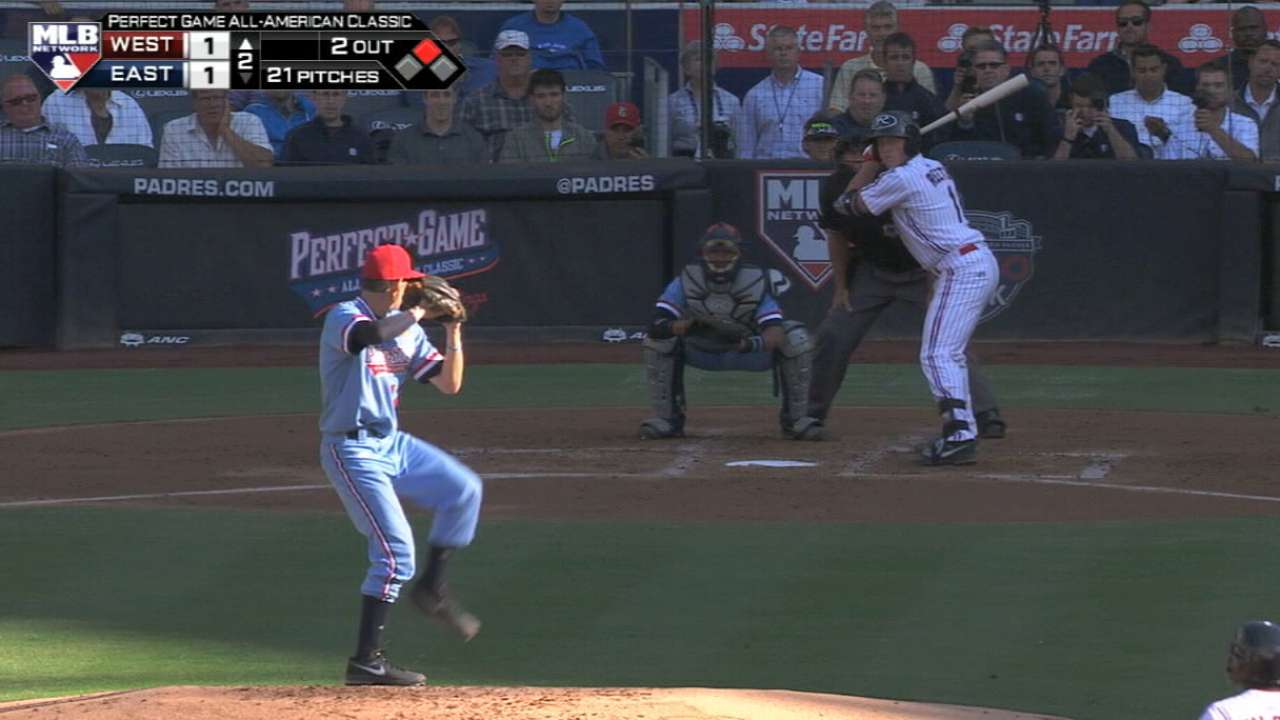 After taking two pitchers in the opening two rounds of the 2014 First-Year Player Draft on Thursday night -- right-hander Erick Fedde and left-hander Andrew Suarez -- the Nationals selected their first position player in the third round on Friday.
With the No. 93 overall pick, Washington drafted catcher Jakson Reetz out of Norris High School in Hickman, Neb. The 6-foot-1, 195-pound University of Nebraska commit burst onto the scene last August when he was named MVP of the Perfect Game All-American Classic. He went 2-for-4 with an RBI and two stolen bases.
The Draft concludes on Saturday with exclusive coverage of Rounds 11-40 beginning on MLB.com at 1 p.m. ET.
"Very excited," vice president of scouting operations Kris Kline said. "This is a high school catcher that we love."
Reetz is considered a quality two-way player who has a strong arm behind the plate and can reach low 90s on the mound, but Kline said the Nationals are more interested in Reetz's power bat. Baseball America ranked Reetz as the No. 62 overall prospect and the top prospect in Nebraska entering the Draft.
"He's got a really good feel to hit," Kline said. "You're looking at an offensive catcher at the big league level down the road."
Kline compared Reetz's defense to that of Athletics catcher Derek Norris.
"We feel that we have the right people to help him progress in that area," Kline said.
Reetz is the only high school player the Nationals drafted in the first 10 rounds of the Draft. And while Kline said that wasn't by design, there is a certain level of maturity he necessitates from high school players before drafting them.
"The high school kid in our mind has to profile as a college guy, and I mean that physically and mentally," Kline said. "Is he capable of going out there and playing and handling it every day? Those are things that we look for, and those are high school players that we focus on. If they don't fit that criteria, we're going to take a college player."
Daniel Popper is an associate reporter for MLB.com. This story was not subject to the approval of Major League Baseball or its clubs.