Calhoun sparks Angels' rout of White Sox
Homers, drives in three; Weaver goes to 7-4 and Pujols hits No. 507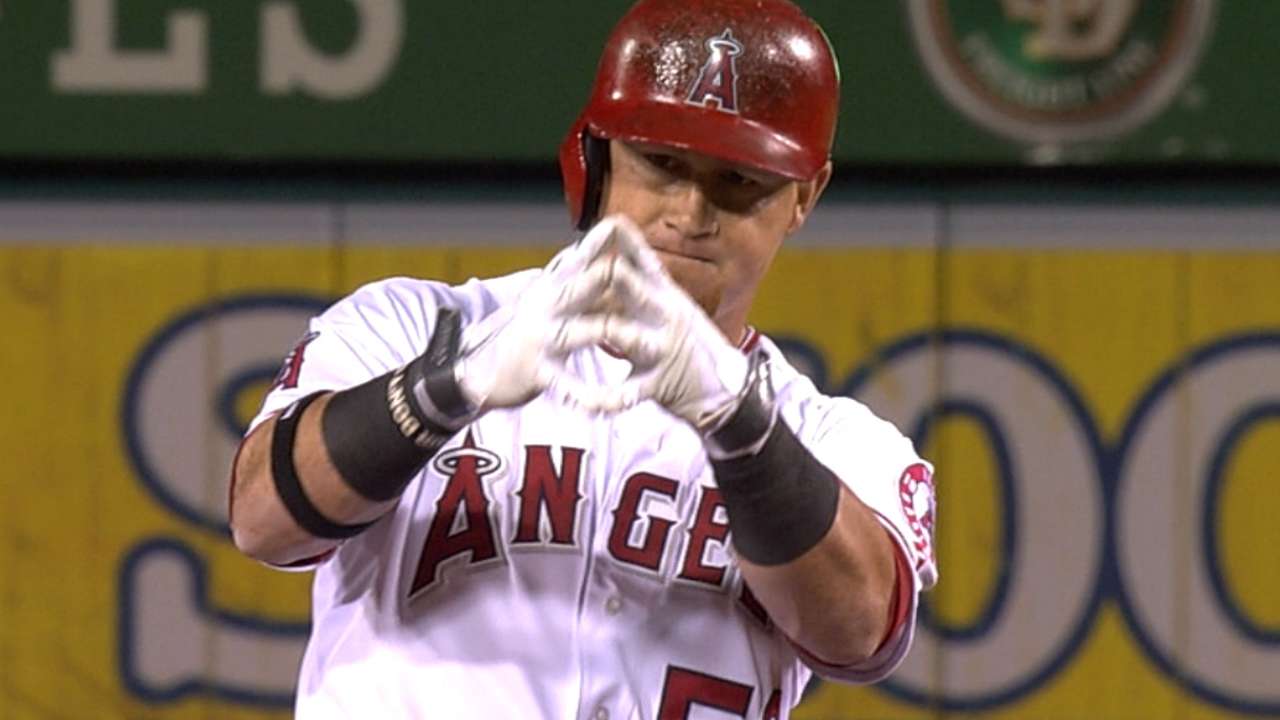 ANAHEIM -- Jered Weaver got some help, and got the Angels back on the right track Friday night at Angel Stadium.
The right-hander was the stablizing factor as the Angels, who had lost five of their past six games on the road, opened a homestand with an 8-4 victory over the White Sox.
Kole Calhoun had three RBIs, including the second leadoff homer of his young career, and Albert Pujols led off the eighth with his 507th career homer.
"The story tonight was offense," Weaver said, "setting the tone early."
Included was five Angels two-out runs in a fourth inning highlighted by two-run doubles from Calhoun and rookie C.J. Cron.
"The offense did a tremendous job, taking the pressure off me," Weaver said. "Those guys are capable of doing that every time out."
As for himself, Weaver said: "I was able to make some pitches when I had to. My curveball was pretty good. I was able to locate it when I needed to throughout. Tonight, it was a good pitch against that lineup."
The fourth that gave him a 7-1 cushion was an inning unlike many the Angels put together on the road.
"We didn't see it on the road," manager Mike Scioscia said. "We had guys swing the bats tonght and put hits together. We didn't do it on the road, we did tonight.
"I don't think we have to look for the reason why. We just know it was here tonight, and we're happy to see it."
The Angels have scored five or more runs for Weaver -- while he was in the game -- just four times this season, and he's won all four.
"When we can score with two outs and not leave guys out there in scoring position, it's going to be huge," Calhoun said. "That's going to be a game make-or-break every year."
Weaver (7-4) struck out a season-high nine in six innings. He allowed two earned runs on five hits, and walked four, tying his season high, in his 109-pitch outing. The latter was also a season high, which precluded Weaver from working the seventh. But he did throw a 90-mph fastball on his 99th pitch.
"Weav, I think, in the sixth inning, he let it out a little bit -- he knew it was his last inning," Scioscia said. "His fastball command wasn't as crisp, but he made some pitches when he had to.
"He did a good job of pitching and managing the game. That's what Weav is really terrific at."
Adam Dunn, who hit his 450th career homer in the ninth off Angels closer Ernesto Frieri, was impressed by Weaver, who struck him out twice before Dunn beat the shift twice for opposite-field singles.
"He's one of those guys to me that I've never seen him good," Dunn said. "It's just one of those things.
"He's not throwing hard, but he's still very, very effective and he carves me up. I'd take him on my team. I had a couple of big opportunities and just couldn't capitalize on them."
Frieri, who hadn't pitched since June 1, and setup man Joe Smith pitched the final two innings. Frieri threw 22 pitches in the ninth, allowing two runs on the Dunn blast, and Smith needed 28 to wriggle out of a scoreless eighth.
The Angels are using Matt Shoemaker as their fifth starter again -- he starts Saturday -- and are left with six relievers, all of the short-inning variety. Scioscia said that's being evaluated on a day-to-day basis. It might be accelerated after Smith and Frieri were extended.
"We're evaluating stuff right now," Scioscia said of a potential roster move. "Some of these guys have thrown a lot, and we might have to get some coverage."
The Angels lost their best long-relief candidate, besides Shoemaker, left-hander Wade LeBlanc, when he was claimed on waivers June 3 by the Yankees. Double-A left-hander Michael Roth might be a candidate.
The Angels broke out to a 2-0 lead in the bottom of the first. Calhoun led off and hit Andre Rienzo's third pitch out to right for his fourth homer. Mike Trout singled, stole his sixth base, and scored an out later on Josh Hamilton's double to right.
With two extra-base hits Friday, Calhoun has nine hits in his past 24 at-bats. He had a lengthy DL stint because of sprained ankle, and was 1-for-19 after being reactivated May 21.
"It's getting there," Calhoun said. "It obviously hasn't gone the exact way I've planned on it since coming back, but I'm starting to have some good at-bats and take pitches for the team and do my job a little bit better than when I first came back.
"I'm starting to get back to where I want to be. I'm not quite there yet, but I'm getting better at it."
Earl Bloom is a contributor to MLB.com. This story was not subject to the approval of Major League Baseball or its clubs.