Dunn's 450th HR comes too late to help Rienzo
Hits two-run shot in ninth; righty allows five two-out runs in fourth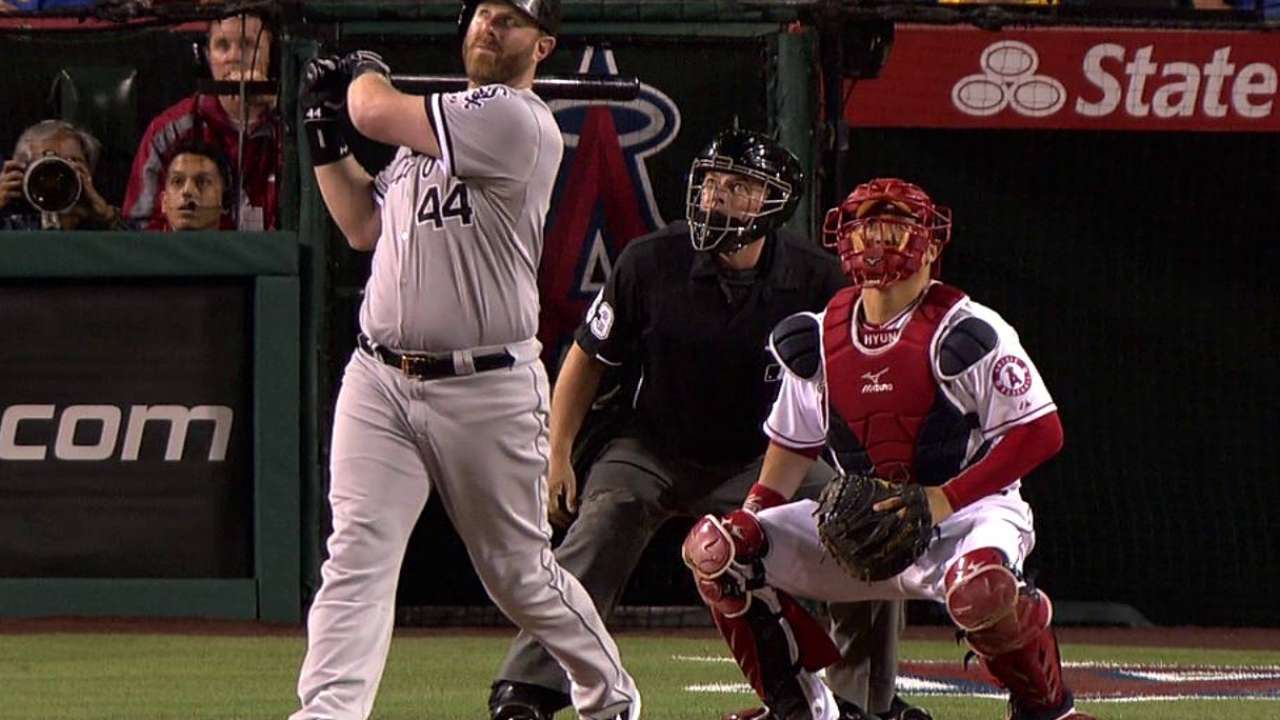 ANAHEIM -- Adam Dunn launched a 94-mph Ernesto Frieri fastball deep into the Angel Stadium right-field stands and in doing so, made a bit of history during the ninth inning of the White Sox 8-4 loss to the Angels on Friday.
Dunn just wished career home run No. 450 would have come earlier when the game was in doubt.
"It would have been a lot better, more meaningful," said Dunn, after becoming the 36th player in Major League history to reach this long ball plateau. "That's stuff you think about when you are done, not in an 8-2 or 8 to whatever it was ballgame."
The White Sox entered this weekend series opener sitting at one game over .500 but just 2 1/2 games back of the Tigers in the American League Central. Having this particular status on June 6 usually means nothing more than at least three months left in the season to be played.
For the injury-riddled, reshaping White Sox, who weren't expected to really contend at any point in the 2014 campaign, their fight and bounce-back ability made this standing an important accomplishment, if not necessarily predictive of the future. But to stay close in the division race or the playoff picture, the White Sox (31-31) will need better starting pitcher than what they got from Andre Rienzo (4-3).
Rienzo, who was not in the White Sox starting rotation to open the '14 campaign, was knocked around by the Angels (32-28) for seven runs on nine hits over 3 2/3 innings. This effort followed the three runs on seven hits given up over 3 1/3 innings during a loss to the Padres in his last start on May 31.
Location is essential for a pitcher such as Rienzo, who can't get away with being up in the zone. Location once again was missing for the right-hander, leaving Rienzo hoping for another chance to correct these mistakes.
"I hope there will be a next start," said Rienzo, who lasted only 76 pitches. "I need to leave the ball down, the same as my first four starts. Leave the ball down, keep it in control early. I tried it today.
"Today, I felt good. I felt I have all my stuff together, but the other team liked my stuff, too. So there's not a lot I can do. I didn't give a chance for the team to win."
The Angels scored two in the first on Kole Calhoun's leadoff homer and Josh Hamilton's double, and put the game away with five two-out runs in the fourth on six hits. C.J. Cron and Calhoun each doubled home a pair.
Those seven runs put the White Sox in a hole on most occasions, but it was doubly difficult with Jered Weaver (7-4) pitching. The White Sox scored on Alejandro De Aza's solo homer in the third and Dunn's single in the fifth, but Weaver allowed just five hits over six innings and struck out nine.
Chances existed even with the paltry final output, as the White Sox finished 2-for-12 with 12 runners left on base. As for Dunn, he knocked out two opposite-field singles to go with the monster shot in the ninth. But he struck out swinging after Jose Abreu's leadoff double in the second, with the White Sox trailing by a 2-0 margin, and then struck out looking with the bases loaded to end the third with the White Sox down by one run.
"He's one of those guys to me that I've never seen him good. It's just one of those things," said Dunn of facing Weaver. "He's not throwing hard, but he's still very, very effective and he carves me up. I'd take him on my team. I had a couple of big opportunities and just couldn't capitalize on them."
"We knew those guys have been swinging the bat well lately. Maybe I was trying to be too fine at times," said Weaver, who left after 109 pitches. "I threw too many pitches early on. I was able to make some pitches when I had to. My curveball was pretty good. I was able to locate it when I needed to throughout. Tonight, it was a good pitch against that lineup."
This loss dropped the White Sox back to the .500 mark for the 20th time this season and left them with a 2-2 record in their six-game, weeklong swing through California. Scott Carroll pitched 4 1/3 innings in relief of Rienzo, giving up Albert Pujols' 507th career home run to lead off the eighth and one other hit, while striking out three.
Carroll stood out as one of the team highlights on a night where there weren't many for the White Sox. Dunn talked after the loss about numbers being cool, but they will be cooler when Dunn's career is over and he can tell his three kids about the milestones.
Nonetheless, passing players such as Jeff Bagwell and Vladimir Guerrero, with whom Dunn entered Friday tied at 449 homers, certainly left an impression on the slugger.
"People don't realize you say the name Jeff Bagwell and Vladimir Guerrero and, not that long ago, they were really two of the best in the game," said Dunn, who got the baseball back for No. 450. "Obviously, growing up an Astros fan, Bagwell and [Craig] Biggio were the kings."
Scott Merkin is a reporter for MLB.com. Read his blog, Merk's Works, and follow him on Twitter @scottmerkin. This story was not subject to the approval of Major League Baseball or its clubs.