O's take two-sport star Connaughton in Round 4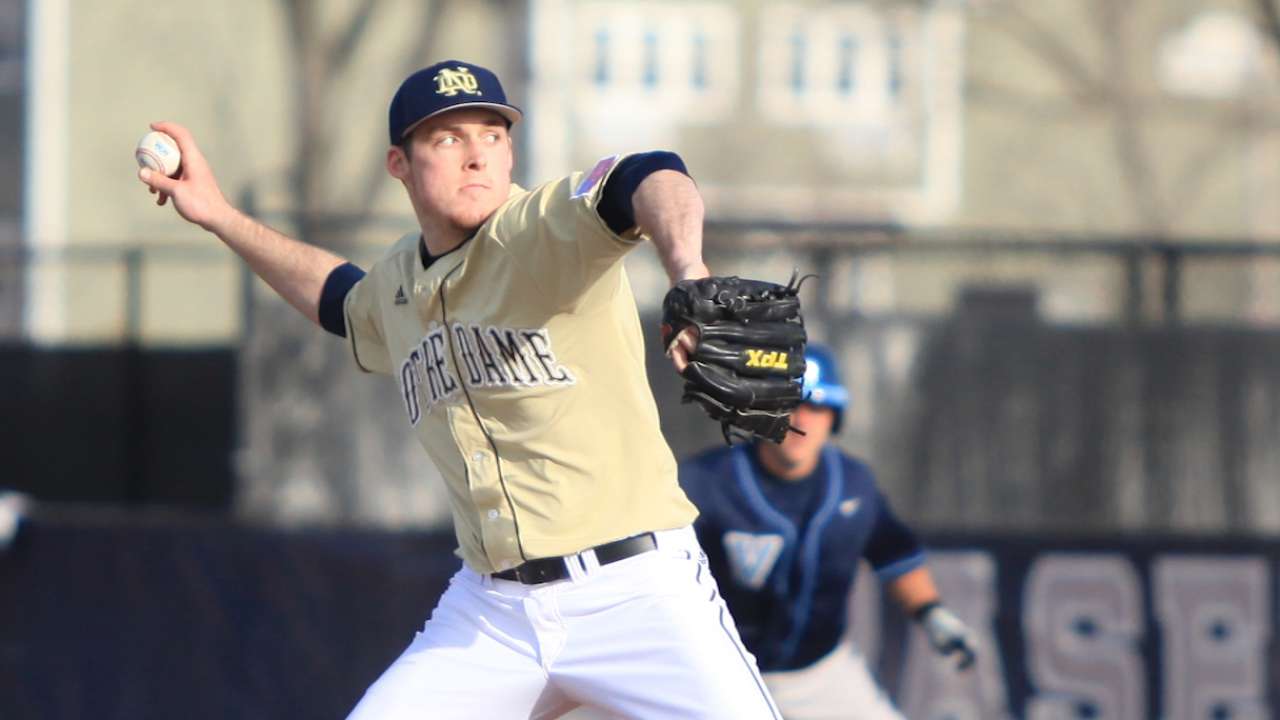 The night before the 2014 First-Year Player Draft, Pat Connaughton wasn't sure when he should expect to come off the board. He was on a full basketball scholarship at Notre Dame and had already announced his intention to play that sport for one more season.
As he sat around wondering how that would affect his stock, Fighting Irish head basketball coach Mike Brey sent him a text.
"Orioles," was all it said. Brey grew up in Bethesda, Md., when Baltimore was the only Major League team in the area, so he became a big fan.
"He's such a big Orioles fan that if I had gotten selected by any other team I'd be coming off the bench next year," Connaughton said, "but now that I'm with the Orioles I can start."
The O's selected the starting pitcher, who is also a forward on the basketball team, in the fourth round of the 2014 Draft -- their second pick on Friday -- with confidence that a full focus on baseball can turn him into a promising pitcher that was ranked as the 112th best player in the Draft by MLB.com
My Orioles get my captain, Pat Connaughton. Just bought season tickets #WildBillHagy

- Mike Brey (@NDMikeBrey) June 6, 2014
The Draft concludes on Saturday, with exclusive coverage of Rounds 11-40 beginning on MLB.com at 1 p.m. ET.
Connaughton posted just a 3.92 ERA in 10 starts with 36 strikeouts this season, but he said some of his inconsistencies came because baseball wasn't always his primary focus.
"People need to take into account that I do this three months out of the year," Connaughton said.
Last week, Connaughton went transparent with his plan for the next year.
Connaughton wants to finish his career on the hardwood for the Irish, so he held a press conference last week to announce that he would play basketball next season, but forgo his final season of baseball eligibility and sign with the team that drafts him.
"After he's finished with his college basketball career," Baltimore's director of scouting Gary Rajsich said, "he'll be a baseball player full time."
This summer, he'll report to the Orioles' Spring Training facility and get one of his first extended chances to try playing baseball exclusively.
A summer ago, though, he played in the Cape Cod Baseball League for three weeks before heading back to South Bend, Ind., to prepare for basketball season. His play there was a preview of what he can do as a professional.
"That was the first time I really put just three weeks of baseball in and the results showed," Connaughton said. "I had great success down there and that's something I'm going to be able to focus on for a much longer period of time here."
David Wilson is an associate reporter for MLB.com. This story was not subject to the approval of Major League Baseball or its clubs.