Slimmed-down infielder goes to Reds in fourth round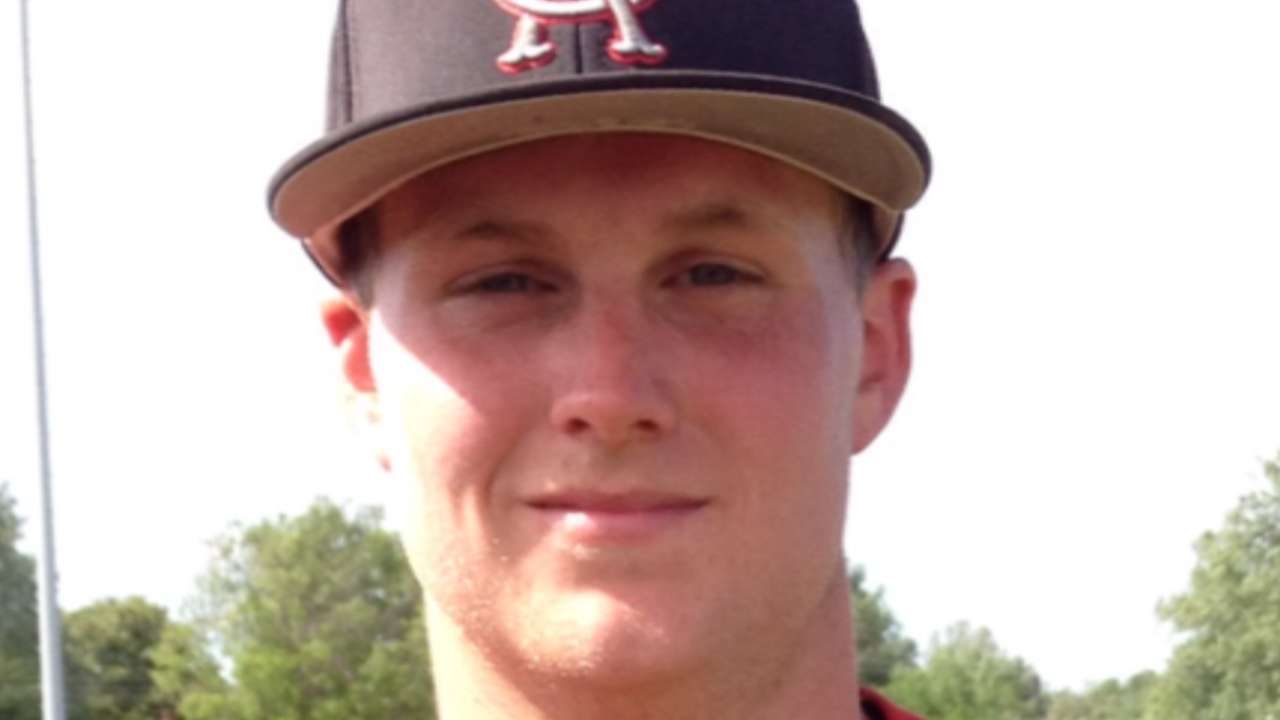 Losing weight did not mean losing power for third baseman Gavin LaValley, who has been a star hitter for Carl Albert High School in Midwest City, Okla.
LaValley weighed 270 pounds as a freshman and realized it wouldn't help him with his aspirations to play professionally or in college.
"My sophomore year, I realized I wanted to play baseball and go far in baseball," said LaValley, a former football player. "I just changed my diet and started working out harder to get my body right. I got a shot at third base and [the coach] liked me over there and started putting me there for two seasons."
LaValley is now listed at 6-foot-3 and 235 pounds.
"The power stayed there. It never left," he said. "It just made me a lot faster, agile and mobile. It helped me all around in every aspect of the game."
The Reds made LaValley their fourth-round selection in the First-Year Player Draft on Friday. It marked the first time in this year's Draft that they took a high school player after four college picks. Just before his name was revealed publicly by the Reds, the organization sent him a text message about their intentions.
"I knew it was a dream come true when that happened," LaValley said.
Thank you everyone for the congratulations!! I really appreciate it! I am very blessed to have this opportunity!! Thanks again to everyone!

- Gavin LaValley (@Gavin_LaValley) June 6, 2014
LaValley, 19, led his school to three straight state championships and batted a combined .516/.618/1.126 with 54 home runs and 202 RBIs in 121 games.
This season, LaValley batted .539 with 19 homers and 75 RBIs.
"Gavin is a good high school hitter with the potential to have plus power. I really like this kid's bat," said Reds scout Mike Keenan.
LaValley has a letter of intent signed with the University of Oklahoma.
"I'm going to sign professionally," LaValley said. "I just want to get started in pro ball and make my way to the Majors. I want to get in the system, get comfortable in the system and just get ready for it."
"He could have gone to Oklahoma to play football," Reds senior director of amateur scouting Chris Buckley said. "He's a big high school kid that we'll try him at third base. If he can't, he'll make his way over to first base. But he has the power for the position."
The Draft concludes Saturday, with exclusive coverage of Rounds 11-40 beginning on MLB.com at 1 p.m. ET.
Mark Sheldon is a reporter for MLB.com. Read his blog, Mark My Word, and follow him on Twitter @m_sheldon. This story was not subject to the approval of Major League Baseball or its clubs.