Dodgers take first collegian to open Day 2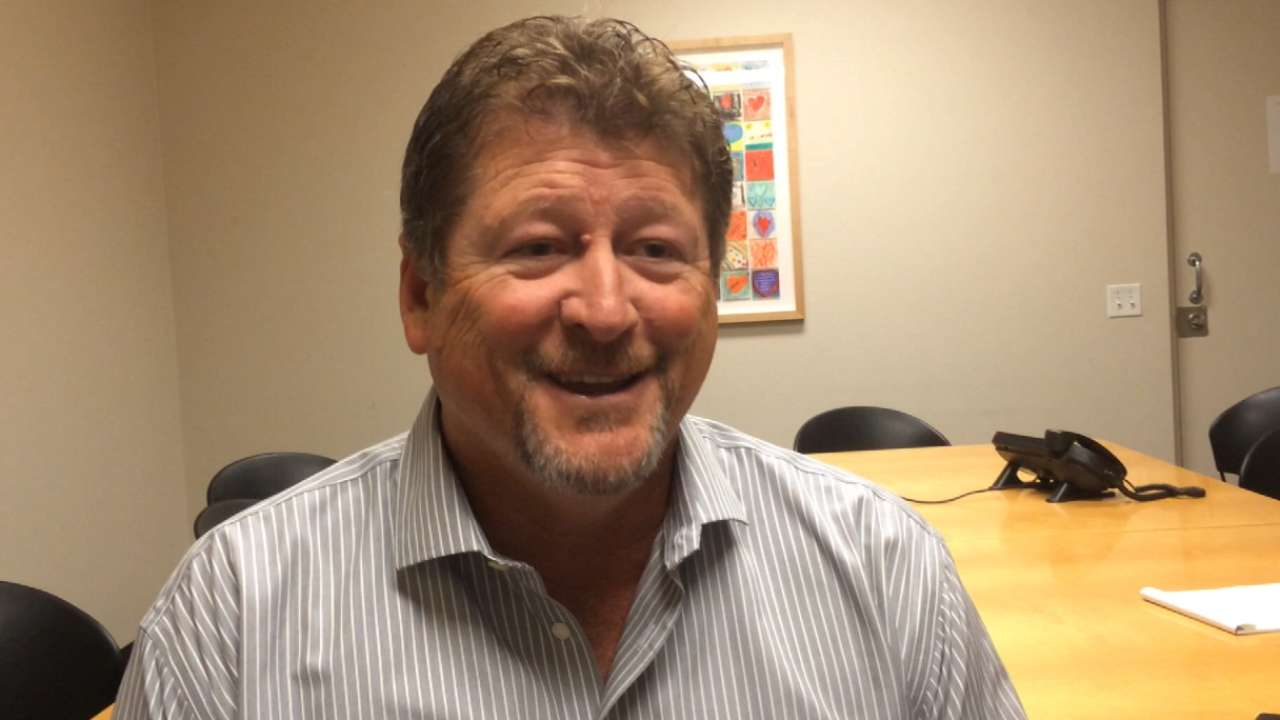 Dodgers vice president of amateur scouting Logan White said Thursday he wasn't afraid to take pitching, and with the Dodgers' first pick of Day 2 of the First-Year Player Draft, he took yet another arm. The Dodgers drafted right-hander John Richy, a junior at UNLV, in the third round (98th overall) Friday.
"I have no words to describe it," Richy said after his name was announced. "I'm so happy to be blessed with this opportunity.
"I was at home with my family and my friends, and we were just shocked. At first we were just like, 'Wait a minute. That's me.' Everybody was so happy."
Richy joins a Dodgers Draft class that includes Conway (S.C.) High School right-hander Grant Holmes with pick No. 22 and two-way outfielder-pitcher Alex Verdugo in the second round.
The Draft concludes on Saturday with exclusive coverage of Rounds 11-40 beginning on MLB.com at 10 a.m. PT.
Richy said he had heard he could be taken anywhere from the first five rounds to the top 10 rounds.
"I had talked to the Dodgers quite a bit," Richy said. "But I was expecting to go anywhere. I was definitely prepared to go anywhere in the country. It's a big relief to finally know where I'm at."
The 6-foot-2, 210-pound Richy went 11-4 on the season for the Rebels, posting a 3.20 ERA in 16 starts. He struck out 113 batters in 121 innings for a UNLV team that made the NCAA Tournament for the first time since 2005. His teammate and rotation mate Erick Fedde was drafted 18th overall by the Washington Nationals on Thursday.
"Fedde and I are roommates, and we train together and we do pretty much everything together," Richy said. "It's great to be able to go through the Draft process with him."
The right-hander has a three-pitch arsenal at his disposal, and he said command is one of his greatest assets. Richy said he hasn't heard from the Dodgers whether they intend to use him as a starter or a reliever.
"I can command both sides of the plate with my fastball," Richy said. "I think that's really helpful in making my offspeed stuff more effective, and my curveball is my out pitch. I have a changeup that I can get in there for strikes and get ahead in the count."
Richy also featured a stylish mustache throughout the college season, supporting his team's "Fear the 'Stache" mantra. There's a chance his 'stache could be going pro, too.
"That could be my signature," Richy said, laughing. "I shaved it after the season ended, but it could always come back."
Michael Lananna is an associate reporter for MLB.com. This story was not subject to the approval of Major League Baseball or its clubs.