Reds draft All-Pac 12 pitcher Strahan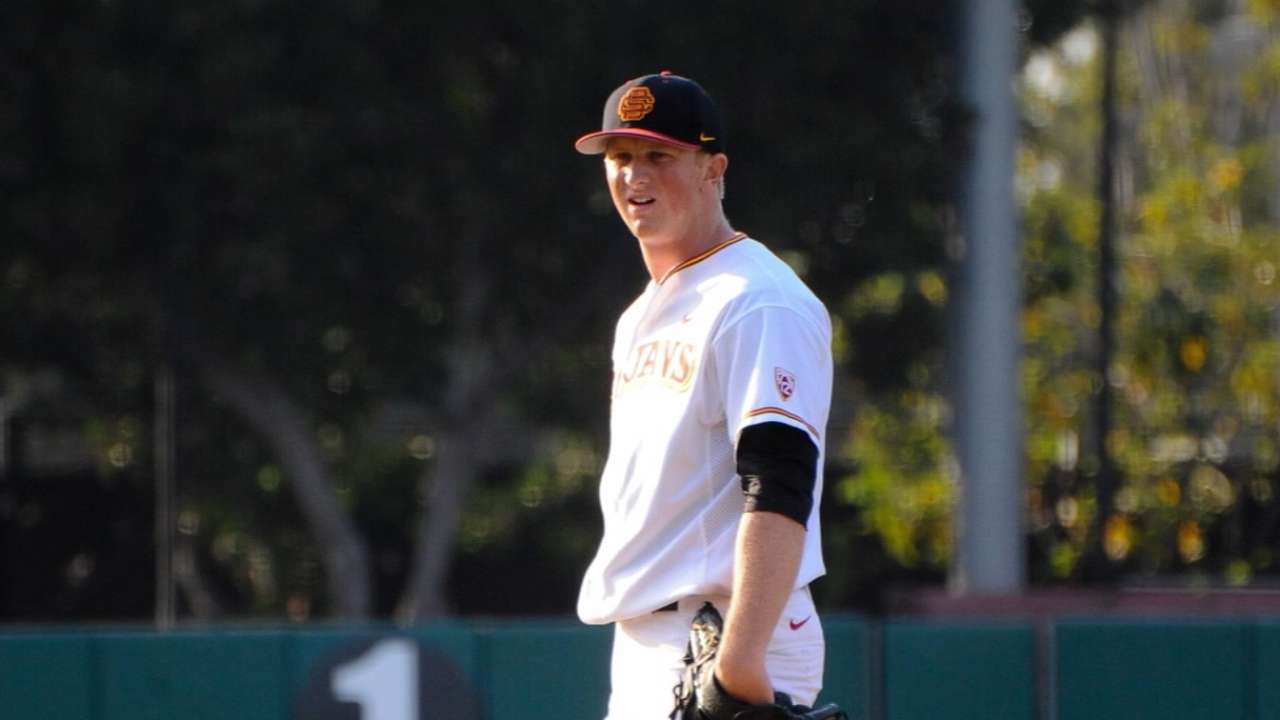 On the second day of the 2014 First-Year Player Draft, the Reds certainly demonstrated a pattern. Of their eight picks from Rounds 3 through 10, they took only pitchers and infielders.
"The righties are all hard throwers. The infielders fit in with what we always try to do. These are guys that play multiple positions and do a lot of things," Reds senior director of amateur scouting Chris Buckley said.
All five of the pitchers taken on Friday were from the collegiate ranks. Among them was a right-hander in third-round selection Wyatt Strahan from USC.
Strahan, 21, is listed at 6-foot-3 and 205 pounds and has been a starting pitcher for the Trojans the past two seasons after being a freshman reliever.
"He's a big guy and a hard thrower," Buckley said. "He pitched in a great conference. If we miss and he can't start, we certainly think he can pitch late in the ballgame."
The Reds love their power pitchers and Strahan, who had done his research about the organization, was equally thrilled about being picked by Cincinnati.
"I can't even say how excited I was," Strahan said. "I just know from hearing different stories, from a quality guy like Michael Lorenzen, they're pretty good at progressing their pitchers and developing their pitchers. I'm pretty excited to play for the organization."
Lorenzen, another power pitcher, was the 38th overall pick of the Reds last season out of Cal-State Fullerton, and is currently at Double-A Pensacola as the No. 4 prospect in the organization, according to MLB.com. There is another righty that Strahan is particularly fond of, this one in the big leagues.
"I love watching power pitchers, guys like Homer Bailey of the Reds," Strahan said. "The way those types of guys pitch instead of just throws is fascinating to me."
In 16 games, including 15 starts this season, Strahan was 6-5 with a 3.28 ERA. In 104 1/3 innings, he allowed 91 hits and 41 walks while striking out 89. In one outing vs. Utah, he struck out a career-high 13 batters.
Learning how to deal with adversity was the biggest takeaway for Strahan from his final season with the Trojans.
"There were times during the season where it wasn't going my way," he said. "It was more of how you react more than anything. That was the biggest thing I learned. In my last start of the season in the first inning, I gave up two runs solely because of putting guys on base. After that, I went six scoreless. I said 'that's as much as they're going to get today' and I ended up having a decent start."
According to the MLB.com scouting report, Strahan added velocity that has him touching the mid-90s with his fastball. This year, he earned All-Pac 12 conference honors.
Strahan is the first USC player to be picked by the Reds since pitcher Brad Boxberger was taken in the 2009 supplemental first round. Boxberger has since been traded to the Padres.
The Draft concludes Saturday, with exclusive coverage of Rounds 11-40 beginning on MLB.com at 1 p.m. ET.
Mark Sheldon is a reporter for MLB.com. Read his blog, Mark My Word, and follow him on Twitter @m_sheldon. This story was not subject to the approval of Major League Baseball or its clubs.