Blue Jays nab high school lefty Wells in third round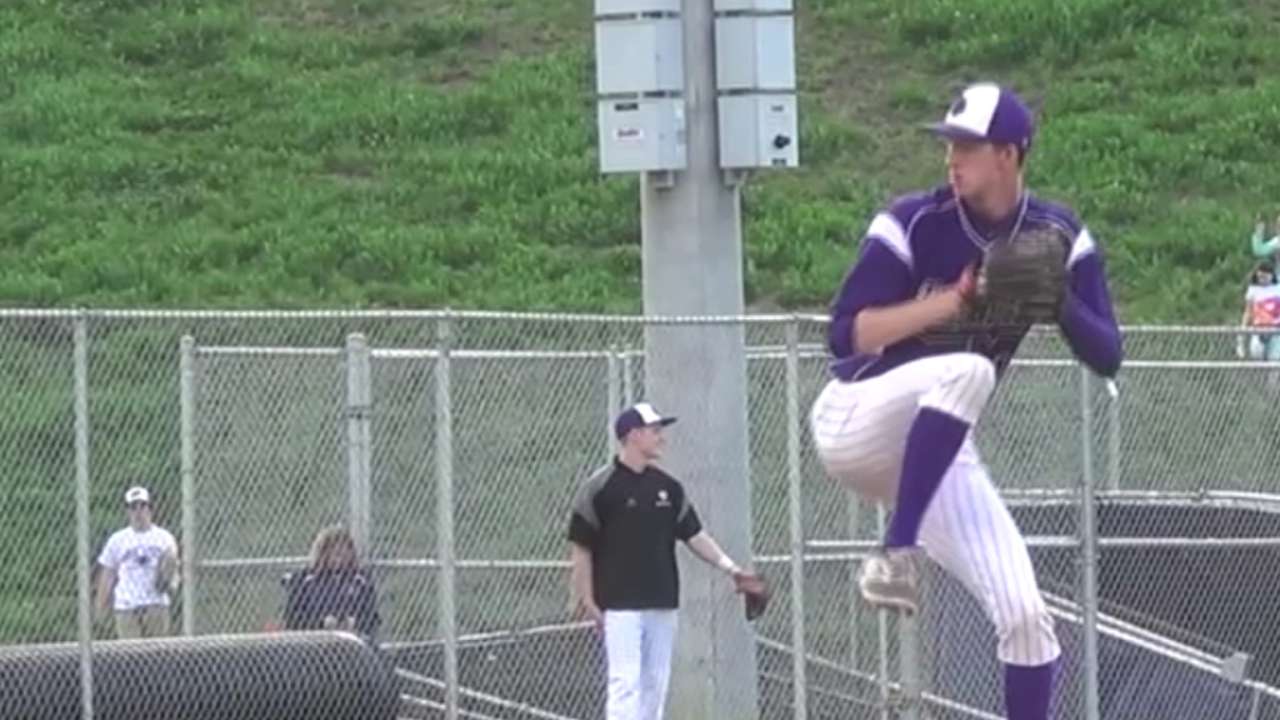 The Blue Jays continued their recent trend of taking young high school arms with a lot of upside by using their third-round pick on left-hander Nick Wells.
Wells was taken with the 83rd overall selection in the First-Year Player Draft. He has a commitment to the College of Charleston, but the Blue Jays will attempt to use the recommended slot value of $661,800 as motivation to turn pro.
The product of Gainesville, Va., didn't crack MLB.com's Top 200 prospects in advance of the Draft, but Baseball America had him ranked at No. 119. His fastball saw a large increase in velocity over the past year and he consistently throws in the low 90s.
"He's already shown a plus curveball," Blue Jays director of amateur scouting Brian Parker said. "It's a young, projectable lefty that's flashing an above-average breaking ball."
The Draft concludes on Saturday, with exclusive coverage of Rounds 11-40 beginning on MLB.com at 1 p.m. ET.
Wells is coming off a season in which he posted a 1.06 ERA in 53 innings. He struck out 102 over that span and had six complete games with a pair of no-hitters. During his final outing of the season, he struck out the final 14 batters he faced in a 4-0 victory over South County. In 2013, he went 7-2 with a 0.45 ERA, four complete games and 72 strikeouts in 61 2/3 innings.
The 6-foot-5 left-hander has been on Major League Baseball's radar for the past couple of years but his stock really increased this season. Wells added approximately seven mph on his fastball and credited an intense workout routine with fellow high schooler and soon to be college wrestler Justus Weaver as the main reason why.
"You have to work hard to get where you want to be," Wells recently told the Washington Post. "People said if I work hard, all this could happen. There were days I didn't want to come out to lift, but Justus Weaver has done a number for me."
In addition to the impressive fastball, Wells also throws an above-average curveball and a changeup that is still a work in progress. He's added approximately 40 pounds to his overall weight in the past year and has really started to grow into the type of frame that most scouts love to see in a starting pitcher.
The big question will be Wells' willingness to sign a pro contract. The Blue Jays have never shied away from taking players that have strong commitments to a college and this move is a continuation of that trend. Wells likely could have gone earlier in the Draft, but there are a lot of question marks about whether he's willing to turn pro.
Toronto does appear to have some flexibility within its total bonus pool of $9,458,500, which ranks fourth in the Draft. No. 9 pick Jeff Hoffman recently underwent Tommy John surgery and it's possible he'll sign a below-slot deal. The same could be said for college catcher Max Pentecost, who likely wouldn't want to re-enter the Draft next year as a senior.
Any team going up to five percent over its allotted pool will be taxed at a 75-percent rate on the overage. A team that overspends by 5-10 percent gets a 75-percent tax plus the loss of a first-round pick. A team that goes 10-15 percent over its pool amount will be hit with a 100-percent penalty on the overage and the loss of a first- and second-round pick. Any overage of 15 percent or more gets a 100-percent tax plus the loss of first-round picks in the next two Drafts.
If the Blue Jays are able to save a little bit of money on their first two picks, the extra money could then be allocated to Wells or second-round pick Sean Reid-Foley.
"He's a guy who, hopefully, I think in the next couple days we can get something done with," Parker said. "With some of these guys, hopefully, we can move quickly and get some things done."
Gregor Chisholm is a reporter for MLB.com. Read his blog, North of the Border, and follow him on Twitter @gregorMLB. This story was not subject to the approval of Major League Baseball or its clubs.