Seattle picks defensive standout OF Cousino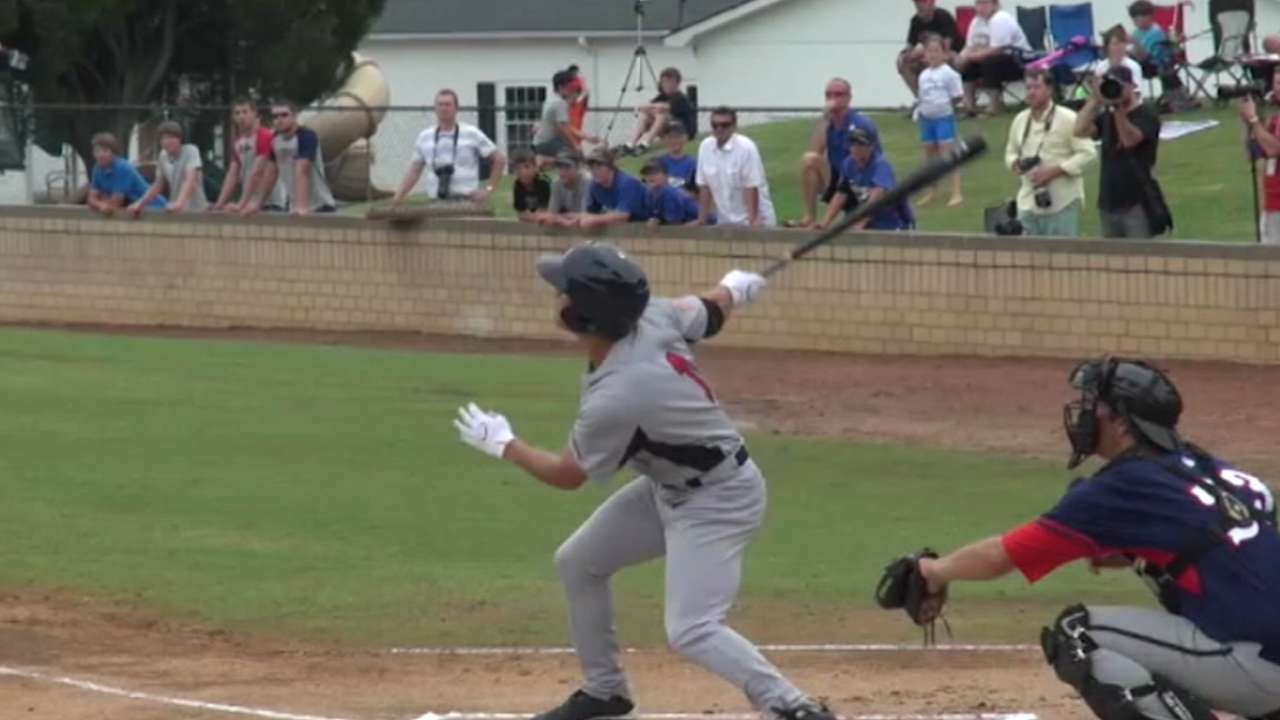 The Mariners continued to stockpile outfielders with their first pick on Day 2 of the MLB First-Year Player Draft on Friday when they selected center fielder Austin Cousino (University of Kentucky) in the third round with the 80th overall pick.
Cousino, however, is far from ordinary. In 2013, he was awarded the Golden Glove trophy given to the best defensive center fielder in college baseball. This season, Cousino (5-foot-10, 185 pounds) batted .308 with four home runs, 15 doubles and 38 RBIs in 61 games. Noted for his solid speed and his ability to get good reads on fly balls and on the basepaths, he scored 58 runs and grabbed 19 stolen bases.
He is, in Mariners director of amateur scouting Tom McNamara's words, a true center fielder.
"He's a real good defensive center fielder," said McNamara. "He's a real good defensive player that can swing the bat. We were happy to get him."
Cousino was named to Baseball America's 2014 All-America class and the USA Baseball Golden Spikes Award Preseason Watch List. A Dublin, Ohio, native, Cousino bats and throws left-handed. He was the first Wildcat to earn SEC Freshman of the Year honors (2012) and the first to play multiple seasons on the USA Collegiate National Team.
McNamara said Cousino benefitted from the international experience, because it exposed to him to pitchers from baseball-rich countries like Japan and Cuba. The fact that he played with the best players in his age group helped, too.
In three seasons with Kentucky, Cousino posted a .295/.386/.456 slash line with 19 home runs and 106 RBIs in 178 games. "When you play with really good players, sometimes you just see the way certain guys do things and you pick it up just like anything else in life," McNamara said.
Cousino was the third outfielder the Mariners selected to begin the Draft. On Thursday, Seattle took catcher/outfielder Alex Jackson (Escondido, Calif.) sixth and outfielder Gareth Morgan (Toronto) 74th.
"Obviously, you try to take the best guy in each spot," McNamara said. "We were happy with our first two picks and then we were very happy with our first pick [Friday]. We didn't plan to have three outfielders go with our first three picks."
McNamara said the arrangement works well because Morgan will likely end up a right fielder, while Jackson can also play catcher and third base.
"Each one of them brings something different to the table," said McNamara of Seattle's top three picks.
The Draft concludes Saturday, with exclusive coverage of Rounds 11-40 beginning on MLB.com at 10 a.m. PT.
Adam Lewis is an associate reporter for MLB.com. This story was not subject to the approval of Major League Baseball or its clubs.