Injury replacements available on fantasy waiver wire
Passed-over players worth a second look when trying to fill roster voids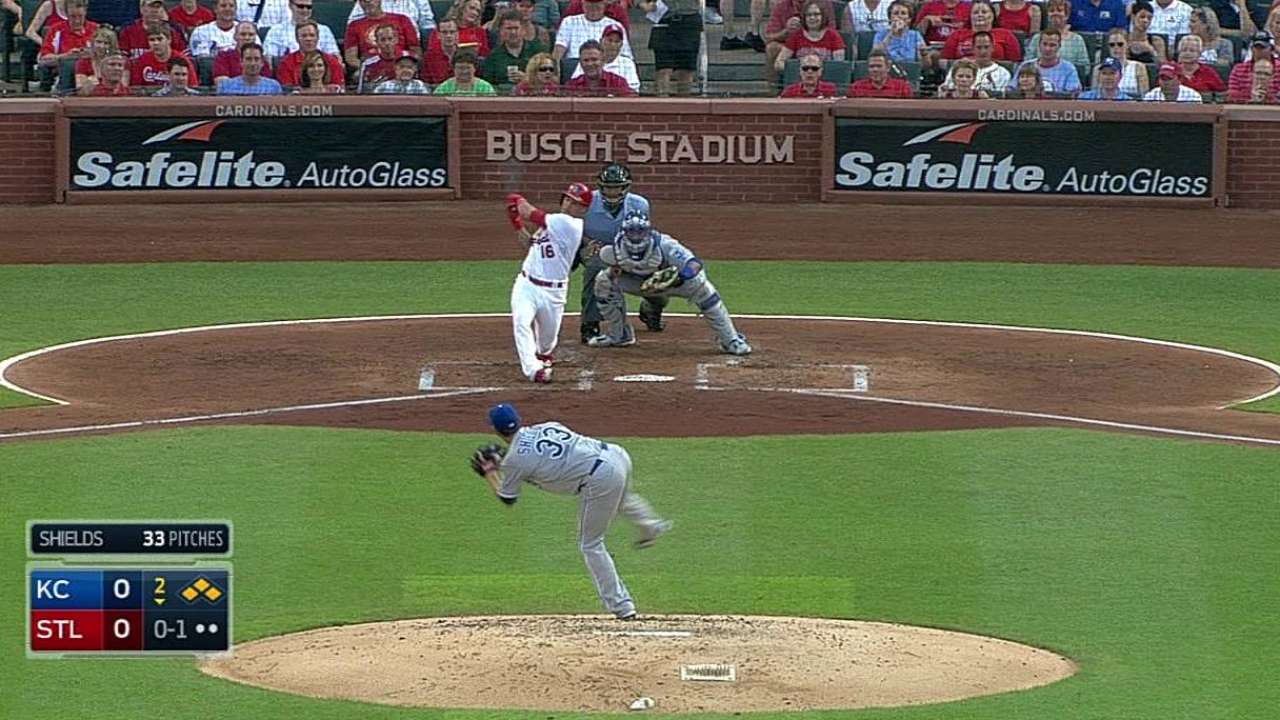 Injuries have taken a toll on fantasy rosters, and the trickle-down effect of those injuries is that the waiver-wire talent pool is starting to dry up in many leagues. As a result, fantasy owners will need to take a second look at some players who were previously passed over.
The coming week is also a poor one for two-start-pitcher options, so it is a good time to look for high-upside arms who could stay in the Majors for an extended period of time.
Here's a position-by-position look at who could be available in your league.
Catcher, Wilson Ramos (Nationals): The Nats' No. 1 backstop is getting on track, having collected 12 hits in his past nine games. The 26-year-old hit 12 homers and drove in 42 runs in the second half of 2013, so he has more upside than any other catcher on waivers in shallow leagues.
First baseman, Yonder Alonso (Padres): Many fantasy owners have forgotten that Alonso hit .330 with five homers in 88 at-bats with the Reds in 2011. The 27-year-old has disappointed in recent years, but he hit .267 with four homers and three steals in May. He may deserve one more chance in deeper formats.
Second baseman, Kolten Wong (Cardinals): Fantasy owners continue to resist the urge to add the Cards' No. 2 hitter, but with eight steals and 15 RBIs in 132 at-bats, Wong has shown that he deserves a roster spot in most leagues. He could swipe 25 bases this season despite getting little done during April.
Shortstop, Brad Miller (Mariners): Miller was one of the best hitters in the Cactus League, and his combination of power and speed made him an early-season sleeper. An ice-cold start sent the 24-year-old back to waivers in most leagues, but he has showed a glimmer of life by collecting six hits, a homer and a steal in his past seven games. Owners in deep formats would be wise to find Miller a bench spot.
Third baseman, Lonnie Chisenhall (Indians): One of this season's top surprises, Chisenhall is not slowing down, with eight hits, a homer and nine RBIs in his past six games. The Tribe is trying to stay in contention, so there is no way they will keep such a hot young hitter from starting on a regular basis.
Outfielder, Josh Willingham (Twins): Yes, Willingham is injury prone, but many waiver-wire grabs are for rental purposes anyways. The 35-year-old hit 64 homers from 2011-12 before dealing with injuries through most of last season. Four long balls in his past seven games suggest that he is finally back to full health.
Outfielder, Gregory Polanco (Pirates): There have been conflicting reports about when Polanco will arrive in the big leagues, but most guesses have him coming up in the next 10 days. The rumors of a promotion have led fantasy owners to add the elite prospect in many leagues, and he should be picked up every format before he gets the call.
Outfielder, Gerardo Parra (D-backs): The 27-year-old is not an exciting fantasy asset, but he is the kind of fifth outfielder who populates many winning rosters. Parra should fall in the 10-15 range in both homers and steals, hit for average and score plenty of runs. With multiple injuries to starting outfielders, Arizona will lean on Parra heavily in the coming weeks.
Starter, Mike Leake (Reds): Leake is as boring as it gets at the back end of a fantasy rotation because of a low strikeout rate. But the 26-year-old's excellent control has led to a solid 3.29 ERA and a 1.11 WHIP this season, and he could get a win in at least one of his two scheduled starts next week.
Starter, Jason Vargas (Royals): The 31-year-old owns a mediocre strikeout rate, but he has allowed just 13 runs over his past six starts. He should be able to rack up 10 K's and a win next week when he faces the Yankees at home and the White Sox on the road.
Starter, Ryan Vogelsong (Giants): Fantasy owners should forget 2013, because the 36-year-old is starting to return to his 2011-12 form, when he was a mixed-league asset. Vogelsong has allowed 12 runs over his past eight starts, and he is scheduled for a pair of home outings next week in pitcher-friendly AT&T Park.
Starter, Collin McHugh (Astros): McHugh is a the kind of high-strikeout starter that fantasy owners should consider when the two-start options dry up. He has recorded 54 whiffs in 50 innings to go along with a 2.52 ERA and a 0.96 WHIP, and he is scheduled to face the slumping Rays next week.
Starter, Bartolo Colon (Mets): Aside from road starts against the Rockies, Yankees and Angels, Colon has been outstanding this season. He owns an exceptional 57-to-10 strikeout-to-walk ratio, and he is scheduled to work at home against the light-hitting Padres next week.
Starter, Trevor Bauer (Indians): Fantasy owners have been reluctant to add Bauer, which is puzzling since he has more upside than almost any pitcher on waivers in shallow leagues. This is a great time to take a risk on the high-strikeout hurler, as he is scheduled to work at home against the powerless Royals next week.
Reliever, Cody Allen (Indians): Tribe manager Terry Francona has finally decided to hand the ninth inning over to his best reliever. Allen has recorded a save in each of his past four appearances and, with his high strikeout rate, he could become an elite closer as long as he limits free passes.
Reliever, Chad Qualls (Astros): The 35-year-old has a firm grip on Houston's closer's job, and for good reason -- he has not allowed a run since April 19. The Astros have played better baseball of late, so they could give Qualls a fair number of save chances in the coming weeks.
Fred Zinkie is a fantasy baseball writer for MLB.com. This story was not subject to the approval of Major League Baseball or its clubs.