Twins start Day 2 by taking Cederoth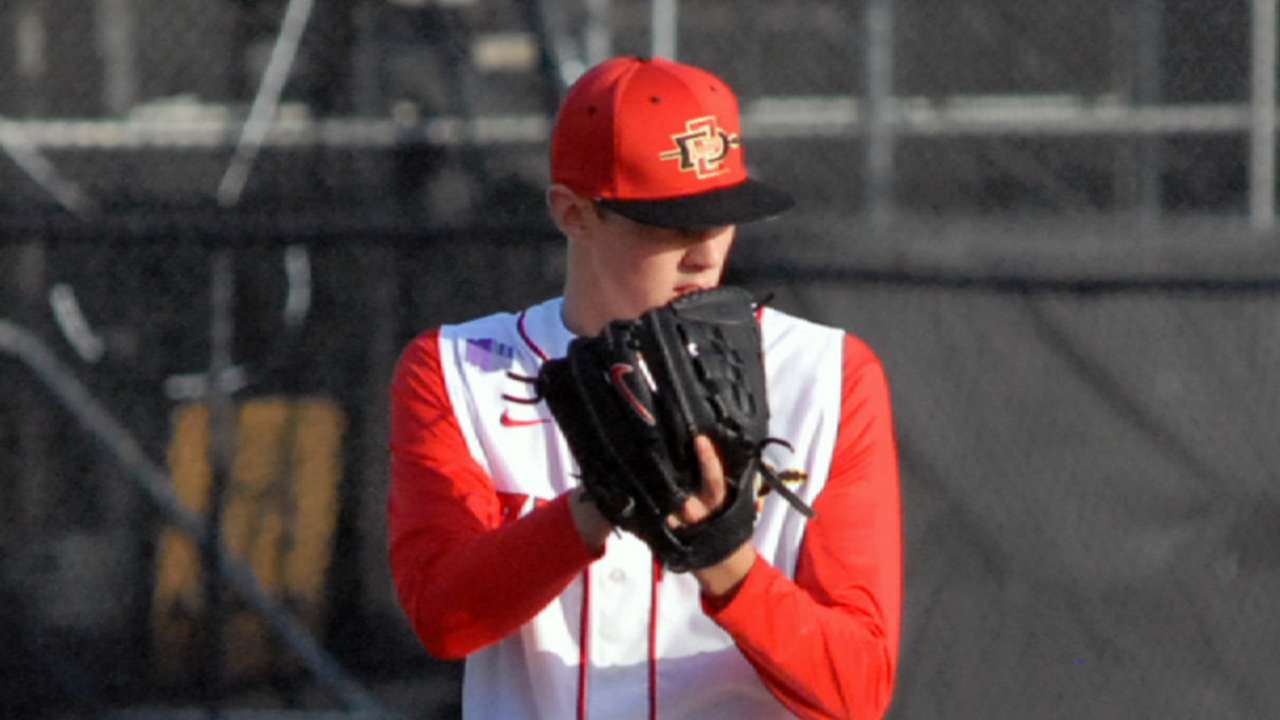 The Twins went with a hard-throwing college right-hander for a second straight pick, drafting San Diego State flamethrower Michael Cederoth with their third-round selection on Friday after taking Louisville's Nick Burdi in the second round.
Cederoth, ranked as the No. 59 overall Draft prospect by MLB.com, was selected with the No. 79 overall pick on the second day of this year's First-Year Player Draft. It was the second of seven straight college pitchers taken by the Twins.
Cederoth and Burdi rank as two of the hardest throwing college pitchers, as Cederoth has also hit 100 mph on the radar gun. Both profile as relievers, as the Twins are looking to add quality relievers to their system who could move quickly to the Majors.
"It wasn't a plan going in, but it was just kind of a snowball effect once we took Cederoth," Twins scouting director Deron Johnson said. "The starters we really liked were gone by the third round. We'd rather take a Michael Cederoth and his fastball that can reach 100 than some guy who profiles as a fifth starter. That's just our belief."
Cederoth, a 6-foot-6, 220-pounder, went 6-2 with a 2.28 ERA in 32 appearances with San Diego State this year. He struck out 55 and walked 28 in 51 1/3 innings while picking up 20 saves en route to being named a First-Team Louisville Slugger All-American.
The 21-year-old still needs to work on his command, as he still has a lot of moving parts to his delivery with his large frame and he just moved to the bullpen this year after starting his first two years at San Diego State.
"He actually ran it up to 100 [mph] last year as a sophomore as a starter," Johnson said. "He didn't pitch last summer because of an innings thing. But they got a new pitching coach, and in the fall he never really got on track. His first start wasn't very good and they put him in the bullpen. But he helped his team out as a closer. He walked a few more than he probably should. But with a tweak here and there, I think this guy has some really high upside."
Cederoth's fastball is his calling card, but he also has a slider, curveball and changeup, with his low-80s slider showing the most potential as a secondary pitch to go along with his overpowering fastball.
Cederoth was also drafted out of Steele Canyon High School in Spring Valley, Calif., as a 41st-rounder by the D-backs but didn't sign.
The Draft concludes on Saturday, with exclusive coverage of Rounds 11-40 beginning on MLB.com at 12 p.m. CT.
Rhett Bollinger is a reporter for MLB.com. Read his blog, Bollinger Beat, and follow him on Twitter @RhettBollinger. This story was not subject to the approval of Major League Baseball or its clubs.