'Nine-tool' Sklar brothers on 'Express Written Consent'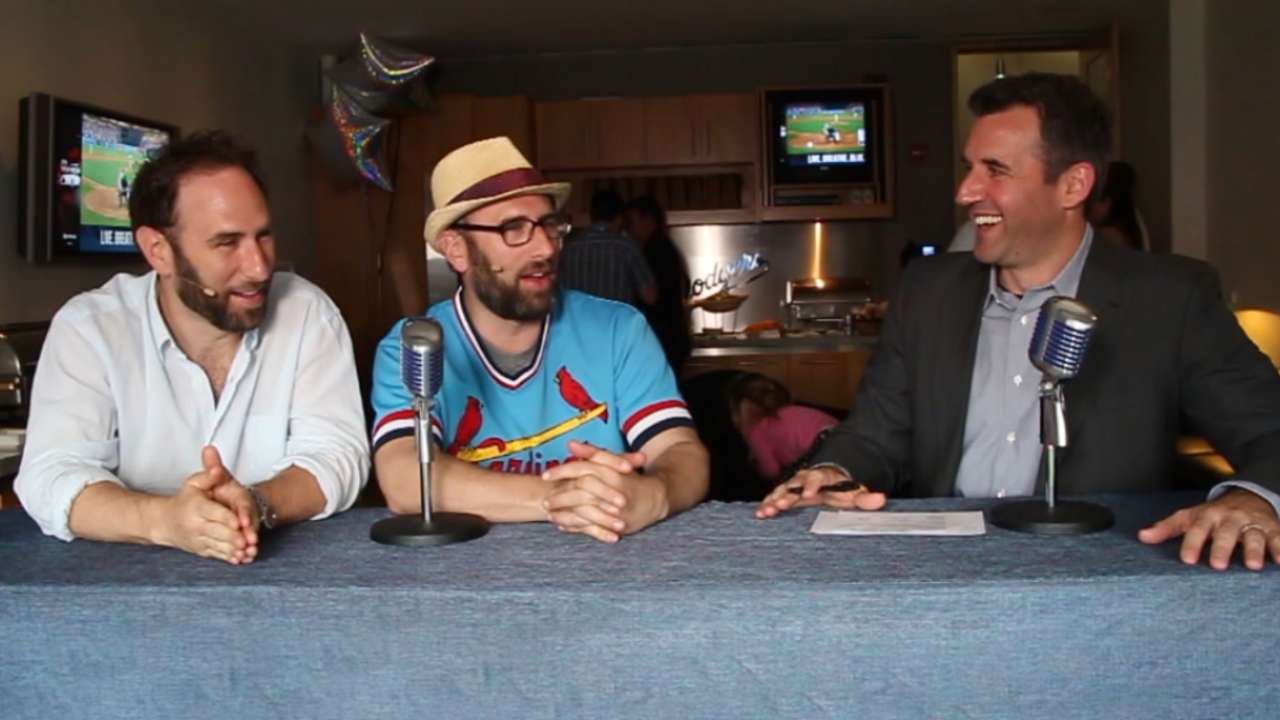 Lots of famous people have fun stories about meeting their favorite sports stars, but it would be hard to top the one the Sklar brothers -- Randy and his identical twin brother, Jason -- told while reminiscing about their childhood brush with greatness some 30 years ago.
Like most kids growing up near St. Louis, Randy and Jason were Cardinals fans, with a special affinity for future Hall of Famer Ozzie Smith. Smith at the time had opened a restaurant in town fittingly called Ozzie's, and the Sklar brothers were bound and determined to get there. They were 12 years old at the time and needed to be accompanied by their parents, and, well, their parents weren't really up for the task.
"It's overpriced chicken fingers," the Sklar parents argued.
"Yes," the Sklar brothers would retort, "but Ozzie Smith could be there."
The parents finally relented, and Jason and Randy, excited as could be, grabbed their gloves so that when -- not if, but when -- they ran into Smith at the restaurant, they could get autographs.
"He kind of has this other job," the Sklar parents told the Sklar brothers. "It's called shortstop for the Cardinals."
Never mind that. Randy and Jason had faith Ozzie would be there. They just knew he'd be there. And they would be ready.
"We go," Jason said. "And Ozzie Smith is there."
No. Way.
"He's walking around to the tables, and we're like, 'Oh my God,'" Jason continued. "'He's going to sign our gloves. This is amazing.'"
They saw Smith approaching their table. Both boys reached down at the same time to grab their gloves. They came back up with their pens in hand, saw Ozzie standing at their table, and they saw their dad... holding the bread basket.
"Can we get some more rolls, please?" Dad Sklar says.
"We were mortified," Jason said. "We had to leave."
To hear the Sklar brothers tell a story is to understand why they have been so successful in their chosen field. They've been actors, stand-up comedians, sports talk show hosts and podcasts hosts. They're engaging and funny, without a hint of pretense.
They began, as their web site states, "as one zygote," and parlayed their identical twin-ness into a full-fledged career as entertainers. MLB.com host Jeremy Brisiel described their professional path as "prolific" when the three gathered for the most recent taping of "Express Written Consent."
"When you're not wildly successful," Jason explained, "You become prolific."
They've taken on a lot over the years, sure, but they've pretty much been a hit with everything they've tried. Remember when they played conjoined twins on one of the early episodes of "Grey's Anatomy"? Or when Jason played the slightly uptight and eventually belligerent clothing store worker who didn't want Larry to refold the sweater? Or when they were warring agents on HBO's hit show "Entourage"?
The Sklars have had more permanent gigs, too, which may be more memorable. They had a four-year run as hosts of the cult classic comedy series "Cheap Seats" on ESPN Classic. They also fill in regularly as guest hosts for Jim Rome on his nationally syndicated radio show.
Their latest undertaking can be found on Netflix and iTunes -- a one-hour standup special titled "What Are We Talking About," recorded at the Majestic Theater in Madison, Wis. The brothers depicted their special as if it were an NFL playoff game, with Rich Eisen leading a discussion of their comedy on an NFL Network set.
The special features a pregame breakdown by the crew, a halftime report and a postgame wrapup.
"When you have a chance to do all those things, you have to appreciate all of them," Randy said of their wide-ranging careers. "They each fulfill a separate need in what we're trying to do."
"We're the Jose Oquendo of nine-tool players," Jason added.
Asked who they would be if they could be one baseball player, for one specific day, neither hesitated with an answer.
Jason would be Vince Coleman in October 1985, the day the Cardinals clinched the pennant. Not because of the euphoric feeling he'd get by knowing he's going to play in a World Series. No, Jason would be Coleman mainly because of Coleman's, well, state of mind after the game, while celebrating with teammates and doing impromptu interviews with "a local sports guy in the most Cosby sweater ever."
The cameras caught every glorious moment.
"The man was so blissfully drunk, there was a happiness that there was no way this guy was ever coming down," Jason said.
Randy, however, would travel back to 2006, and he'd be Adam Wainwright, and he'd "throw the hook" to Carlos Beltran that froze the star outfielder and sealed the pennant for St. Louis.
"The guy basically killed us as an Astro, killed us as a Met," Jason said of Beltran. "He's basically the Robert Horry of baseball. Whoever he plays for, count on him being like 18-for-24 in the playoffs."
Neither picked Smith as their time-capsule moment, but they did reveal a happy ending to the great bread basket caper from their childhood.
Six years ago, the Sklar brothers were performing at a cancer benefit in St. Louis. Smith was there. Their father was there. On stage, Randy and Jason told the roll story.
What did Smith do?
"He goes in the kitchen of the casino we're at," Randy said. "He brings out a basket of rolls, walks over to our father, and hands him the rolls."
Dad Sklar's response?
"Where's the butter?"
Alyson Footer is a national correspondent for MLB.com. Follow her on Twitter @alysonfooter. This story was not subject to the approval of Major League Baseball or its clubs.