Baseball's closer carousel is always turning
Things have never gone as planned when it comes to the ninth inning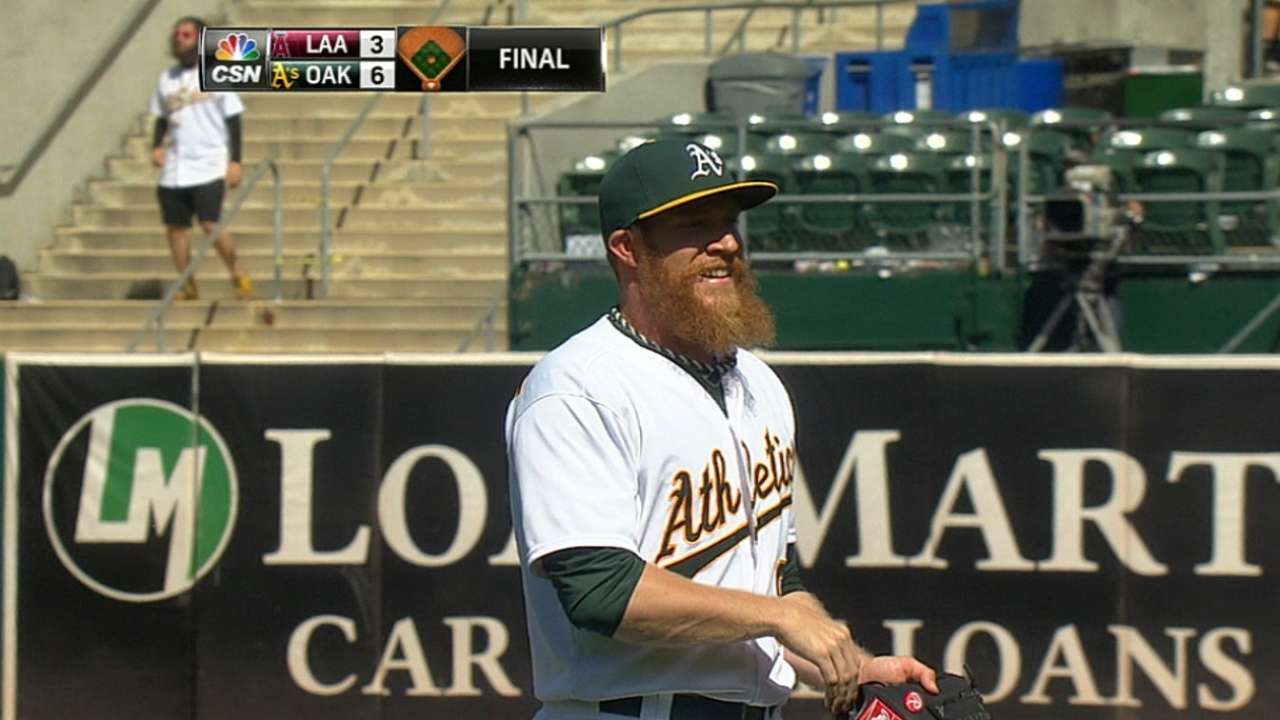 When Brewers manager Ron Roenicke went to the mound on Opening Day of 2014 and summoned a right-hander from the bullpen to close out his team's 2-0 victory, it wasn't much of a surprise. Jim Henderson had earned the closer job last year as a rookie, saving 28 games and striking out 75 batters in 60 innings.
But when Francisco Rodriguez was the pitcher who emerged and walked to the mound, well, even some of the Brewers' players were stunned.
"I didn't know what was going on there," third baseman Aramis Ramirez said.
Ramirez is a veteran of 17 big league seasons, so he should know that the job requiring three outs in the ninth inning with a slim lead is one of the most tenuous in the business. One bad week and you can find yourself back in the middle innings, while a teammate who happens to be throwing more strikes moves ahead of you and seizes the moment.
So when the man they call "K-Rod" closed out that game for his 305th career save, it was the first example of how quickly the closer carousel can pick you up or drop you off.
"We had a conversation about Henderson yesterday, and until we feel like he's throwing the way he can and was last year, we're going to put him in a role that we can give him a couple outings to get his stuff back and his confidence going," Roenicke said after the game. "That's just a decision we had to make."
It appears to have been the right one. Rodriguez has kept the job and has saved 18 games for a first-place team. Meanwhile, quite a few other teams have already changed closers, and we're still more than a month from the All-Star break.
The Cubs, for example, signed veteran right-hander Jose Veras to be their closer and paid him $4 million for one year. But he logged an 8.10 ERA in 12 games and was replaced by Hector Rondon. Chicago designated Veras for assignment last Tuesday.
"You're disappointed when you sign a free agent and bring in a veteran and it didn't work out," Chicago general manager Jed Hoyer said. "I think he'll land on his feet.
"For us, when we sat down and made the decision, ultimately we have a lot of young guys playing well and competing well in important leverage situations. We want to stick with those guys right now."
As far as the bullpen is concerned, a lot of teams seem to be sharing those sentiments.
The Cleveland Indians brought in John Axford to be their closer, signing him to a one-year, $4.5 million contract last December. But when the veteran faltered in early May, Cleveland switched to a closer by committee and now seems set with right-hander Cody Allen handling the ninth.
The Baltimore Orioles had Tommy Hunter as their closer until mid-May, but Hunter lost the job to a committee that now seems to be headed by Zach Britton. Hunter went on the 15-day disabled list a week later because of a left groin strain.
"It's a cool feeling," Britton said. "When Tommy needs a break, we're ready to step in for him. And when he comes back and is ready to go, we'll go back to doing what we normally do."
The Blue Jays are back to normal after their closer, Casey Janssen, missed the first six weeks of the season because of a back injury. The Reds, too, were without their closer because Aroldis Chapman suffered facial fractures when struck by a line drive in Spring Training. Cincinnati started with a committee and switched to Jonathan Broxton until Chapman returned.
The White Sox were expected to have Nate Jones as their closer, but Matt Lindstrom earned the job out of Spring Training. Lindstrom, however, is on the 15-day DL, so Ronald Belisario has taken over the ninth inning for the time being. And in Houston, manager Bo Porter went with a committee until veteran Chad Qualls locked down the Astros' closer job in late May.
The Mets took a longer route to finding their current closer. Bobby Parnell was lost for the season with Tommy John elbow reconstruction surgery in the first week of April. The Mets turned to veterans Jose Valverde and Kyle Farnsworth before going with a committee that included Valverde, Jeurys Familia, Daisuke Matsuzaka and Jenrry Mejia. They finally chose Mejia as the main guy, and he's saved six games since May 17.
In Oakland, the A's made one of the more dramatic moves in the closer role so far this season.
They had traded with Baltimore for Jim Johnson and are paying him a $10 million salary in 2014, but after Johnson gave up seven runs in 3 1/3 innings only 11 days in the season, Oakland manager Bob Melvin announced he was removing Johnson from the role and going with a hodgepodge of right-handers Luke Gregerson, Ryan Cook and Dan Otero and left-hander Sean Doolittle.
"You have to do the best you can to win games, and you also have to show confidence in guys for a period of time, and if that doesn't work, then you have to do some things differently," Melvin said. "It's more difficult with the guys who have track records, which Jim does."
Doolittle has become the headliner of the Oakland crew, and he's transitioned smoothly to the ninth inning. Through Thursday, he's got seven saves, he's struck out 39 batters in 28 innings, and the A's are in first place in the AL West.
Then again, it's important to remember that it's only early June. We've already seen enough movement around the league to know that the closer carousel could still be spinning all the way into late September.
Doug Miller is a reporter for MLB.com. Follow him on Twitter @DougMillerMLB. This story was not subject to the approval of Major League Baseball or its clubs.