Tribe selects RHP Hockin for final pick of Day 1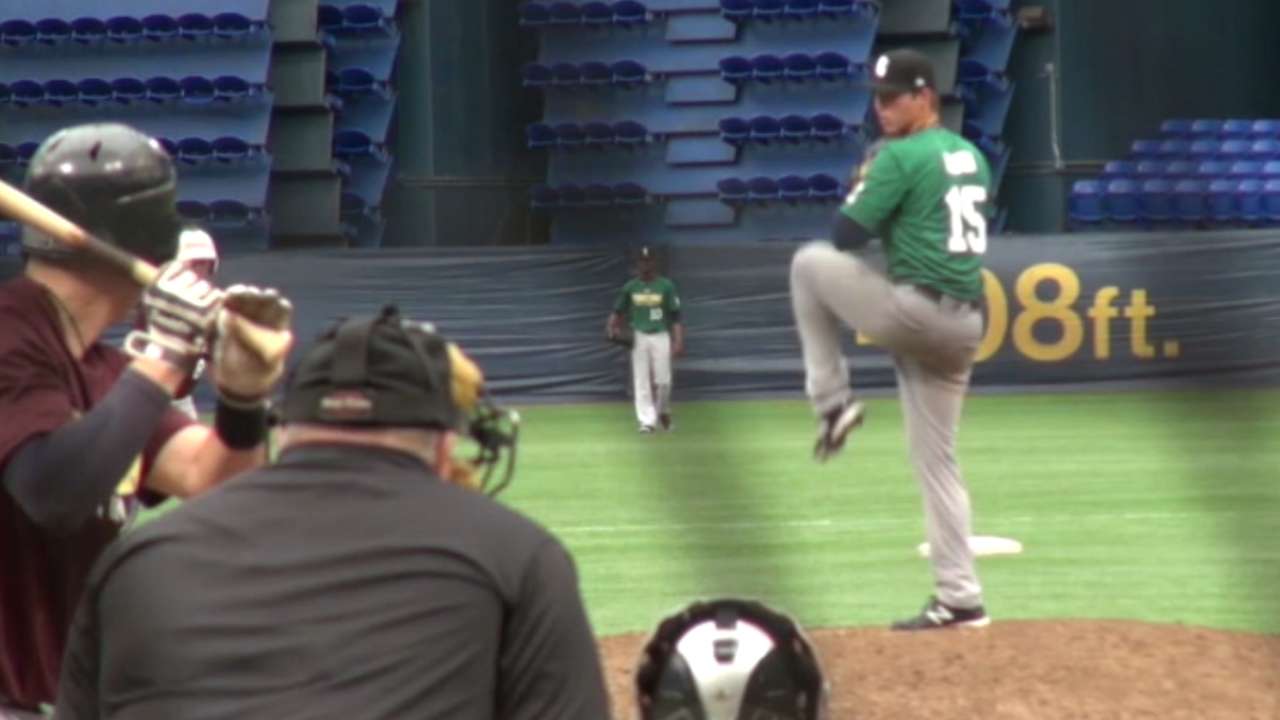 CLEVELAND -- The Indians were impressed with the advanced approach to pitching that Grant Hockin has displayed as a high schooler. Cleveland likes his fastball, feels his slider can be a real weapon and was impressed with what it saw in the right-hander's developing changeup.
That is all well and good, but there is also the fact that Hockin is a grandson of Hall of Fame slugger Harmon Killebrew. Maybe that played a role in Cleveland selecting the young pitcher with the 61st overall pick on Day 1 of the First-Year Player Draft on Thursday night.
"I did not," said a laughing Brad Grant, Cleveland's director of amateur scouting. "But, it's always good to have bloodlines, for sure."
On a long and fruitful first day of the Draft, the Indians wrapped things up with the selection of Hockin, an 18-year-old right-hander out of Damien High School in California. Hockin joined left-hander Justus Sheffield (31st overall) as one of two prep pitchers selected by Cleveland within the club's four picks on the annual event's opening night.
The Indians began their part in the 2014 Draft by selecting University of San Francisco outfielder Bradley Zimmer with the 21st overall selection, marking the third straight year Cleveland has picked an outfielder first. The Tribe also grabbed Virginia outfielder Mike Papi with the 38th overall section, which fell in the Competive Balance round.
One year after having just one pick on the first day, Cleveland reeled in a balanced quartet of prospects.
"It wasn't anything that was intended," Grant said. "We didn't go in with a plan to try to balance out the four picks. It worked out that way and it's exciting that it did. To get the two advanced college bats, and then mix in the upside with the high school pitchers, that part of it is extremely exciting."
Hockin -- with his 6-foot-4, 195-pound frame -- offers a solid arsenal of pitches and a wiry build that has room to grow in the coming years. He possesses good movement on his changeup, has a fastball that tops out around 95 mph and will mix in a curveball and slider, as well.
Hockin went 9-3 with a 1.49 ERA during his senior season at Damien, striking out 99 across 80 innings.
"[Hockin] is an advanced high school feel-to-pitch pitcher," Grant said. "He brings a solid-average fastball up to 95 with good sink to it. He's got two different breaking balls, a curveball and a slider, with the slider probably being the better of the two. It's hard with depth. It's up to 83-84 and then there's a good feel for a changeup.
"I think with Grant, what really stands out is his feel [for pitching]. He can really locate his fastball. He changes speeds extremely well and has a really good feel for a right-handed pitcher."
Hockin is currently committed to play college baseball for the UCLA Bruins, but Grant did not sound worried about being able to sign the pitcher.
"When we take players," Grant said, "we do it based on that understanding of their willingness to sign."
Jordan Bastian is a reporter for MLB.com. Read his blog, Major League Bastian, and follow him on Twitter @MLBastian. Alec Shirkey is an associate reporter for MLB.com. This story was not subject to the approval of Major League Baseball or its clubs.