Brewers grab power-hitting high school shortstop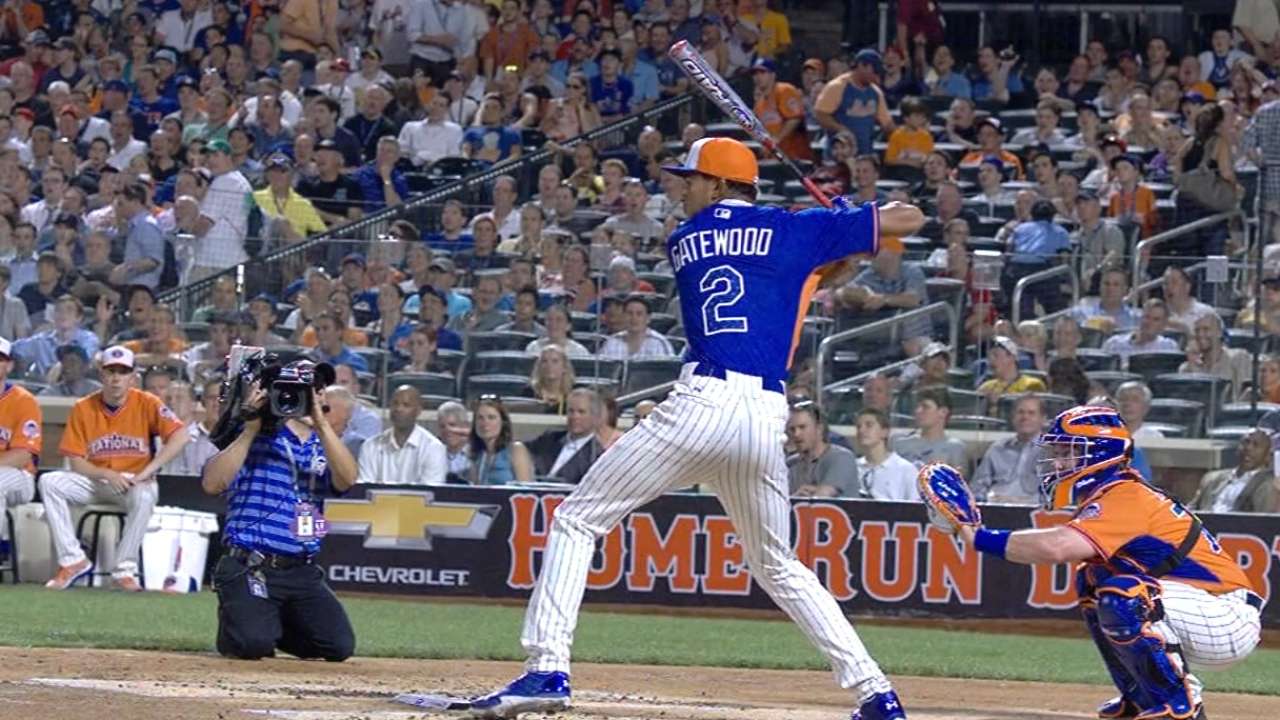 MILWAUKEE -- Power-hitting shortstop Jacob Gatewood joined a promising list when the Brewers made him the 41st overall selection in the First-Year Player Draft on Thursday.
Gatewood, from Clovis (Calif.) High School, was the final selection of Compensation Round B, and became the 11th shortstop in franchise history drafted before the start of the Draft's second round. Among his predecessors are some big-time big leaguers, including Robin Yount, Paul Molitor, Gary Sheffield, Gorman Thomas, B.J. Surhoff, Bill Spiers and Dale Sveum.
Many of those players went on to man positions other than shortstop, and only a few possessed Gatewood's raw power. He reached the third deck of New York's Citi Field with a metal bat during the junior portion of last year's All-Star Home Run Derby, and cleared the bleachers at Chicago's Wrigley Field in another derby.
"I wouldn't put it past him if he stayed at short, but he can handle third or second if need be," Brewers scouting director Bruce Seid said. "The bat has a chance to be a really good bat. It's a ways to go, but all of the ingredients are there."
Scouting reports praise Gatewood's strong arm but question whether he will stick at shortstop. He is committed to USC if he doesn't sign with the Brewers. The 41st overall pick has an assigned slot value of $1,384,900.
Gatewood is being advised by agent Danny Lozano.
"It was a stressful process, but I have great friends and family around me, and tonight was amazing," said Gatewood, who attended the Draft in person at MLB Network headquarters in Secaucus, N.J. "It's definitely a relief to know where I'm going to go and a relief to know I'm going to such a good organization. … I'm just enjoying it right now. We'll see what happens down the road, but I'm looking forward to playing in the Brewers organization."
Gatewood was already acquainted with the Brewers' other first-round pick, left-hander Kodi Medeiros (12th overall), from pre-Draft showcases. Medeiros and the Brewers' other Day 1 Draft pick, outfielder Monte Harrison (second round, 50th overall) toured Citi Field earlier Thursday with the group of players who attended the Draft in person.
"It felt like I could hear the crowd screaming again when I went out there, just because that experience was so awesome," Gatewood said. "It's something I'll never forget and to be back and be able to kind of be there when no one was in the stands was kind of cool."
His All-Star Game experience offered a brief taste of the big leagues.
"Without a doubt. We were treated like All-Stars, basically, down there," Gatewood said. It was just great. USA Baseball is awesome and MLB for putting that on. I was just glad to have the opportunity to be out there and it worked out pretty good. I mean, I had an awesome time."
Gatewood batted .389 and hit five home runs in 113 at-bats during his senior season at Clovis.
"I feel like I need to try to become more of an overall better hitter, hit for average as well as for power, because I know my power's there and the more consistent I make contact the better my power's going to play in the game," Gatewood said. "Obviously, if I get a chance to play shortstop, I need to work as hard as I can to stay there. I know it's not going to be easy being my height, but I know it's possible since there's guys that have done it before. That's all I need to know, that it's possible.
Adam McCalvy is a reporter for MLB.com. Read his blog, Brew Beat, and follow him on Twitter at @AdamMcCalvy. This story was not subject to the approval of Major League Baseball or its clubs.