Stubblefield playing role of scout expertly
Former Minor Leaguer in Padres system has critical role in drafting Turner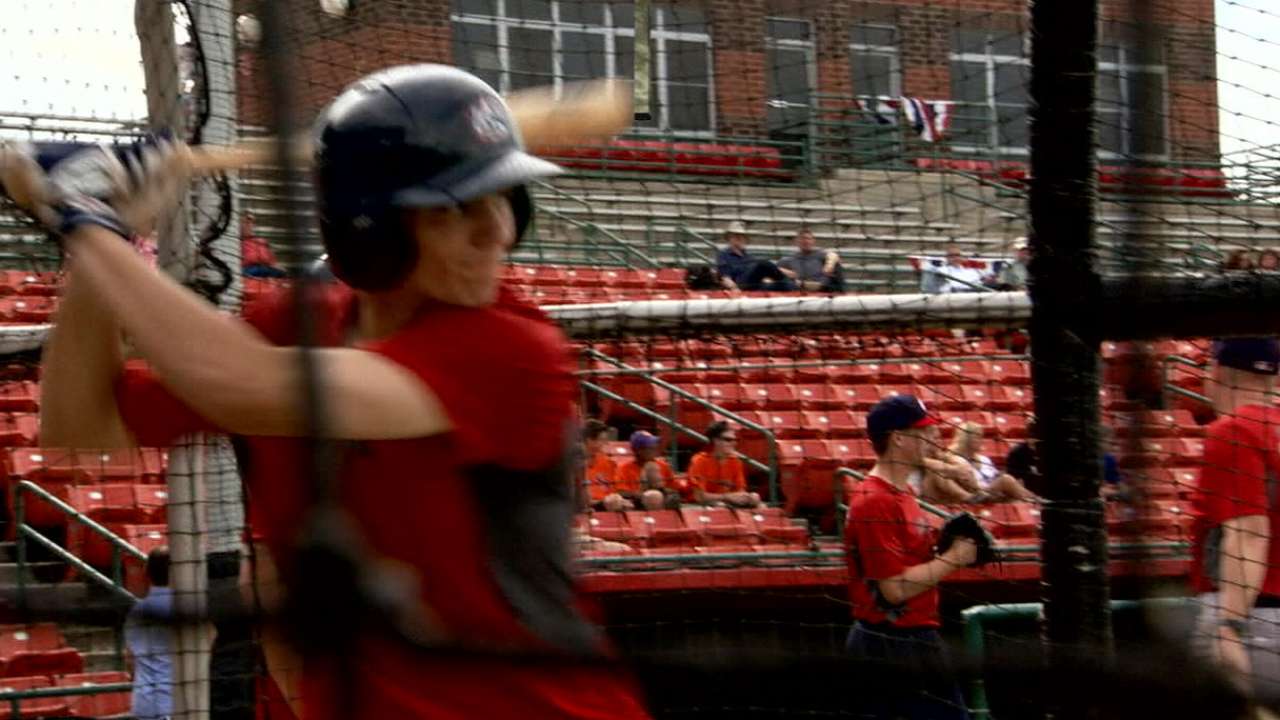 SAN DIEGO -- Tyler Stubblefield hasn't yet been a professional scout for an entire calendar year, though he's already on his way to mastering the most imperative tenets of the job.
Consider Stubblefield's take on a 26-year-old infielder who, as of last season, had yet to make it out of the low-A Midwest League.
"Super utility guy, gives everything he's got, serviceable at every position. Can play in the middle of the diamond, can handle the bat a little but has never hit for average," Stubblefield said.
"A dirtball and a grinder … a really old-school baseball player."
Stubblefield, a first-year scout for the Padres, knows this player well -- it's himself. A year ago this week, Stubblefield was still chasing his dream of making it to the big leagues as a player.
On Thursday, he found a different way to help impact the Padres.
"I'm excited to see what's in store for me on this side of the game," Stubblefield said. "It's everyone's dream to help the big league team win. The best way to do that is to be at the Major League level as a player.
"But I look at this as my way of giving back to the Padres. I'm trying to help them in a different way now. But I'm still trying to help them win games at the big league level."
On Thursday, the Padres used their first-round selection on North Carolina State infielder Trea Turner, who was recommended by Stubblefield. Imagine that -- In his first Draft with the team, Stubblefield recommends the guy the organization took with the 13th overall pick.
"It's a crazy story," Stubblefield said late Thursday.
Stubblefield was drafted by the Padres in the 22nd round of the 2010 Draft. Following three seasons with middling results, and with younger players pushing past him, the Padres released him in Spring Training last year.
Not yet willing to retire, he caught on with Southern Illinois of the Independent Frontier League before an injury to a player in the Padres' system got him invited back, where he reported to Fort Wayne.
"I played my last game on Sept. 13 and was on my way home. It was probably seven in the morning and I had been up late packing," Stubblefield said. "I had a former coach who is a cross-checker with Texas [Ryan Coe] and says, 'You're about to be 26 and there's a slim chance you'll make it to the big leagues.' He asked if I thought about hanging up my spikes."
Stubblefield, to be quite honest, hadn't reached that point.
Coe mentioned the Padres had opening in their scouting department and offered to make a few calls on his behalf. That eventually led to an interview with scouting director Billy Gasparino. After a meeting, he was hired as an amateur scout, in charge of east Georgia and North and South Carolina.
Instead of going the traditional route, attending scout school in Arizona, the Padres had a different plan in store for Stubblefield.
"I was thrown right into the fire," Stubblefield said. "I was given a territory [east Georgia and North and South Carolina] and had a two-week period where I met with the cross-checkers. Their advice was that I should trust my gut, my instincts."
Stubblefield did just that this spring, as he honed in on Turner, who, like himself, played in the middle of the diamond. It didn't take long for Turner to make a big impression on Stubblefield.
"It's not every day you show up to a ballpark and someone excites you. I had my first taste of excitement when I saw Trea. It was everything he did. It is a pleasure to watch him do what he does. I didn't get that feeling with anyone else in my territory," Stubblefield said.
Amid conversations with more scouts than he could count, Turner said Stubblefield told him something during a conversation that really resonated with him.
"I remember one of the things he told me was that I reminded him of himself," Turner said. "I thought that was pretty cool."
Truth be told, Stubblefield said, the comparisons between the two ends pretty quickly.
"He's a lot better than anything I was," Stubblefield said, laughing. "I was an overachiever who had to work hard to be the best I could be. Trea is so gifted and talented. But he still works hard and he's got this fiery mentality.
"Watching him, it really looks like he enjoys being at the ballpark."
Corey Brock is a reporter for MLB.com. Keep track of @FollowThePadres on Twitter. This story was not subject to the approval of Major League Baseball or its clubs.