KC chooses prep southpaw Griffin with second pick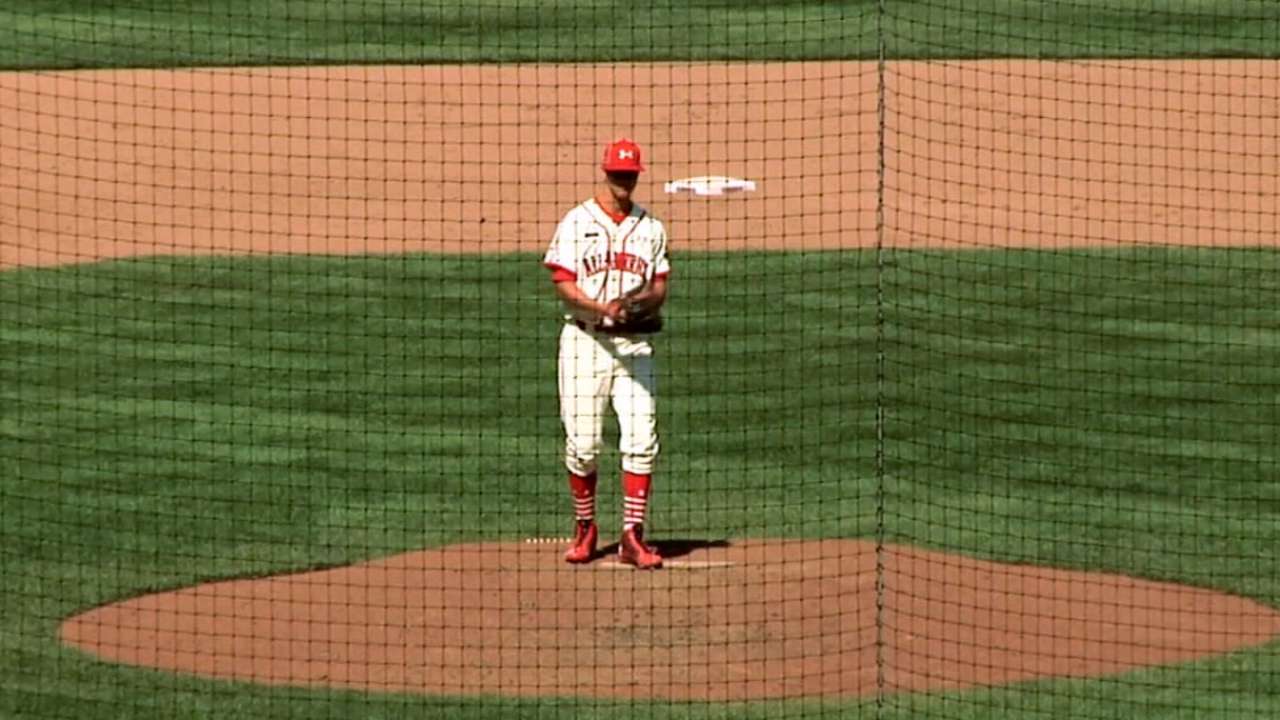 KANSAS CITY -- Left-handed pitching was the Royals' emphasis in the first round of the First-Year Player Draft.
Foster Griffin, a high school left-hander from Orlando, Fla., was made the 28th selection of the Draft by the Royals on Thursday night. Earlier, they picked lefty Brandon Finnegan of TCU as No. 17.
Griffin is the taller of the two, however, at 6-foot-5 and 190 pounds, compared to Finnegan at 5-foot-11 and 190 pounds.
"We mixed and matched," scouting director Lonnie Goldberg said.
The Royals received the 28th pick in the first round as compensation for the Braves signing free agent pitcher Ervin Santana.
"We've seen him up to 94 [mph] with a plus breaking ball and a changeup, so we're excited to get him and I'm glad we had that extra pick," Goldberg said.
Griffin pitched for First Academy High School where he was also a hard-hitting outfielder. But the Royals see Griffin as a starting pitcher.
"He's got a really, really advanced feel for pitching and a really advanced feel for his body. Very athletic. He's got three pitches that he commands now," Goldberg said. "I see him as a really advanced high school arm. We were really excited that he was there. Know the family, know the kid, outstanding makeup."
Griffin's fastball is usually in the 90 to 94 mph range.
"On any given night, his changeup would be his best pitch or his curveball would be his best pitch," Goldberg said. "But when you talk to this young man, he knows pitching, he talks pitching which is unique for a high school player."
Reports say that Griffin is a strike-thrower who aggressively pounds the strike zone. In the National High School Invitational at the USA Baseball complex, Griffin was outstanding with a three-hit shutout and helped First Academy win the championship.
For First Academy, whose team nickname is Royals, Griffin pitched 13 games with a 7-2 record and a 1.55 ERA. In 58 2/3 innings, he struck out 99 and walked 19.
Also a fine hitter, Griffin had a .403 average with 29 hits and 18 RBIs. Just one home run, though.
Picked 28th in the Draft, Griffin also was the 28th-ranked player in MLB.com's Top 200 Prospects list.
His father, Fred Griffin, is director of the Grand Cypress Academy of Golf in Orlando.
Griffin is committed to the University of Mississippi. A bonus of $1,815,500 is allotted to the 28th slot.
"I think his commitment will be to the Kansas City Royals," Goldberg said.
The Draft continues on Friday with Rounds 3-10. The MLB.com pregame show begins at 11:30 a.m. CT, with exclusive coverage of Rounds 3-10 beginning at noon.
The Royals also selected catcher Chase Vallot with their 40th pick and right-handed pitcher Scott Blewett with their 56th pick.
"The fact that we had the four picks tonight was huge," Goldberg said. "A big night for the organization."
Dick Kaegel is a reporter for MLB.com. This story was not subject to the approval of Major League Baseball or its clubs.