Ding, ding, dinger: Brewers bang three homers
Gomez, Davis, Lucroy connect to help Peralta get back in win column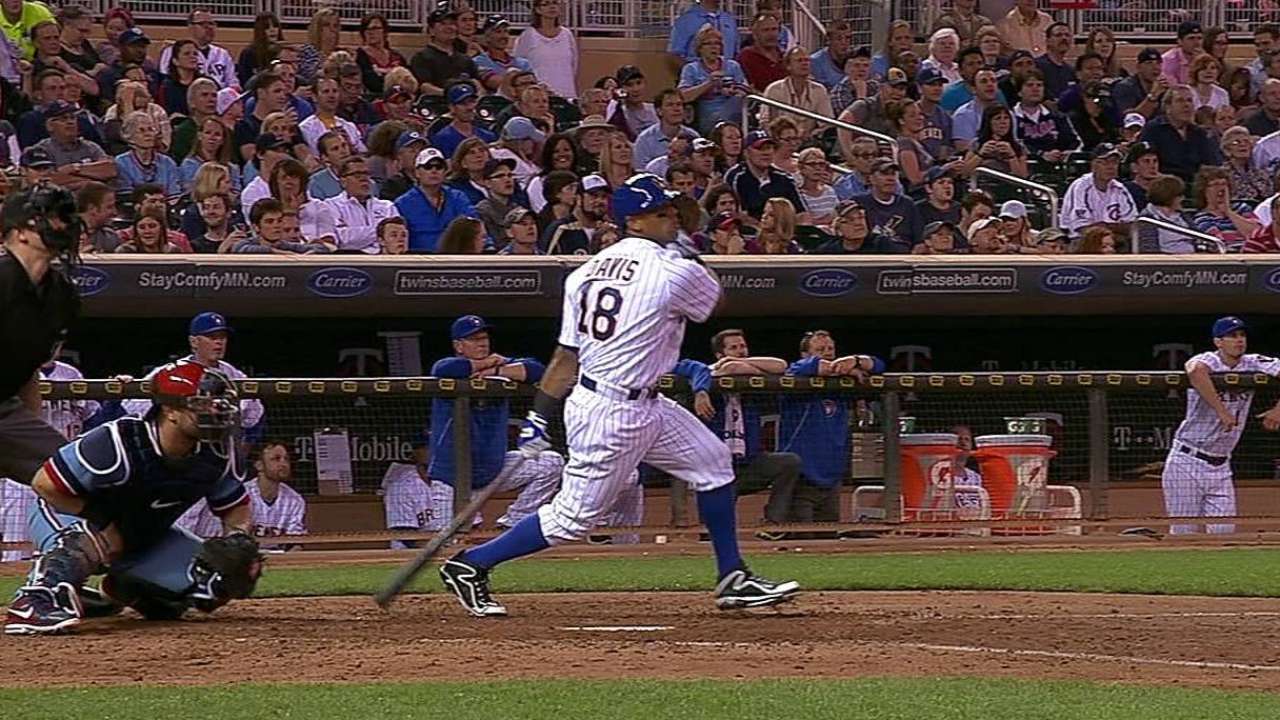 MINNEAPOLIS -- On a night when the offense needed to step up, the Brewers got exactly what they were looking for.
Carlos Gomez, Khris Davis and Jonathan Lucroy homered, and Wily Peralta won his first game in more than a month as the Brewers defeated the Twins, 8-5, Thursday night at Target Field.
"We did a lot of good things tonight offensively," said Brewers manager Ron Roenicke, whose club managed 13 hits and dug out from a 4-0 deficit.
The Brewers rallied in much the same fashion as they did one night earlier, but this time they completed their comeback bid. On Wednesday, an Aramis Ramirez three-run homer tied the game in the seventh. On Thursday, Ryan Braun and Lucroy singled before Gomez launched a three-run blast to cut Minnesota's lead to 4-3 in the fourth inning.
Gomez hit an 0-1 fastball from Kevin Correia (2-7) 412 feet into center field, reacting with a fist pump during his home run trot. He also had an animated celebration after robbing Trevor Plouffe of an extra-base hit with a leaping catch at the wall in the second inning. That play drew roars from the numerous Brewers fans in the crowd and probably a few Twins partisans who enjoyed watching Gomez when he played in Minnesota in 2008-09.
The home run was especially important because in the previous half-inning, Oswaldo Arcia had hit his second homer in as many nights, this one a grand slam to put the Twins on top, 4-0. Peralta (5-5) had retired the first two hitters of the inning before walking Brian Dozier. Joe Mauer lashed a single down the third-base line to put runners on the corners, and Josh Willingham walked to load the bases.
Arcia then blasted a belt-high 2-2 slider 422 feet from home plate onto the plaza in right field. Twins fans demanded -- and received -- a curtain call from the rookie right fielder, but Peralta battled back. Even though his pitch count climbed to 79 through three innings, he limited the damage and did not allow another run over five innings.
"I was trying to get it to the sixth," Peralta said. "I was trying to work ahead in the count, pitching for contact, and I was able to make it at least to the fifth. I was able to do that, and it feels great."
Peralta finished having allowed the four earned runs on five hits and three walks with four strikeouts. The win was his first since he beat the Reds in Cincinnati on May 2, although it certainly was not his most effective outing.
"Wily, as much as we like his stuff and his arm, he was all over again -- up in the zone," Roenicke said. "We need him to somehow get it down back in the zone and get some easy outs. He works really hard on every single batter, and you can't keep doing that."
Ramirez led off the sixth with a base hit, and Davis followed by hitting a full-count pitch just into the overhang in right. The opposite-field blow came after Davis fell behind, 0-2, in the count. It put the Brewers up, 5-4, and ended Correia's night after he allowed five runs on 10 hits.
"That was a big AB coming down from 0-2 and just putting the bat on the ball," Davis said of his 10th home run on the year. "Luckily it was a good swing."
The Brewers tacked on an unearned run later in the sixth when Mark Reynolds reached on an infield error, stole second and scored on Jean Segura's two-out single.
That lead held up thanks to some misadventures on the bases by the Twins. Dozier had been thrown out at second base trying to advance on a fly ball to Gomez to end the fifth inning. And in the sixth, Arcia led off with a double, but when Plouffe missed on a bunt attempt, Arcia was hung out to dry, and Lucroy picked him off. Arcia tweaked his ankle in the ensuing rundown and left the game, and that was just about the only thing to stop him this week.
"A bad play all the way around," Twins manager Ron Gardenhire said. "In that situation, you've got to be under control out there, and [Arcia] jumped too far, got a little anxious. And he ends up rolling his ankle."
The Twins climbed to within 6-5 in the eighth when reliever Will Smith walked Willingham, then hit Plouffe with a pitch and gave up a two-out RBI double by Josmil Pinto. But Smith retired Eduardo Escobar on a fly ball to maintain the Milwaukee lead.
Lucroy connected for a two-run homer in the ninth off reliever Jared Burton to make it 8-5 and give Francisco Rodriguez some breathing room in the bottom half. He didn't need it -- a 1-2-3 inning gave him his 18th save in 20 chances this season -- but his manager appreciated it.
"If you add on like we did, good things are going to happen; if we swing the bat like that, we're going to really do well," said Roenicke, whose team opens a three-game series against the Pirates on Friday. "It was an important win to get back in that good feeling going into Pittsburgh, instead of wondering, OK, we're not playing well for whatever the reason. It was a win we needed."
Patrick Donnelly is a contributor to MLB.com, This story was not subject to the approval of Major League Baseball or its clubs.