Twins run out of chances against Brewers
Arcia unloads grand slam, but later exits injured after caught off base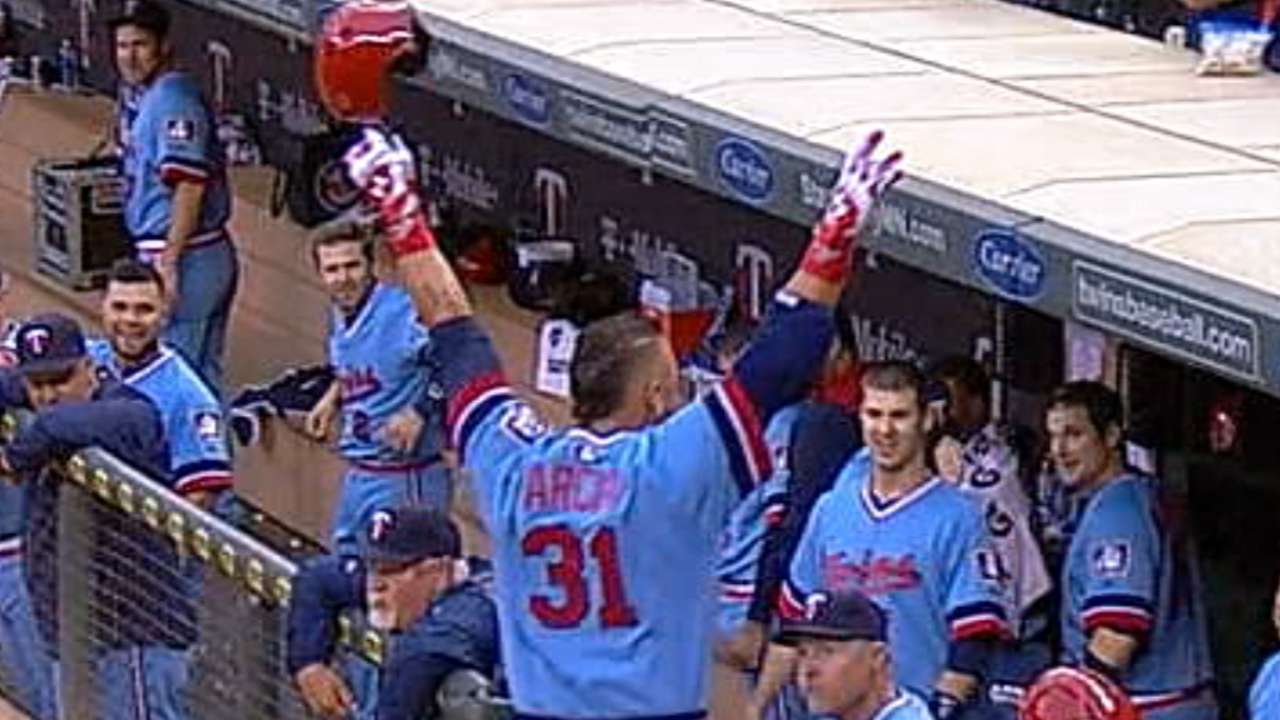 MINNEAPOLIS -- Ron Gardenhire sat in stunned silence behind the podium in his office.
With reporters waiting for him to explain an 8-5 loss to the Brewers on Thursday night -- in which his team was outscored by seven runs in the final six innings -- the manager finally opened up.
"I don't even know where to begin," he said.
For starters, poor pitching and baserunning were the primary culprits. Kevin Correia (2-7) gave up two home runs to erase an early 4-0 Twins lead, and then Brian Dozier and Oswaldo Arcia ended rallies in the middle innings with gaffes on the basepaths.
"Pretty frustrating game," Gardenhire added, with a big part of that frustration coming in the sixth, when Arcia left the game after spraining his right ankle on the bases. He's day to day.
Early on, Arcia looked like the hero for the second night in a row.
After Danny Santana led off the first inning with a single to right field, Brewers starter Wily Peralta retired seven of the next eight batters before getting into serious trouble. He walked Dozier with two outs in the third, and then gave up a single to Joe Mauer and a walk to Josh Willingham.
Arcia stepped to the plate and smashed a 422-foot grand slam into the concourse beyond the right-field seats to give the Twins an early 4-0 lead in the third inning. All of this one night after Arcia picked up four RBIs -- three of them on a homer off the right-field foul pole -- to lead Minnesota to a 6-4 victory.
The grand slam was the first of Arcia's career, and the first for the Twins since Chris Colabello hit one at Houston on Sept. 2, 2013.
But it didn't take long for Correia to start giving the lead away. He surrendered a pair of no-out singles to Ryan Braun and Jonathan Lucroy before ex-Twin Carlos Gomez -- who made an impressive leaping catch against the wall to rob Trevor Plouffe of extra bases in the second -- smacked a three-run homer to center field.
"They're arguably probably the best-hitting team in the National League," Correia said. "They have a lot of guys that can hurt you. You've got to be careful."
Nursing a 4-3 lead when the sixth inning came around, the veteran pitcher didn't heed his own advice.
A wild pitch advanced Aramis Ramirez to second base, and then a full-count slider didn't fool Khris Davis, who jacked the go-ahead home run into the geraniums decorating the right-field limestone.
That was it for Correia, whose ERA ballooned to 6.11 on the year.
"I feel like I'm throwing the ball just as well as I did last year," he said. "I think it's just a matter of getting on that roll, putting together a couple good starts."
He'll likely get more chances -- Gardenhire said that Correia will remain in the starting rotation for the foreseeable future.
"Kevin's one of our starters," Gardenhire said. "He's paid good money to do that, and he's still gonna get paid no matter what, so he's one of our starters. We need him to be more consistent."
Despite the Brewers notching another two-run home run in the ninth inning (Lucroy off of Jared Burton), pitching wasn't totally at fault in the loss.
Minnesota made a plethora of miscues in the middle innings.
In the fifth, the Twins had runners on first and second with one out when Mauer knocked a fly ball to center. Standing on second, Santana decided not to run. When Willingham -- the next batter -- hit a nice sacrifice fly to center, Santana took off for third. Dozier, assuming the throw from Gomez would try to catch Santana, tried to tag up and get second base. But the throw was cut off, and Dozier was tagged out by a long ways, and the threat was extinguished.
"You just can't make those outs," Gardenhire said. "They hit the cutoff man. You've got to make sure the ball goes through. It was an aggressive play, but a situation where we can't afford that."
In the bottom of the sixth, Arcia doubled to lead off. Instead of swinging, Plouffe inexplicably tried to lay down a drag bunt. He whiffed, and Arcia rolled his ankle trying to turn back for second base. He was tagged out, Plouffe doubled on the next pitch, and the Twins failed to score in that half.
"A bad play all the way around," Gardenhire said. "In that situation, you've got to be under control out there. And he jumped too far. Got a little anxious. And he ends up rolling his ankle."
Down 6-5, the Twins tried to rally in the eighth -- Josmil Pinto doubled down the left-field line to bring Willingham home. But with runners on second and third, Eduardo Escobar popped out, and the Brewers' Francisco Rodriguez breezed through the ninth inning for his 18th save.
"It was an important win to get back in that good feeling going into Pittsburgh, instead of wondering, 'OK, we're not playing well for whatever the reason,' " Brewers manager Ron Roenicke said. "It was a win we needed."
Alex M. Smith is a reporter for MLB.com. Follow him on Twitter @asmiff. This story was not subject to the approval of Major League Baseball or its clubs.