Cincinnati tabs shortstop Blandino at No. 29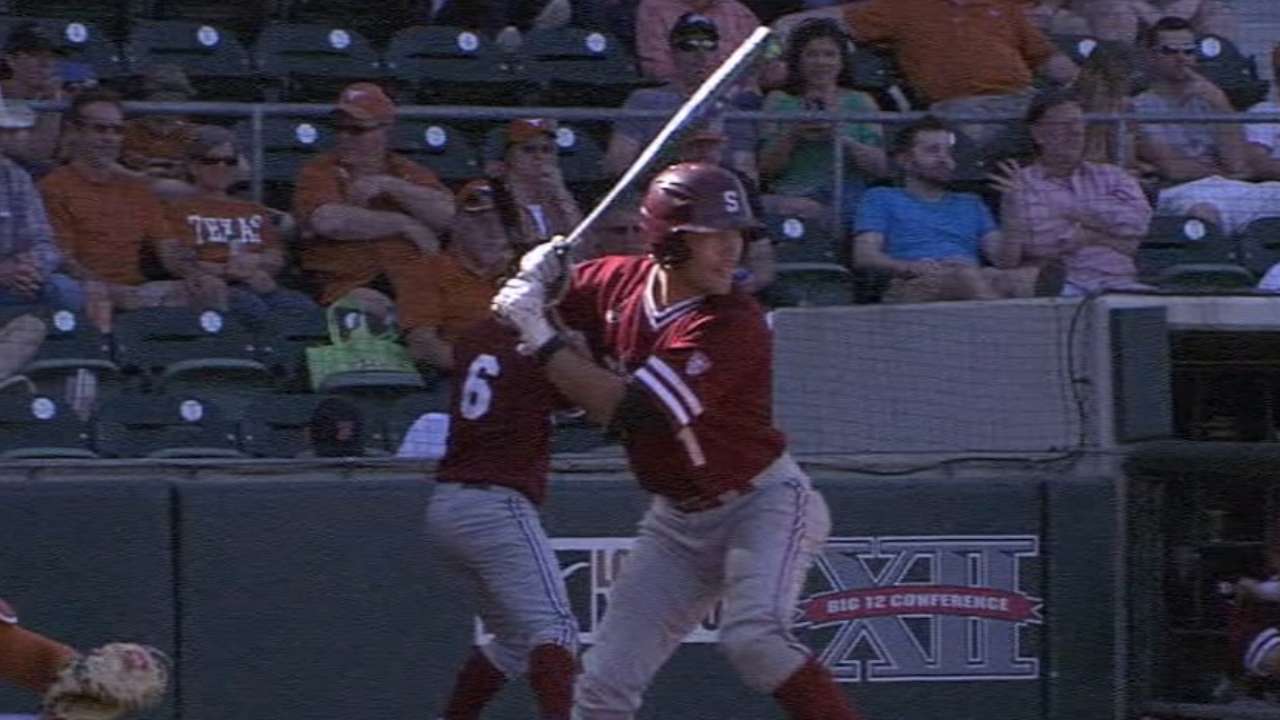 CINCINNATI -- The late first-round compensation picks can provide an added top-shelf prospect. In 2007, the Reds got third baseman Todd Frazier with the 34th overall pick, and he's since become a lineup mainstay.
This year, with the 29th overall selection in the 2014 First-Year Player Draft on Thursday, the Reds made a similar choice when they picked shortstop Alex Blandino out of Stanford University.
"Like Alex, Todd Frazier was a shortstop," Reds senior director of amateur scouting Chris Buckley said. "Todd got beat out to be the USA shortstop by Zack Cozart. It fits right into [our club] as a baseball player and a high-character guy."
The 29th pick came to Cincinnati as compensation for losing free-agent outfielder Shin-Soo Choo to the Rangers. For the bonus money, this pick has a $1,788,000 slot value.
Blandino, 21, believes he can follow the type of blueprint that players like Frazier have established.
"The Reds have done a great job developing their players from an organizational level, drafting guys and moving them and having them be successful in the Majors," Blandino said. "That's something I'm excited about, and I don't know down the road what position I'm going to end up at, [but] I feel comfortable and confident I can play shortstop."
In Nashville, Tenn., with Stanford on the eve of playing Vanderbilt in the NCAA Super Regionals, Blandino was with his parents when he learned of his selection in the Draft. It turned out that his father, Tomas, had a big affinity for the Big Red Machine -- like many baseball fans of the 1970s.
"He told me the first Major League game he ever watched [on TV] in Nicaragua was a game the Cincinnati Reds were playing," said Blandino, who grew up in Palo Alto, Calif., near his college campus. "It's one of his favorite teams initially before he came to the States. I thought that was really cool. It was something I didn't know about until today."
Blandino, who is listed at 6-feet and 190 pounds, was ranked as the 52nd-best Draft prospect by MLB.com. Buckley, however, did not believe that the Reds were reaching up too high to take Blandino at 29.
"That's very subjective. It could be who that particular writer got his information from or whatever," Buckley said. "We've scouted him. We've seen him a lot. He plays at a high level. We're excited to have him."
In 58 games this season for Stanford, Blandino batted .312 with 12 home runs and 42 RBIs. He has played both shortstop and third base during his collegiate career.
"Alex is very versatile. We've seen him play a number of positions," Buckley said. "We think he's a good hitter. We're going to give him a chance to play shortstop."
Blandino also spent time last summer playing in the Cape Cod League. He was previously picked in the 38th round by the A's in 2011.
"I'm really excited to get the chance to go back over to short and show what I can do there," Blandino said. "I'm ready to get after it as soon as the college season is over. But we're really trying to make a push for Omaha. We're two wins away. It's something I haven't done in my time at Stanford, and something I want to do before I leave."
Another past first-round compensation pick, right-handed pitcher Michael Lorenzen, was the 38th overall selection in last year's Draft. Lorenzen, the organization's No. 4 prospect, is currently at Double-A Pensacola and was in big league camp as a non-roster player during Spring Training.
With their first-round pick this year, 19th overall, the Reds selected right-handed pitcher Nick Howard out of the University of Virginia.
The Draft continues on Friday with Rounds 3-10. The MLB.com pregame show begins at 12:30 p.m. ET, with exclusive coverage of Rounds 3-10 beginning at 1 p.m.
Mark Sheldon is a reporter for MLB.com. Read his blog, Mark My Word, and follow him on Twitter @m_sheldon. This story was not subject to the approval of Major League Baseball or its clubs.