D-backs snag 'top five' pitcher with 16th pick
GM Towers lauds upside of Round 1 selection, prep righty Toussaint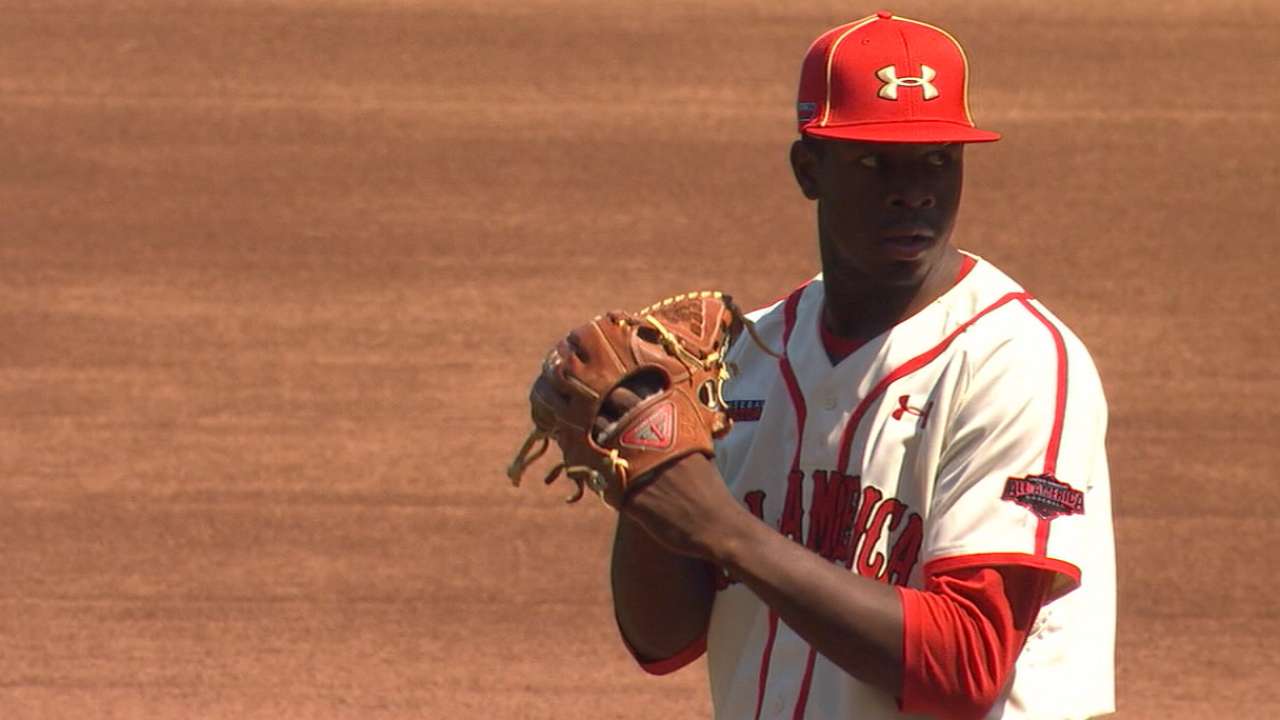 DENVER -- As pick after pick went off the board, the mood in the D-backs' Draft room got more and more excited, because it looked like high school right-hander Touki Toussaint would fall to them.
"We thought he would probably go maybe even in the top 10," D-backs general manager Kevin Towers said.
Instead, the D-backs were able to nab Toussaint with the 16th-overall pick Thursday on Day 1 of the First-Year Player Draft.
"I still have a lot more to learn, and I'm sure the Diamondbacks will help me out through this process and will take care of me and help me become a pitcher, not just a thrower like everyone says," Toussaint said.
Toussaint, who played for Coral Springs Christian High School in Miami, is said to have one of the loosest and quickest arms in the 2014 high school class.
"I am excited, and I know the room is very excited about adding this type of talent," Arizona scouting director Ray Montgomery said. "He has a pretty electric arm; he's been up to 95 [mph]. He's got a plus curveball, for us, and a combination of two or three pitches that we think are definitely starter quality. By no stretch would we say this is a guy that we would rush the curve on him. I think just get him out, get him situated, get him comfortable."
Ranked as the No. 8 overall prospect going into the Draft by MLB.com, the D-backs were so certain that he would be gone by the time they picked that he was not one of the players that Towers went to see in person.
"I saw enough on video to get awfully excited," Towers said. "It was pretty unanimous from our key evaluators."
Towers said the D-backs considered Toussaint one of the five best pitchers in the Draft.
"Tremendous upside, relatively new to pitching, great athlete, kid with incredible aptitude," Towers said. "Kind of reminds me when you watch him on video as kind of young Bob Gibson. Ball comes out of his hand real easy, he's got a power breaking ball, fastball in the mid-90s, good athlete, fields his position well. A guy that we think once our development people wrap their arms around him a kid that we think has a chance to be a top of the rotation type starter here in the very near future."
Toussaint's fastball sits at 91-93 mph, and he has shown the ability to touch 97. His curveball also has the potential to be a plus pitch, with a changeup being his third-best pitch.
Toussaint was born in the United States, but moved to Haiti when he was a few months olds and spent the first six years of his life there before moving to Florida. His father was a candidate for president in Haiti.
Toussaint had committed to play at the University of Miami before switching to Vanderbilt.
Agent Joel Wolfe will be advising Toussaint, and the D-backs are very familiar with him. He also advised their No. 1 pick in 2011, right-hander Trevor Bauer.
"Vandy is always tough," Towers said. "I'm sure Vandy's on the phone with him right now saying you know maybe you can go from 16 to five in three years from now. Hopefully Ray will be able to work some magic, get it done and get him out there quickly."
A soccer player as a kid, Toussaint only picked up baseball because his best friend convinced him to. He started at age 10, gave it up one year later and then decided to play again at 12.
"I struck out 22 times out of 24 at-bats," Toussaint said when asked why he quit. "So it was just not my game."
That has obviously changed, and while he is inexperienced, that does not deter the D-backs.
The biggest thing for Toussaint at this point will be learning to harness his stuff.
Toussaint will turn 18 on June 20.
"I think mentally I'm pretty prepared," Toussaint said. "Physically I need to grow and become stronger, but mentally I think I'm prepared."
The Draft continues on Friday with Rounds 3-10. The MLB.com pregame show begins at 9:30 a.m. MST, with exclusive coverage of Rounds 3-10 beginning at 10 a.m. MST.
Steve Gilbert is a reporter for MLB.com. Read his blog, Inside the D-backs, and follow him on Twitter @SteveGilbertMLB. This story was not subject to the approval of Major League Baseball or its clubs.