Two draftees have Tommy John before getting picked
Hoffman goes to Blue Jays at No. 9, Fedde lands with Nationals nine picks later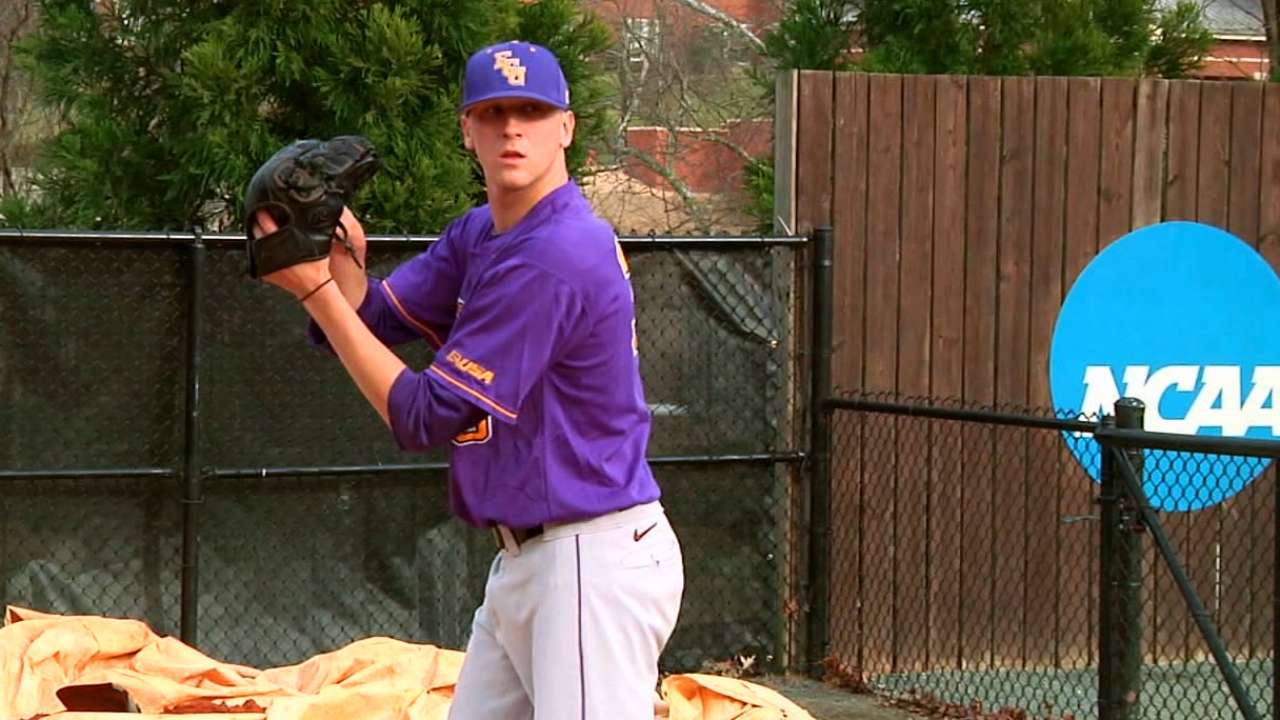 Two days before Erick Fedde went through a traditional rite of passage of many successful Major League pitchers -- being selected in the first round of the 2014 First-Year Player Draft -- he endured what is quickly becoming a more modern one: Tommy John surgery.
Fedde, a righty from the University of Nevada-Las Vegas, went 18th overall to the Nationals in the Draft on Thursday night, joining the Blue Jays' No. 9 overall pick, righty Jeff Hoffman from East Carolina, as first-round selections who recently went under the knife to repair their torn ulnar collateral ligaments.
The Draft continues on Friday with Rounds 3-10. The MLB.com pregame show begins at 12:30 p.m. ET, with exclusive coverage of Rounds 3-10 beginning at 1 p.m.
The Tommy John epidemic has hit nearly 50 Major and Minor League pitchers already this season, and earlier this spring, it reached these two collegiate arms as well.
Injury struck Hoffman first. The 6-foot-4 East Carolina product started his junior campaign 3-3 with a 2.94 ERA through 10 starts before his season ended suddenly in mid-April. Hoffman, a 21-year-old who had previously been considered a candidate to go first overall, had the surgery last month.
A couple of weeks later, Fedde, 21, underwent the same procedure. He was 8-2 with a 1.76 ERA at UNLV, and after skipping a couple of starts in early May, an MRI revealed the torn UCL. Fedde had it repaired on Tuesday.
While it is relatively rare for top-notch youngsters to have Tommy John surgery, Hoffman and Fedde aren't exactly pioneers -- even in his organization, in Fedde's case. In August 2012, righty Lucas Giolito had the surgery -- less than three months after he went 16th overall to the Nationals, who drafted him knowing he might need to have the procedure performed.
Giolito, 19, has spent this season with Class A Hagerstown, and he's Washington's top prospect, according to MLB.com.
Tim Healey is an associate reporter for MLB.com. This story was not subject to the approval of Major League Baseball or its clubs.