Indians select outfielder Zimmer with 21st overall pick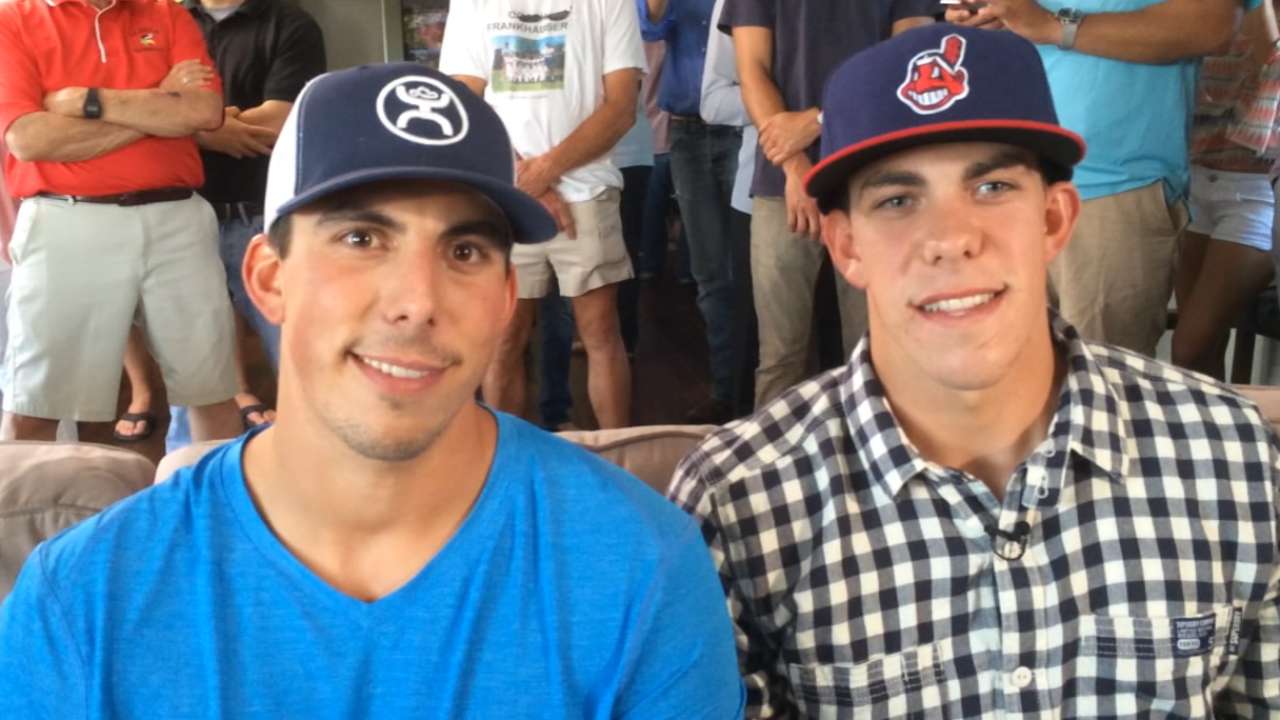 CLEVELAND -- A natural rivalry usually exists when it comes to brothers. The Indians threw some fuel on a familial fire on Thursday night, when the club nabbed collegiate outfielder Bradley Zimmer with its first pick in the first round of the First-Year Player Draft.
Cleveland used the Draft's 21st overall selection to pick Zimmer out of the University of San Francisco. Two years ago, Kansas City used the fifth overall pick on Zimmer's brother, Kyle, a right-handed pitcher working his way up the Royals' system.
If the Zimmer boys continue on their current paths, they could square off not just as brothers, but as division rivals. After being taken in the first round by the Tribe, the little brother flashed a wide grin and issued the first verbal jab in front of a national audience.
"We both know that I could take him all day," Zimmer said in an interview on MLB Network.
Asked for his thoughts on that potential clash, Brad Grant, the Indians' director of amateur scouting let out a laugh.
"I'd like to see that matchup," Grant said. "I think it'd be a really good matchup. Hopefully, Bradley can take him out of the yard."
The Indians have looked forward to Thursday for several months. With a wealth of picks on the first day of the Draft, Cleveland had a number of directions to explore within the first two rounds. With the 21st pick in the first round, the Indians kicked off their busy night by grabbing the 21-year-old Zimmer, who brings a unique blend of speed and power potential.
With his parents -- Eric and Cathy -- at his side, and a host of family and friends surrounding him, Zimmer donned an Indians cap after the room erupted in cheers at the call of his name. The hat was brought to the house by one of Zimmer's aunts, who purchased one for each of the clubs that had a pick in the first 30 spots.
"I haven't been very familiar with the Indians in the past," Zimmer said. "But I'm looking forward to diving in there and making an impact right away for them, and getting up to the big leagues and being an impact player for them, and bringing back a World Series to Cleveland."
What about the rest of the hats?
"Return them," Zimmer said with a laugh. "Those are in her hands."
The Indians also drafted high school pitchers Justus Sheffield (Tullahoma High School in Tennessee) and Grant Hockin (Damien High in California) with the 31st and 61st picks, respectively. In the Competitive Balance round, Cleveland used the 38th overall pick on Virginia outfielder Mike Papi.
The first-day flurry was much different than a year ago, when the Tribe took prep outfielder Clint Frazier with the fifth overall pick in the first round, but then did not pick again until the Draft's second day. This year's Draft continues on Friday with Rounds 3-10. The MLB.com pregame show begins at 12:30 p.m. ET, with exclusive coverage of Rounds 3-10 beginning at 1 p.m. ET.
"We didn't go in with a plan to try to balance out the four picks," Grant said of taking two position players and two pitchers. "It worked out that way and it's exciting that it did."
This past season, Zimmer was the only collegiate player to be ranked in the top 50 in both stolen bases (21) and slugging percentage (.573). In 54 games for San Francisco, the left-handed-hitting Zimmer hit .368 with seven home runs, 10 doubles, seven triples, 31 RBIs, 31 walks, 42 runs scored and 81 hits. He posted a .461 on-base percentage along the way.
The two-time All-West Coast Conference member was named a 2014 preseason All-American selection by Louisville Slugger, Baseball America and Perfect Game USA. Heading into the Draft, he was ranked 10th overall on MLB.com's Top 200 prospects list.
"It's the combination of tools that are really exciting with Bradley," Grant said. "It's a plus runner, a chance for a plus center fielder, plus arm and then just an advanced feel to hit. Despite the thin athletic frame, there's power in the bat as well. It's an exciting player that brings a lot of tools to the table."
After Zimmer was selected by the Indians, San Francisco head coach Nino Giarratano had the opportunity to chat briefly with Kyle Zimmer, who was on hand for his brother's big moment.
"Kyle said he was probably happier for Bradley than he was for himself two years ago in the Draft," Giarratano said. "It's got to be just a wonderful feeling to see your younger brother get an opportunity and have the same chance that you're going to have to play at the professional level. I can't imagine how excited the family is."
Bradley Zimmer -- a junior at USF -- was previously drafted by the Cubs in the 23rd round of the 2011 Draft, but he did not sign. Instead, Zimmer attended San Francisco, where his older brother also went to college. The boys have their parents to thank for their athletic ability. Their dad played baseball at UC San Diego and their mom ran track at San Diego State.
"I definitely got my speed from my mom," Zimmer said on MLB Network, "and got the power and the arm from my dad."
Kyle Zimmer was also gifted with a strong right arm which convinced Kansas City to Draft him in 2012.
The brothers have never faced one another in a game.
"Hopefully, in the near future I'll be squaring off against him on the big stage," Bradley Zimmer said. "I know that day will come eventually. I think everyone's looking forward to it."
Jordan Bastian is a reporter for MLB.com. Read his blog, Major League Bastian, and follow him on Twitter @MLBastian. Alec Shirkey is an associate reporter for MLB.com. This story was not subject to the approval of Major League Baseball or its clubs.