Blue Jays pick catcher Pentecost at No. 11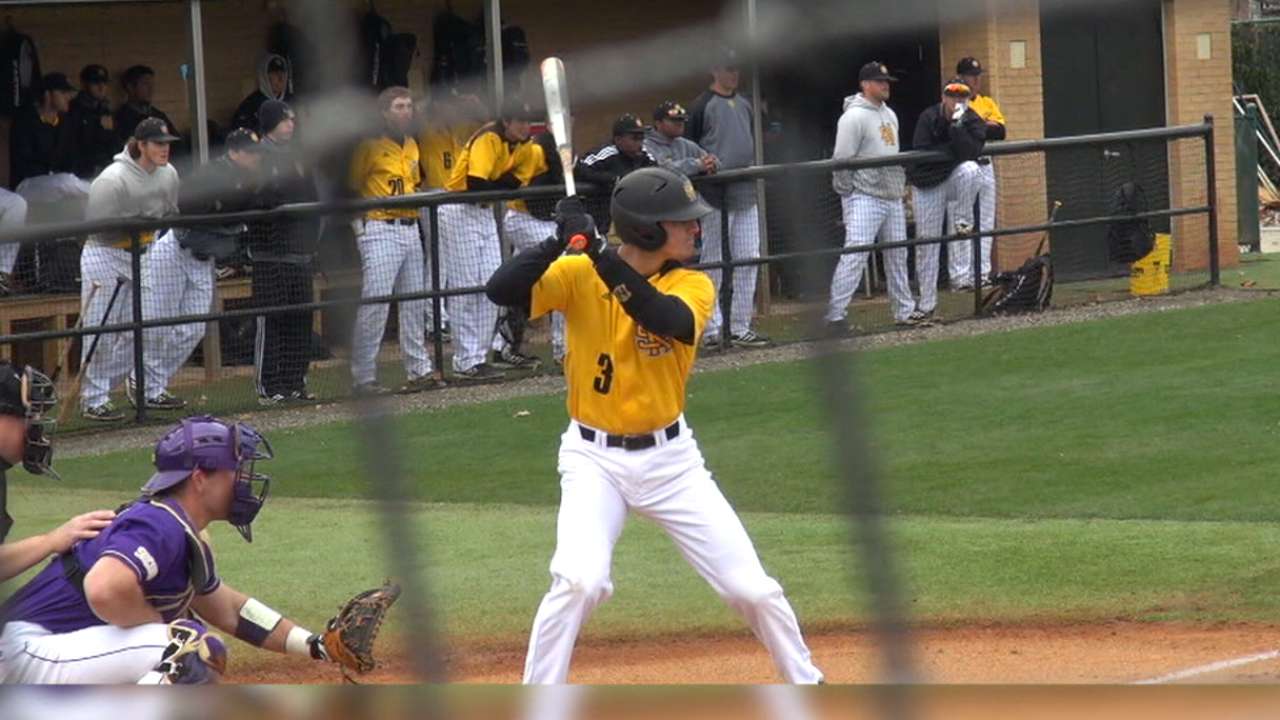 TORONTO -- The Blue Jays selected college catcher Max Pentecost with the 11th overall pick in the 2014 First-Year Player Draft.
Pentecost was generally regarded as the top catcher available. That title could have gone to Seattle's No. 6 selection Alex Jackson, but he's expected to transition to the outfield.
That likely won't be necessary for Pentecost, who is believed to have the defensive skills required for the position. According to various scouting reports, he has the athleticism and arm strength, but could still use some improvement in his ability to receive.
"This is a guy we have above-average catching grades on," Blue Jays director of amateur scouting Brian Parker said. "We think this guy can be an asset behind the plate for us. We've done some research, we talked to some of his teammates from the Cape, some of the guys he's played with in the past, and they all rave about him."
The Draft continues on Friday with Rounds 3-10. The MLB.com pregame show begins at 12:30 p.m. ET, with exclusive coverage of Rounds 3-10 beginning at 1.
Pentecost required surgery to repair a stress fracture in his right arm as a high school senior, but that didn't stop the Rangers from taking him in the seventh round three years ago. He reportedly almost signed, but made the decision to go to Kennesaw State.
The 21-year-old becomes the highest selected player from Kennesaw in the Draft's history. That title previously belonged to right-hander Chad Jenkins, who was taken by Toronto with the 20th overall pick in 2009. Jenkins is currently a reliever on the big league club.
Pentecost reportedly has above-average speed for a catcher and projects to hit for average at the Major League level. He also has some power, but is generally considered to be the type of player who will hit the gaps, as opposed to registering a lot of home runs.
The 21-year-old was the second player taken in the first round by Toronto. The Blue Jays also grabbed college right-hander Jeff Hoffman with the ninth pick. The recommended slot value for Pentecost's selection is $2,888,300, and the Blue Jays have a bonus-pool total of $9,458,500.
The addition of Pentecost adds some much-needed depth behind the plate in Toronto's system. The Blue Jays possessed some of the top catching prospects in the game several years ago, but a lot of that talent has since either eroded or did not materialize.
J.P. Arencibia was given three seasons to establish himself as a legitimate starting catcher, but he was non-tendered by the club during the offseason. Travis d'Arnaud spent multiple years as the organization's top prospect but was dealt alongside right-hander Noah Syndergaard in a deal for knuckleballer R.A. Dickey.
Another prospect, Carlos Perez, was traded in a multiplayer deal for left-hander J.A. Happ, while Yan Gomes went from being an overlooked talent in Toronto to a breakout star last year for Cleveland. That left A.J. Jimenez as the only catcher in the club's top prospects group.
Pentecost will help change that, and considering he's a junior in college, he could come through the system at a relatively decent rate. Still, Parker insists this move had nothing to do with the depth or lack thereof behind the dish, and instead was all about taking a player they've been fond of for quite some time.
"Taking Max had nothing to do with any of those trades or getting rid of any of those players," Parker said. "When you pick nine and 11, you just have to line up your board and take the best player, and that's what we did. We like Max. We scouted him pretty hard from last summer in the Cape and throughout this spring.
"He's an athletic, two-way position player and we like the bat. I think there's a lot of positives with him. Obviously, a guy at a premium position that can help out offensively and defensively is something that attracted him to us."
Gregor Chisholm is a reporter for MLB.com. Read his blog, North of the Border, and follow him on Twitter @gregorMLB. This story was not subject to the approval of Major League Baseball or its clubs.