Rockies take college lefty with local roots in Round 1
Evansville ace Freeland, a Denver prep star, selected with eighth-overall pick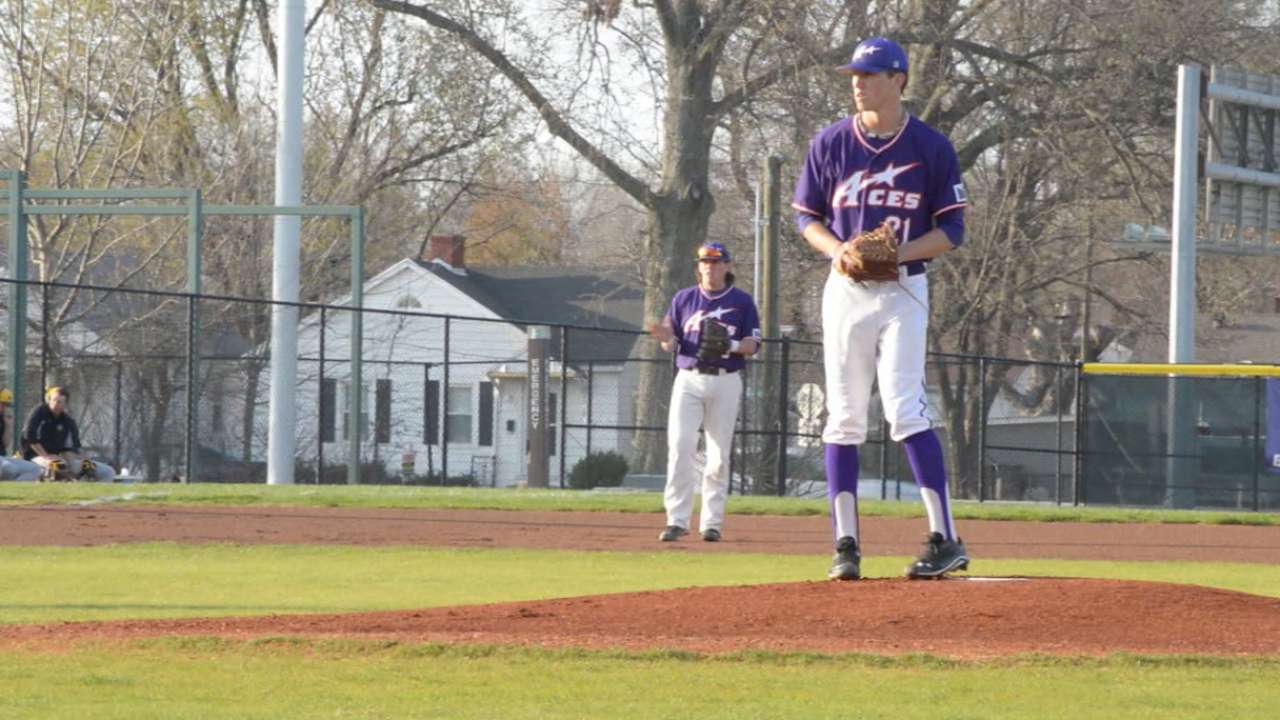 DENVER -- Kyle Freeland let the emotions flow as he grabbed his father, Don, and held on tight.
The Rockies selected the 21-year-old Denver native, a left-handed pitcher from the University of Evansville, with the eighth-overall pick in the First-Year Player Draft on Thursday night. MLB Network cameras caught the heartfelt moment in the Freeland family living room.
"Leading up to it, what was going through my mind was I didn't know how I was going to react or what was going to happen," Freeland said. "It was just a roller coaster of emotions when they called my name. I just had to grab my dad and give him a hug."
The Rockies had to be just as happy that they could use their top pick on Freeland, who was ranked by MLB.com as the No. 7 prospect heading into the Draft. He went 10-2 with a 1.90 ERA and posted 128 strikeouts against 13 walks as a junior for Evansville and earned Missouri Valley Conference Pitcher of the Year honors.
The Rockies also selected Forrest Wall, 18, a second baseman from Orangewood (Fla.) Christian School, 35th overall in Competitive Balance Round A, and Ryan Castellani, 18, a right-handed pitcher from Brophy Prep in Phoenix at No. 48 overall, in the second round. The Draft continues on Friday with Rounds 3-10. The MLB.com pregame show begins at 10:30 a.m. MT, with exclusive coverage of Rounds 3-10 beginning at 11 a.m. MT.
Before going to college, Freeland set the Colorado state high school strikeout record with 145 for Thomas Jefferson High in southeast Denver.
"I had a little feeling that I might end up with the Rockies, but for me wherever I landed I knew I was going to be extremely happy," he said. "To be drafted by the Rockies and land back in my hometown is just amazing."
With their 2012 supplemental first-round pick, right-hander Eddie Butler, set for his Major League debut Friday night against the Dodgers, and their 2013 top pick, righty Jon Gray, close to ready, the Rockies aren't holding back pitchers who make quick climbs.

Rockies vice president of scouting Bill Schmidt sees Freeland has having two above-averages pitches and the ability to throw strikes -- necessary traits to make a quick impression.

"We feel the ability with his command, his ability to follow the catcher, are advanced, and he's able to get to Denver at a fairly quick pace," Schmidt said. "But ultimately, he's going to have to go out and prove that. We think he's equipped to do that.
"Kyle is a two plus-pitch left-hander that's a strike thrower. He's a Colorado kid and we're excited to bring him into the organization."
The Phillies selected Freeland in the 35th round out of high school and, according to reports, offered a hefty bonus that nearly swayed him. Success didn't come immediately at Evansville -- a combined 8-13 with a 4.44 ERA during his freshman and sophomore seasons.
However, Freeland had a breakout performance during last summer's Cape Cod League, a respected collegiate wood-bat league. Freeland struck out 48 against four walks while posting a 2.25 ERA for the Hyannis Harbor Hawks.
"Cape Cod helped me accelerate so much -- my maturity as a person and my maturity as a player," Freeland said. "It helped so much going against elite hitters and elite teams every single start. I had to be at the top of my game. Sure enough, I performed well."
Having grown up in Denver's mile-high altitude could be an added advantage for Freeland, long before he begins the Major League future the Rockies envision. The Rockies' Rookie-level club is in Grand Junction, roughly 4,600 feet above sea level, and the Triple-A team is at Colorado Springs, where Security Service Field is 6,531 feet above sea level.
"I have to fine-tune, now that I'm at the next level, but I feel I do have a slight advantage knowing how to throw in high altitude," said Freeland, who is listed at 6-foot-4 and 190 pounds -- an increase of 20 pounds since high school.
The work ethic it takes to make the improvements was evident during his high school days.
Freeland grew up a Rockies fan and said former outfielder Larry Walker was his favorite player, but didn't have a pitching favorite.
"I really don't follow pitchers in the bigs," he said. "It's just not my style."
Robbie Bales took over as Thomas Jefferson High head coach in 2011, Freeland's senior year. During the offseason program, Bales saw a lefty with an 84 mph fastball and enough athletic ability -- he could hit and field -- to deserve a chance at a mid-major school, and Evansville was a fit. But day by day, Bales saw Freeland increasing his potential.
"I wish I could say we coached him to change his arm slot or something, but what it came down to was hard work," Bales said. "I'd go by the field to mow the grass or something on Saturday or Sunday, and there Kyle was, running, throwing, just doing everything he could do to get better.
"By the time his senior year was up, he had gone from 84 to 91, then the Draft became a reality with him going in the 35th round to the Phillies. He went to Evansville, worked his butt off and look where he is now. I'm very proud of how far he's come, and now he's a first-round pick of the home team."
Thomas Harding is a reporter for MLB.com. Read his blog, Hardball in the Rockies, and follow him on Twitter @harding_at_mlb. This story was not subject to the approval of Major League Baseball or its clubs.