Rockies' spark fades against D-backs
Three homers aren't enough to prevent seventh straight loss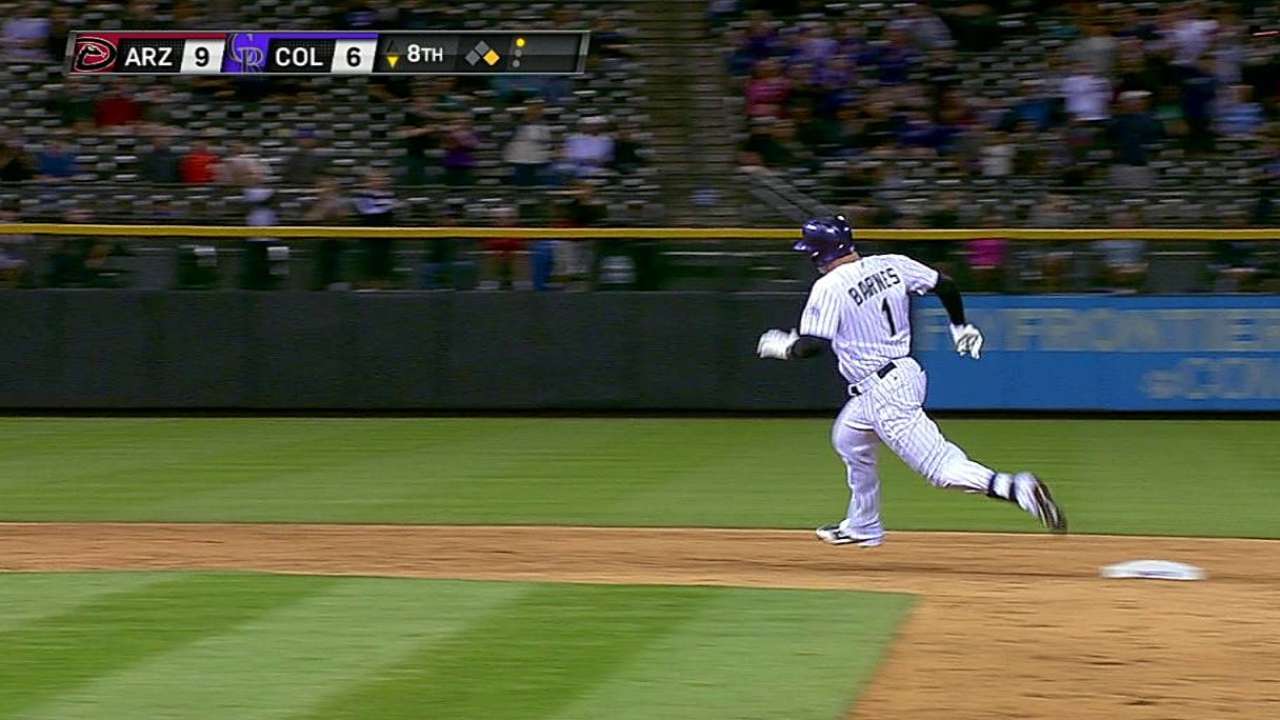 DENVER -- It was a day to focus on the future, with the Rockies picking a local lefty with the eighth pick in the First-Year Player Draft. Facing the last-place D-backs at home in a park where they hadn't lost a series all year, the Rockies were eager to put their season-high skid in the past. But Colorado couldn't climb out of a downward spiral, losing their seventh consecutive game as the D-backs earned a sweep with a 12-7 win at Coors Field.
In the midst of a long losing streak, it can feel like the club is always playing from behind. It starts with the pitching, and Thursday night Juan Nicasio's control was off enough that he was too often behind in the count, allowing Arizona to tee off when he had to throw strikes, and making matters worse by missing up in the zone and watching the results sail over the fences.
"I struggled with my fastball up in the zone, and my breaking ball, too," Nicasio said. "When you're behind 2-1 or 2-0, I need to throw a strike. [I was] up in the zone today."
Pitching from behind in counts quickly converted into playing from behind on the scoreboard. Arizona handed the Rockies an ugly opening inning, scoring a run on a double and three singles before an out was recorded -- on a sac fly that gave the D-backs a 2-0 lead.
But don't ask manager Walt Weiss about players "pressing" to turn their fortunes around. As a player who was known for grinding it out and as a manager who expects accountability from his players, he's not handing out free passes.
"No, I don't think anyone's pressing too hard -- that's what we're supposed to do," Weiss said. "Everybody individually doing what they can. You just got to find a way to win games. We're playing behind a lot, and that makes it a little tough."
Leadoff hitter Charlie Blackmon cut the deficit in half during the Rockies' first swings, driving a 2-1 offering from Bronson Arroyo over the right-field fence. Blackmon's 11 round-trippers from the leadoff spot are a franchise record.
The long ball was Arroyo's only blemish through the first four frames, and he retired the next 10 batters before Troy Tulowitzki laced a one-out double into center in the fourth. Arroyo gave up a second run in the fifth when Charlie Culberson doubled to right and DJ LeMahieu plated him with a single to center.
"That was tough once again," Tulowitzki said. "I feel like I keep on saying the same thing but we battled back. We didn't quit. We came out there and played hard, so you can't fault these guys in the locker room. They're coming to play every single day. It's just not happening right now."
Arizona padded its lead with a two-out solo shot from Montero, giving him five hits in his last six at-bats against the Rockies, with two home runs and seven RBIs in two days.
Nicasio yielded another leadoff homer in the fifth off the bat of Paul Goldschmidt and was out of the game after giving up a one-out single to Arroyo to put runners on first and third with one out in the sixth. Both runs would score, one on a double from Gerardo Parra and another on a sac fly to center from Chris Owings.
"Home runs come when pitches are elevated, especially here," Weiss said. "It's imperative that we pitch to the bottom of the zone and make opposing hitters have to dig the ball out of the bottom of the zone."
After a Tulowitzki solo shot in the sixth, Colorado finally put a crooked number on the board in the seventh inning, staging a two-out rally to pull within a run. LeMahieu drew a leadoff walk, and after he advanced to third on a pair of groundouts, Drew Stubbs beat out a single to the catchers to bring him home. Tulowitzki was hit by a pitch and Michael Cuddyer and Corey Dickerson hit back-to-back RBI singles, making it 7-6. Dickerson stole second with Rosario at the plate, and Rosario was walked to load the bases for pinch-hitter Justin Morneau, who grounded to first on an 0-1 fastball against Oliver Perez to end the inning.
"It was huge," Montero said of the at bat. "It was the biggest pitch of the game. Obviously in that situation, Morneau can change the game with one swing, and Perez made a heck of pitch. We got lucky I guess."
Rockies pinch-hitter Brandon Barnes added a spark with a leadoff inside-the-park home run off the center-field wall to climb back within a tantalizing two runs, but the D-backs took the wind out of the Colorado sails with three runs against Adam Ottavino in the ninth when four tough balls were hit to third, where Cuddyer, the Rockies' regular right fielder, was playing. Cuddyer had started at first as Weiss gave Morneau a breather, then shifted to third after Morneau entered the game.
"Playing from behind at that point, we need as much offense in the game as possible," Weiss said. "If we'd taken the lead by that point, then you focus on playing defense, but we're still trying to play offense at that point and keep Morneau in the game."
Ultimately, with pitchers and hitters feeling like they're always playing behind, they end up coming to the park on the empty end of a seven-game skid, falling farther behind.
"We still have a lot of season left," Tulowitzki said. "You win [three] games in a row and we're at .500. There are a lot of teams that wish they were at .500."
Owen Perkins is a contributor to MLB.com. This story was not subject to the approval of Major League Baseball or its clubs.