Blue Jays select pitcher Hoffman with 9th overall pick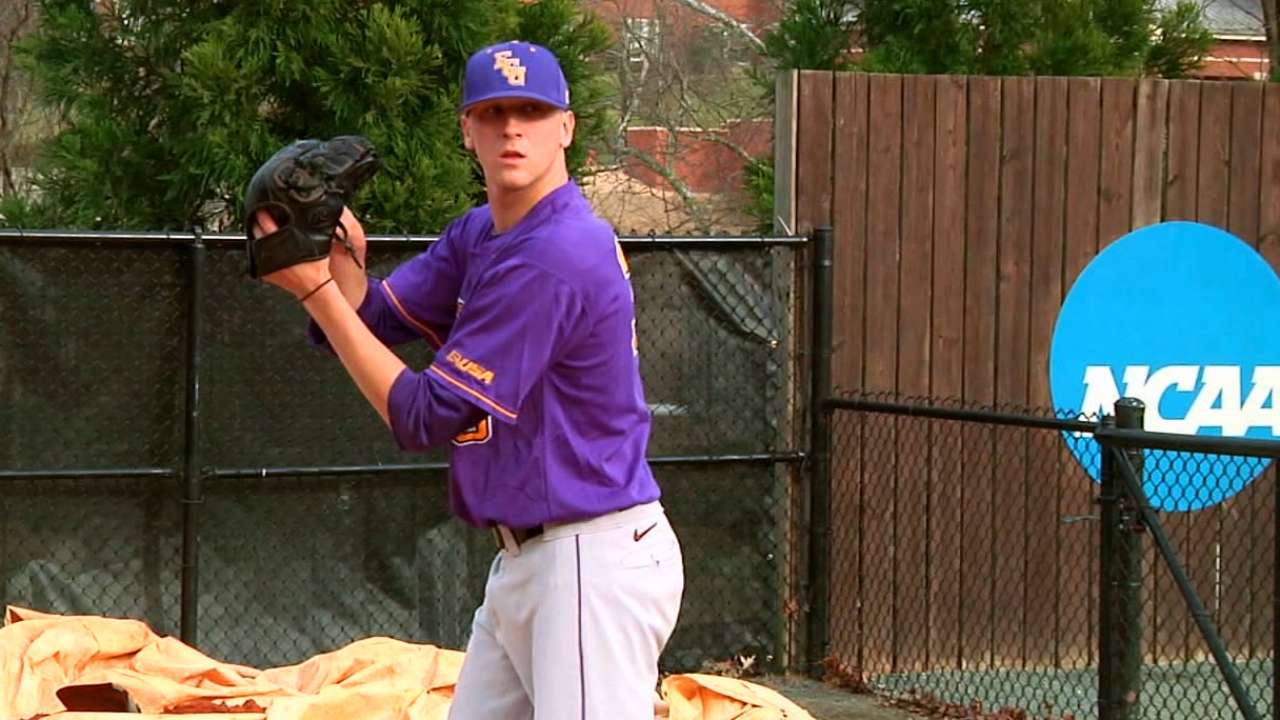 TORONTO -- Jeff Hoffman spent Thursday afternoon watching the Blue Jays complete a three-game sweep of the Tigers, but little did he know at the time he was getting a first-hand look at his future organization.
A few hours after the Toronto's 7-3 victory over the Tigers, Hoffman gathered his friends and family around the television for a moment he had been waiting all year for. Hoffman was essentially guaranteed to go in the first round of the First-Year Player Draft, but where he would end up was anyone's guess.
When Commissioner Bud Selig stepped to the podium and announced the Blue Jays had taken him with the ninth overall pick, Hoffman couldn't help but feel a little sense of irony at the way his day unfolded.
"It was something that I had hoped I would be part of that organization, but I didn't know for sure yet," Hoffman said. "It was fun and now that I look back on it, it's kind of crazy how all of that went down."
This is the type of partnership that seemed almost impossible a few months ago. Hoffman was projected to go in the Top 3 of the Draft until he tore the ulnar collateral ligament in his right elbow in late April. He underwent Tommy John surgery a couple of weeks later and is expected to miss at least the next 12 months.
That caused his stock to drop and all of a sudden the Blue Jays were in the mix for a pitcher they previously thought would be unavailable. Even though Hoffman was injured, that did little to limit Toronto's interest.
The success rate of Tommy John surgeries has gotten to the point where a torn ligament is no longer considered a career-threatening injury. The Blue Jays took a close look at his medical records, liked what they saw, and decided the overall upside of Hoffman was too good to pass up on.
"We've done a lot of research since his surgery, really poured over the medicals and poured over everything with him," Blue Jays director of amateur scouting Brian Parker said. "We've done a lot of background work and we're comfortable with where everything stands with him.
"We just felt the talent was too good to walk away from. This guy was going go top three, top four picks prior to his injury and we just felt like even with the Tommy John this was a good gamble for us."
It also helped the Blue Jays' comfort level that they heavily scouted Hoffman for the past year and a half. Parker watched Hoffman in the Cape Cod League last summer and again this spring while he was pitching for East Carolina.
In person, the scouts were able to see what all the fuss is about. Hoffman typically pitches in the mid-90s with a fastball that can top out at 98 mph. He complements that with a well-above average curveball and a changeup that many experts already consider to be a plus pitch.
It's the type of skillset that most teams dream about and has led to the belief that he could develop into a frontline starting pitcher.
"First and foremost, I'm a pitcher that is going to pound the fastball in there until the other team proves they can hit it," Hoffman said. "I'm going to pitch heavy with the fastball, I'm going to pitch in with the fastball and once they prove that they can hit that, I'm going to spin the changeup and the offspeed pitches in the zone. When I get those pitches in the zone, any given day, I'm going to be able to compete and win."
The Draft continues on Friday with Rounds 3-10. The MLB.com pregame show begins at 12:30 p.m. ET, with exclusive coverage of Rounds 3-10 beginning at 1 p.m. ET.
By all accounts, Hoffman's surgery under the watchful eye of the renowned Dr. James Andrews was a success. There's a long road ahead, but he recently began riding a stationary bike and the rehab is officially underway. Hoffman won't be able to pitch until next season, but for this type of talent, the Blue Jays were more than willing to remain patient.
Prior to the injury, Hoffman went 3-3 with a 2.94 ERA for the East Carolina Pirates. He struck out 72 and walked 20 over 67 1/3 innings while limiting opposing batters to a .216 average. Hoffman became the highest draft pick in ECU history for any of the major sports leagues. The previous high was Theodore Edwards, who was taken with the 21st overall pick by the NBA's Utah Jazz in 1989.
"This is an athletic, power, college arm that offers up even more upside once he gets into pro ball," Parker said. "It's a guy we liked coming in, we thought for most of the spring we wouldn't even get a chance to take this player.
"When the injury happened, it was something we jumped on and made sure we did all that we could, researching the medical, getting with the kid, and everything. It's something we're excited about."
The Blue Jays also will have quite a bit of leverage in the upcoming contract negotiations. Hoffman is a college junior and will be motivated to reach an agreement instead of being forced back into the Draft as a senior when he's still working to come back from a lengthy rehab stint.
The recommended slot value for the ninth pick is $3,080,800 and Toronto has an overall bonus pool of $9,458,500 to use in the first 10 rounds. If the Blue Jays can save even a little bit of money early in the Draft, it could then be used on a player who has a lot of upside, but comes with signability concerns in later rounds.
The willingness of early picks to sign has been a hot-button topic in Toronto since 2012. Toronto has been unable to reach an agreement with its top overall selection in two of the past three years. Hoffman was asked about that signability issue Thursday night, and while most draftees tend to remain vague, he didn't seem to hide what his intentions are.
"After the Blue Jays took me I was very excited. I'm looking forward to getting something done and as soon as the Blue Jays are ready, me and my family are going to sit down and we're going to try and get something done as soon as possible," Hoffman said.
Gregor Chisholm is a reporter for MLB.com. Read his blog, North of the Border, and follow him on Twitter @gregorMLB. This story was not subject to the approval of Major League Baseball or its clubs.