Braves select outfielder Davidson with 32nd pick
Power-hitting 17-year-old noted for 500-foot homer at Tournament of Stars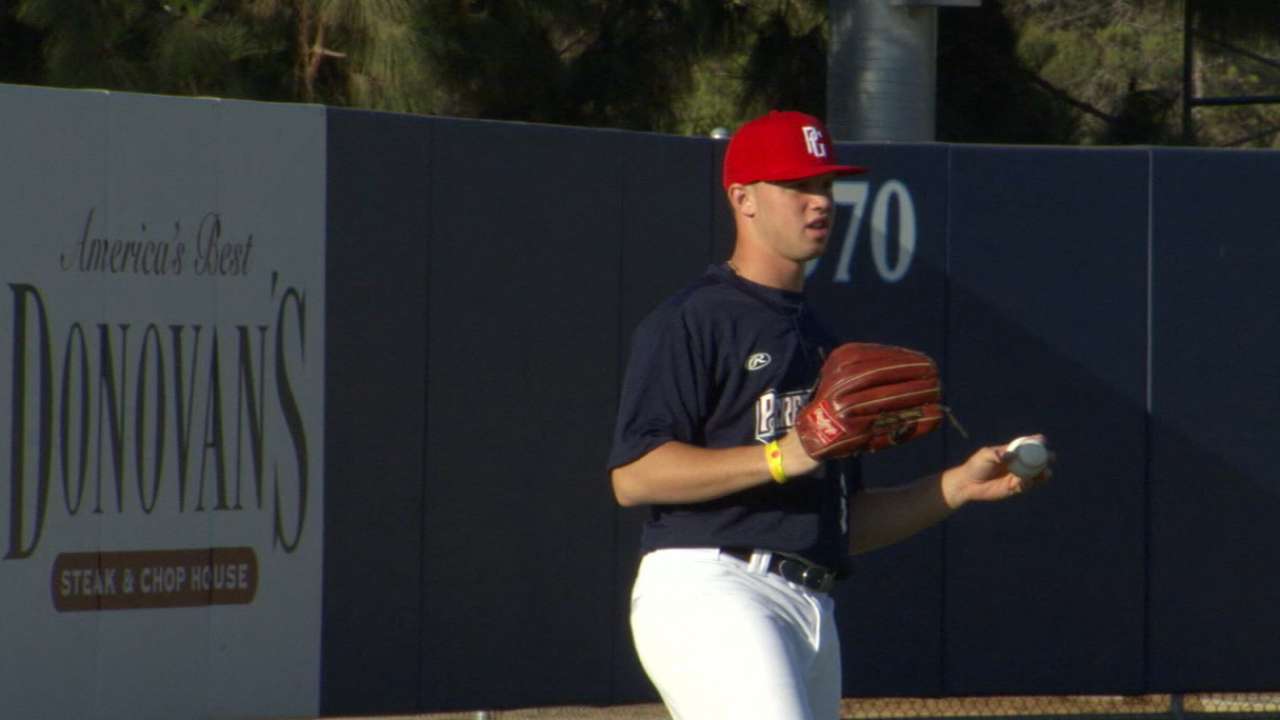 ATLANTA -- As the Braves evaluated this year's pitching-heavy First-Year Player Draft, they understood the importance of taking advantage of the opportunity to select any of the attractive position players early.
Thus, when it came time for them to take their first pick on Thursday night, they opted to use the 32nd overall selection on Braxton Davidson, a 17-year-old left-handed, power-hitting outfielder from North Carolina's T.C. Roberson High School.
"To be able to get a power hitter where we were picking, especially a real young one, we were real happy with that," Braves director of scouting Tony DeMacio said. "He's got easy power and a great swing."
Davidson received the news while hosting nearly 215 people for a Draft party at the Hickory Tavern, located near his home in Asheville, N.C. Less than two weeks ago, he had made the three-hour drive to Atlanta to watch the Braves wrap up their three-game series against the Rockies.
"When I was growing up, my dad and I would watch the Braves every chance we got," Davidson said. "I could name everyone's name and position. So I was a pretty big Braves fans at the time. And my little brother [Caden] is a huge Braves fan. So I think he is even happier than me."
During the party, Davidson received a call from Braves scout Billy Best, who simply wanted to know if he was willing to sign for the slot money ($1.705 million) that went with the 32nd overall selection.
Once this confirmation was made, he returned to the group with a bright smile and told his guests to watch for the announcement, which was made just a few moments later.
Before Davidson, who turns 18 on June 18, signs his first professional contract, he will enjoy his high school graduation next weekend.
"I'm just really blessed and thankful to be a part of the Braves," Davidson said. "I just can't thank them enough. I'm speechless right now, knowing that I'm going to be part of their fantastic tradition."
The Braves lost the 24th overall selection when they signed Ervin Santana in March and gained the 32nd selection in compensation for losing Brian McCann to the Yankees via free agency.
Davidson becomes the first position player to be selected with Atlanta's first pick since Matt Lipka was taken with the 33rd selection in 2010. The Braves had taken pitchers with their first selection in five of the previous six Drafts.
As the first round developed, the Braves saw Michael Chavis, the top position player on their wish list, go to the Red Sox with the 26th selection. They were then set to select right-handed pitcher Luis Ortiz before he was selected by the Rangers with the 30th pick.
But there did not seem to be any disappointment when they still had the chance to take Davidson. Along with displaying power potential, he impressed scouts with his willingness to take walks, much like Jason Heyward did when opposing pitchers chose not to pitch to him during his high school career.
"I think we have a young man with great makeup," DeMacio said. "His work ethics are excellent. He's very mature. He's very grounded. He knows he has ability, but he knows he'll have to work to get to the next level and the next level."
Davidson displayed his power potential when he hit a record three home runs, including one that is said to have traveled an estimated 500 feet, during the Tournament of Stars showcase last summer. But over the past couple of years, he has focused on becoming a more complete offensive player by hitting the ball to the opposite field.
In addition, the 6-foot-2 Davidson spent his senior year staying away from fast food, soft drinks, mayonnaise and some of the other foods he had routinely consumed when he weighed 230 pounds last year. Consequently, he now has a more athletic 210-pound frame that should prove beneficial as he prepares to serve as a left fielder during his professional career.
"I really wanted to show people I could be more than just a power hitter," Davidson said. "So my dad and I worked on hitting the ball the other way, trusting my hands and being more of a 'see the ball and hit the ball' kind of hitter. I'm really proud that I became more of a hitter than a power hitter."
As Davidson prepared for Thursday's Draft proceedings, he received a call from Padres outfielder Cameron Maybin, a family friend who has been like an older brother to the Braves' newest first selection.
Nine years ago, Davidson attended a Draft party for Maybin, who was selected by the Tigers with the 10th overall selection. At the time, the wide-eyed eight-year-old kid did not know he would one day enjoy a similar celebration.
"I wanted to be like Cameron, but I wasn't thinking about the big leagues," Davidson said.
After taking Davidson, the Braves took right-handed pitcher Garrett Fulenchek with their second round selection. The Draft continues on Friday with Rounds 3-10. The MLB.com pregame show begins at 12:30 p.m. ET, with exclusive coverage of Rounds 3-10 beginning at 1.
Mark Bowman is a reporter for MLB.com. This story was not subject to the approval of Major League Baseball or its clubs.