Shortstop Turner goes to Padres at No. 13
With 26 stolen bases this season, N.C. State standout projects as leadoff hitter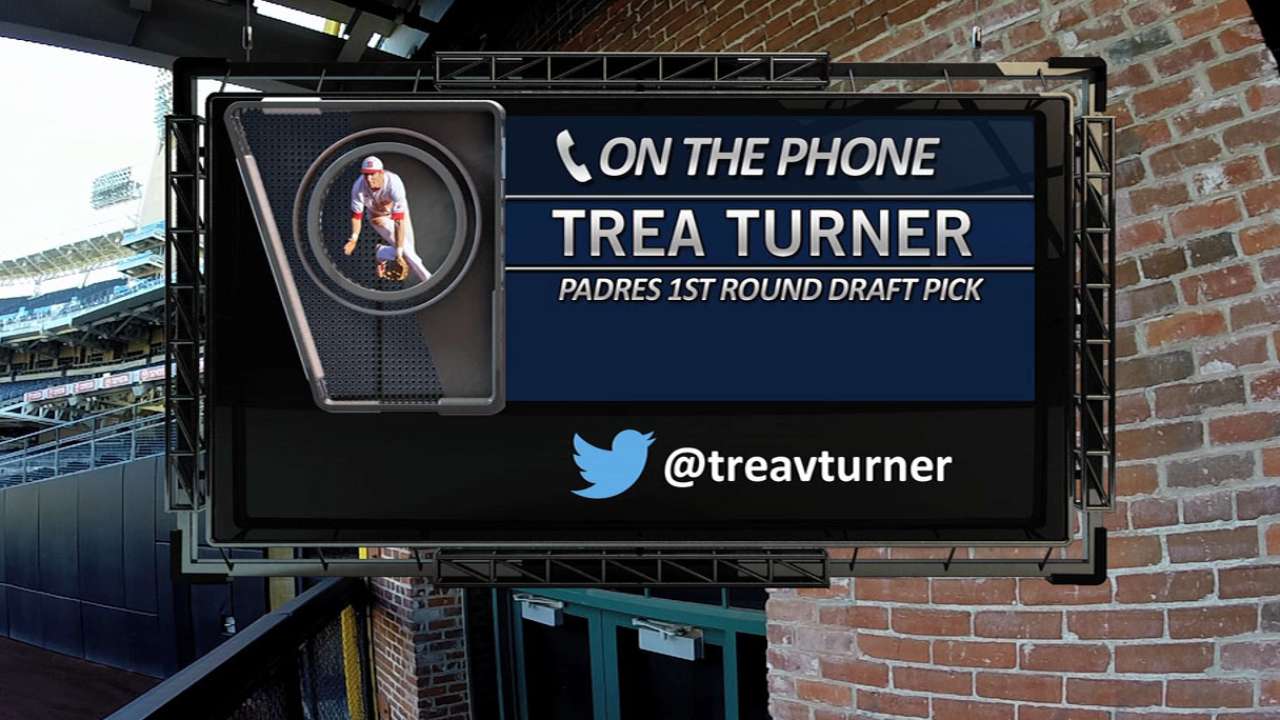 SAN DIEGO -- The Padres picked North Carolina State shortstop Trea Turner with the No. 13 overall selection in Thursday's First-Year Player Draft.
Turner hit .321 for the Wolfpack this spring, rebounding after a slow start offensively. He hit eight home runs, though he offers more of a line-drive stroke.
Turner has plus-speed and finished with 26 stolen bases in 30 attempts. With continued refinement of his offensive game, he could eventually become a leadoff hitter, according to scouts.
As a freshman in 2012, Turner led the nation in steals (57). But he's more than a burner, the Padres feel.
"We think Trea Turner's hit tool is more advanced than people give him credit for," said Padres scouting director Billy Gasparino.
Turner was 5-foot-4 as a freshman in high school and was cut from travel ball teams early on. He didn't let that deter him, though. Today, he's 6-foot-1 and he thinks he's still filling out -- and that his best is still to come.
"I don't want to be a slap hitter, but be a dangerous hitter in the lineup and want people to come right at me," Turner said.
San Diego first-year scout Tyler Stubblefield recommended Turner -- even if he thought for a while there was no way he'd get to the Padres' first pick at 13.
"I saw him four times early. You don't know how things are going to shake up and I didn't think we were going to get him. But some things went our ways. I saw him six or seven times late ... and had a lot of at-bats with him," Stubblefield said.
"I was impressed how he handled himself around people, how he carried himself."
Stubblefield, who covers east Georgia and North and South Carolina for the Padres, didn't see a single other player who impressed him the way Turner did.
"It's not every day you show up to a ballpark and someone excites you," Stubblefield said. "I had my first taste of excitement when I saw Trea. It was everything he did. It is a pleasure to watch him do what he does. I didn't get that feeling with anyone else in my territory."
Coming into this Draft, the Padres were thought to be leaning toward taking a position player at No. 13 -- and likely a college position player.
The Padres went into the first round thinking there was a good chance Turner wouldn't get to them at No. 13. Or, for that matter, second-round pick, Georgia prep outfielder Michael Gettys, with the No. 51 overall selection.
"We were really quite surprised with [getting] both of those guys," Gasparino said. "I thought there was a chance Turner might get there [No. 13], but I thought there was little chance Gettys would get there [No. 51]. We're really happy to have both."
Turner sounded optimistic about signing, saying "I want to play baseball ... if that's a week or a month, that's not under my control. I don't want to sit around all summer. I didn't get drafted to sit out. I got drafted to play."
If and when Turner signs, he'll head to the team's Spring Training facility in Arizona for a few days and then head to short-season Eugene of the Northwest League. The Emeralds begin play on June 13.
The Draft will continue Friday with Rounds 3-10. The MLB.com pregame show begins at 9:30 a.m. PT, with exclusive coverage of Rounds 3-10 beginning at 10.
A year ago, the Padres went heavy on bats early, as six of their first eight picks were position players. Gasparino said late Thursday that there are still a lot of arms left available in the Draft.
The Padres are hopeful their top pick a year ago, outfielder Hunter Renfroe, and Turner can advance to the big leagues and have an impact there. Renfroe has 15 home runs in the California League and will likely be promoted to Double-A San Antonio this month.
The Padres, to be sure, are ready to see some returns on their first-round picks.
The Padres haven't had a lot of success in the last decade with their first-round picks, missing on the No. 1 overall pick in 2004 (Matt Bush) and the No. 3 overall pick in 2009, outfielder Donavan Tate. The team also didn't sign its first-round pick in 2010, high schooler Karsten Whitson.
Corey Brock is a reporter for MLB.com. Keep track of @FollowThePadres on Twitter. This story was not subject to the approval of Major League Baseball or its clubs.