Piazza, Jenkins proved first round isn't everything
Former All-Star catcher went in 62nd round; HOF pitcher joined league before Draft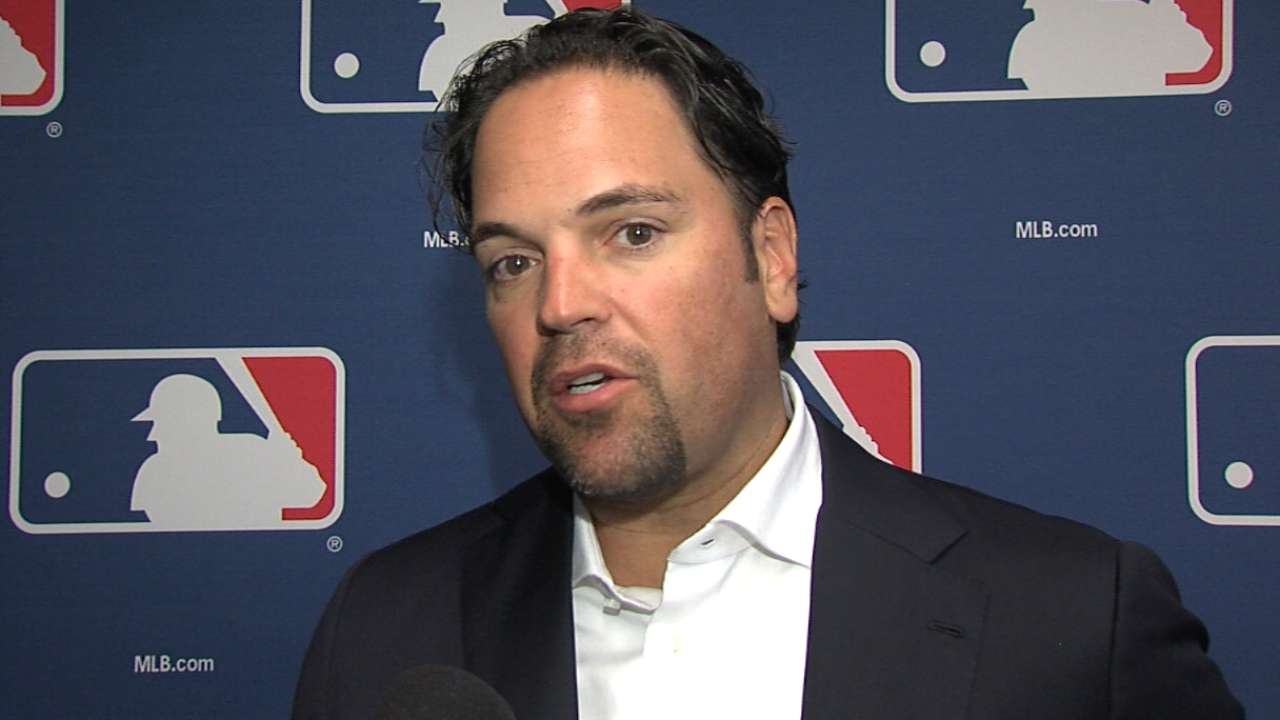 NEW YORK -- He is one of the best-hitting catchers in baseball history and a top-of-the-list Hall of Fame candidate.
But Mike Piazza doesn't know what it's like.
He's a 284-game winner who was enshrined in Cooperstown in 1991.
But Fergie Jenkins never had the experience, either.
Major League Baseball conducted its annual First-Year Player Draft on Thursday night at the MLB Network studios in Secaucus. Thirty-four young players had the distinction of being selected in the first round. It's a sign that scouts believe they have great futures.
As Piazza and Jenkins can attest, though, it's not a prerequisite for success. Piazza wasn't taken until the 62nd round of the 1988 Draft -- an afterthought, a favor-to-a-friend-of-the-family pick. Jenkins signed out of high school in 1962; the Draft hadn't even been instituted then.
Both were club representatives on Thursday night, Piazza for the Mets and Jenkins for the Cubs. Earlier in the day, at a luncheon at MLB's New York headquarters, Piazza and Jenkins talked about how their experiences differed from what this year's crop of top prospects will face.
Piazza said he would tell each player to remember that this is just the first step in what will be, hopefully, a long journey.
"The true litmus test of this game for being a great player is longevity," he said. "You're not talking about one Draft, one bonus, one year, one trophy. It's over the course of a lifetime and a career. So I hope and pray for these guys that they figure out that a 162-game season over 10 years is a lot of games. And that's what you need to prepare your mind for."
Piazza said that he used his low Draft status to help drive him, and added that he wasn't sure how his career path might have changed had he been a first-rounder.
"That's a good question. I never thought much about it. I used it as a chip, so to speak -- a motivating force. These guys, the first-round picks, there's going to be a lot of pressure on them because of the fact they get the bonuses. For me, I would like to believe that I had the internal fortitude that I would have been able to refocus and realize that now I had to play to prove my worth," he said.
"I tell these guys all the time: 'Some guys play out of fear. Some guys play out of anger. Some guys play out of envy. Whatever it is, you have to channel that and use it. Anything you can use to get the most production from your body and your tools, use it.'"
The challenges of Thursday's first-round picks will differ from those Piazza faced.
"For them, the stakes are a little different. There's going to be a lot of pressure on them. They're going to get a lot more money than I did. But it's good. I think they need to know that they should celebrate the day and be happy and enjoy it, but realize that there's much work ahead," he said.
"I'm very happy for them. As a human being, as a player, at this point of my life, you really have to embrace the fact that even though the stakes have changed, it's still a day of hope and a day of celebration. And, hopefully, the first step of many steps in their career."
Piazza remembers that he was thrilled just to have been drafted at all.
"Oh, it's an honor. I don't care what round you're drafted in. It was an honor for me and I looked at it that way. I was proud and I was optimistic. For me, I was just looking for that opportunity. And even though I wasn't first round, I knew that I had a chance. I was going to get a uniform," he said.
"They were like: 'Here's a uniform, go out and play.' I was given the opportunity and I was able to crack the door. I was able to sneak in and make the most of my opportunity. Fortunately for me, I had a lot of good people helping me. I had a lot of good coaching. Obviously, I had to take the initiative myself and do the work, but it's a collaborative thing. It's like raising a child. You have to rear him up, and hopefully he takes off and starts crawling and then walking and then running."
Even if there had been a Draft, Jenkins is a Canadian citizen and could have signed with the team of his choice.
"There were only like five teams that were really looking at me: Pittsburgh, Boston, Detroit, Cleveland and the Phillies," he remembered. "They came to my house several times and talked to my dad. I was 17 years old and I hadn't graduated high school yet. They said, 'When you graduate and on your 18th birthday, we will be back.' And that was it. I ended up signing with the Phillies."
The major reason he chose Philadelphia was that the area scout had taken a personal interest in him.
"He really taught me how to pitch. I didn't know anything about pitching. I was a first baseman. So within two-and-a-half years of going down to the local gymnasium and throwing, and throwing every Tuesday and Thursday night, I really enjoyed the position. So I ended up signing with the Phillies," Jenkins said.
"When I signed, I went to Williamsport, Pennsylvania, for a small Spring Training. It was 'A' ball. The manager was Frank Lucchesi, and he wanted to keep me, but the Phillies sent me to Class D ball in Miami.
"Andy Seminick was the manager. It's a funny thing when you look back at it. The roster was 30 players, but they only dressed 22, so I'm sitting in the stands for the first week. And I knew I could play as well as the young guys on the field, but I didn't get a chance until he said, 'Jenkins, you're going to get your turn. You have uniform No. 25.' And I never gave it back."
Paul Hagen is a reporter for MLB.com. This story was not subject to the approval of Major League Baseball or its clubs.