Brown homers in callup, but Mets fall to Cubs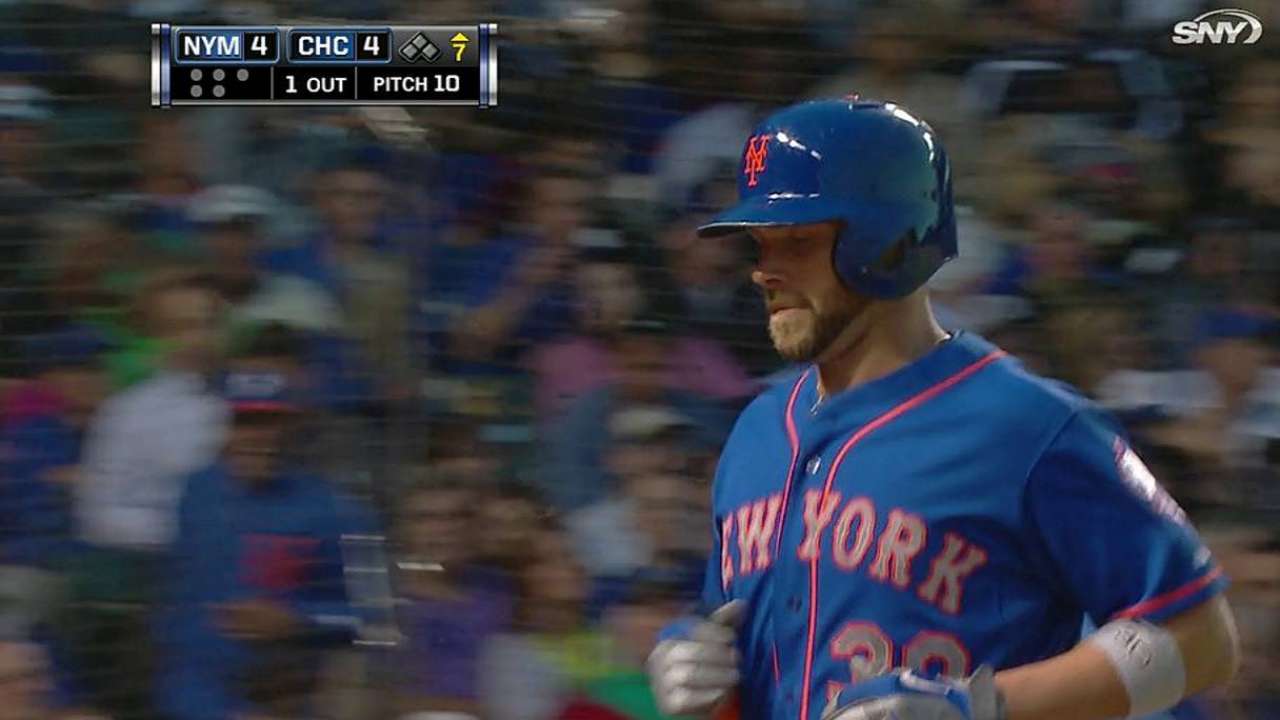 CHICAGO -- The Mets battled back to tie the score in the seventh, momentarily erasing some of the frustration from missed opportunities and some bad luck earlier. In the end it wasn't enough, and they were swept by the Cubs with a 7-4 loss on Thursday night at Wrigley Field.
The Mets came to Chicago on a high note after taking four of five from the Phillies, but the good vibes from that stretch didn't last. The offense was their biggest impediment: For the third straight game, the Mets left double-digit men on base and struggled with runners in scoring position.
"The sky falls in here, but heck, if we keep getting guys on base, we're going to drive some runs in," manager Terry Collins said. "What you end up doing is panicking and not getting anybody on, and then you don't have any chance to score. So we'll plug forward. [We] came in here on a high note but just couldn't get it done here."
After going 2-for-13 with runners in scoring position on Thursday, the Mets finished 4-for-30 in those situations and left 31 on base over the three-game series.
Much of the focus postgame was on the struggles of catcher Travis d'Arnaud, who stranded five, came up empty in a pair of run-scoring situations and was lifted for a pinch-hitter in the eighth. His 0-for-3 showing dropped his average to .184.
But Collins won't rush to judgment on the highly touted prospect, who arrived in the big leagues with much fanfare but has yet to reach 250 at-bats in the Majors.
"When you get to the big leagues and you have a huge buildup and you go through a rough time, everybody's like, 'How come? What's wrong?' And it's nothing more than trying to battle through some tough times," Collins said. "He's got 120 at-bats; it's not like he has 400. He's trying to learn how to hit here. You've got to show some patience, a little bit."
d'Arnaud offered the same assessment of his offense.
"I feel good. I'm just missing balls, just popping them straight up instead of driving them," d'Arnaud said. "I've just got to stay on top of it a little more. That's it."
The Mets started their comeback bid in the sixth, when they cut the lead in half on Ruben Tejada's RBI single and Chris Young's two-out bloop single to center. Andrew Brown, who was called up on Wednesday night, pulled the Mets even at 4 in the top of the seventh with a two-run homer off Cubs righty Justin Grimm.
Chicago took a one-run lead on Anthony Rizzo's solo shot in the bottom half and put away the game on Junior Lake's two-run triple in the eighth.
The first five innings for the Mets' offense, though, showed why their run-production numbers on Thursday night were somewhat misleading.
Wilmer Flores was a victim of bad luck in back-to-back at-bats, both with men on base. With two on and nobody out in the second, he lined a ball up the middle that Cubs starter Travis Wood deflected to start a 1-6-3 double play. In the fourth, with a man on base, he crushed a liner to left that missed being a homer by mere inches, resulting in a double.
"Look at the ball that Flores hit. That ball was a base hit up the middle, goes off a glove and right to the shortstop who's covering the bag," Collins said. "That's part of the game. The other night, we hit five or six balls on the button here, they caught them. That's part of the game."
But perhaps the biggest play of the game came in the bottom of the second. With runners on the corners, Eli Whiteside lifted a fly ball to left field. Luis Valbuena tagged from third and was called out on a bang-bang play thanks to a laser throw by Brown. But after a challenge by Cubs manager Rick Renteria, the call was overturned and the run scored.
Wood sent the next pitch from Jacob deGrom into the left-field bleachers for a two-run homer and a three-run Cubs lead. And, as Collins noted, deGrom might have also avoided facing Wood had the Mets turned a double play on Darwin Barney's fielder's choice, which preceded Whiteside's sac fly.
deGrom allowed four earned runs on five hits in five innings, snapping his streak of at least six innings pitched while allowing no more than three earned runs through his first four Major League starts. /p>
"You know, my stuff was good, I just struggled with command," deGrom said. "I fell behind a lot of people, had to pitch to them. That's pretty much sums it up."
The Mets began the day one of five National League teams with a winning record on the road, but dropped to 15-15 away from Citi Field with the loss. It doesn't get any easier the rest of the trip, starting with a three-game set in San Francisco against the winningest team in baseball.
"They're trying to beat you just as much as you're trying to beat them," Collins said of losing three straight to the Cubs. "Once in a while they play good, you don't play good, you're going get your [behind] kicked.
"That's the way it is. That's just the way it is around here."
Joe Popely is an associate reporter for mlb.com. This story was not subject to the approval of Major League Baseball or its clubs.