Cards draft FSU righty Weaver with first pick
Pitcher one of four right-handers selected by Cardinals, thrilled to land with Redbirds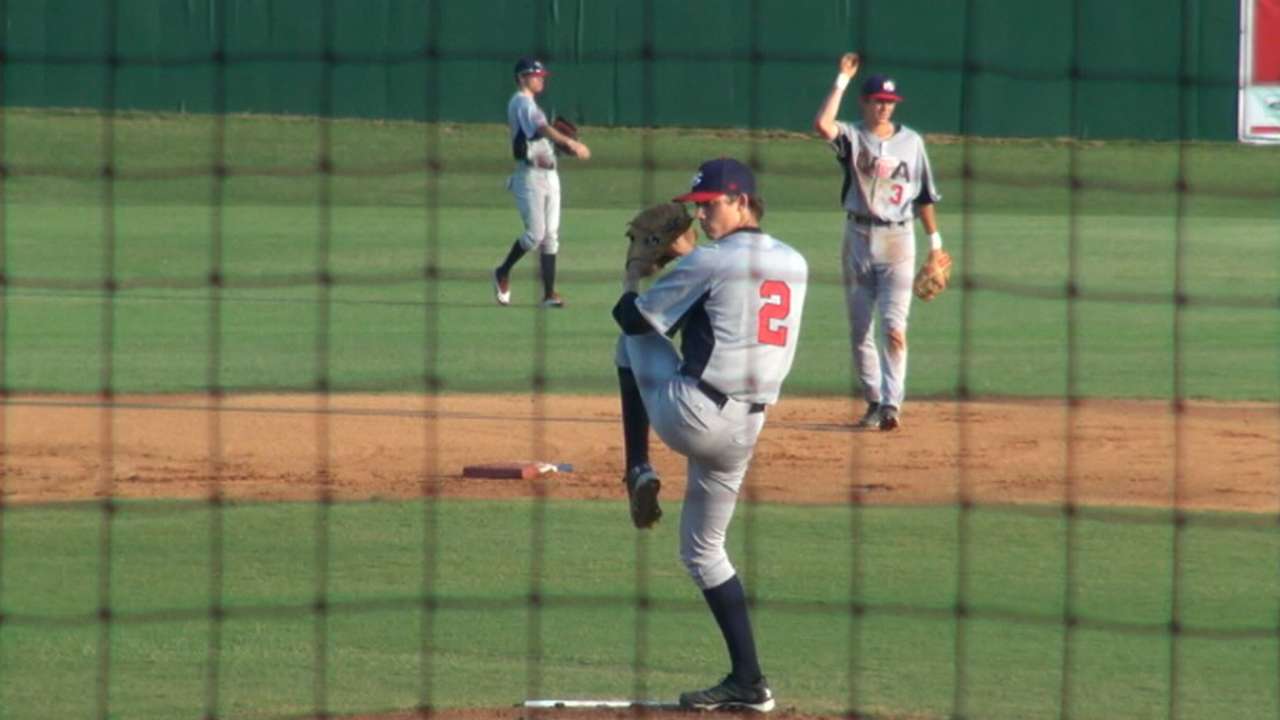 ST. LOUIS -- Luke Weaver had just celebrated his selection as the 27th overall pick in the 2014 First-Year Player Draft alongside family and friends when one among his company spotted the stained-glass frame perched in a nearby window.
Green ivy outlined the glass, which featured a red cardinal in center. Weaver hoisted it up in a flash of euphoria, the spur-of-the-moment gesture captured on video and subsequently dispersed through social media by a Florida State teammate. How fitting, as Weaver later told reporters on a conference call, that he had been hoping to land with the Cardinals.
"It was a weird coincidence and just seemed like it was meant to be, showing up in the window there," Weaver said of the glass frame. "It was a cool thing to have in that moment, hold it and show it off."
Weaver was the first of four right-handed pitchers the Cardinals selected on Day 1 of the three-day Draft. His selection also continued a trend, with the organization having selected advanced college pitchers -- Michael Wacha in 2012, Marco Gonzales in 2013 and now Weaver -- in the three Drafts under scouting director Dan Kantrovitz.
This time, the Cardinals went south to Florida State University to find that top pick.
"We targeted Weaver as one of the eight or so college players that we really liked and hoped would be available to us," Kantrovitz said. "Unlike some of the guys in the past years, it wasn't a total surprise that he was there [at No. 27], but it didn't take away from our excitement that he was. We were talking about his name nonstop for the hour before we took him in the hopes that he would be there."
That anticipation was shared by Weaver, a 6-foot-1, 170-pound pitcher who went 8-4 with a 2.62 ERA in 16 starts for the Seminoles this season.
"Believe it or not, this is the team that was No. 1 in my book," Weaver said. "I was sitting there dreaming for it to happen, and it happening is just a dream come true. And having my family and friends and support, man, my heart dropped to the ground. I was just so excited. This is something I'll never forget."
Kantrovitz hinted at the expectation of Weaver signing fairly quickly, though the Cardinals don't feel a need to overexpose him in the Minors this summer. Weaver has already thrown 106 1/3 innings this season. He struck out 85 and walked 23.
He was previously selected by the Blue Jays in the 19th round of the 2011 Draft. He opted to attend college instead of signing with Toronto, and that decision will pay off financially. The 27th overall pick comes with a bonus slot value of $1.843 million.
He is advised by Creative Artists Agency, the same group that has Wacha as a client. Through his agent and former teammate James Ramsey, a Cardinals first-rounder in 2012, Weaver said he has heard glowing things about the organization.
"He actually sent me a text and was so pumped for me," Weaver said of Ramsey.
In scouting Weaver, the Cardinals clocked his fastball velocity as high as 96 mph, though it sat consistently between 89-92 mph, Kantrovitz said. Weaver also features an above-average changeup -- another commonality with Wacha and Gonzales -- and has a breaking pitch.
"It's tough to have a good changeup as an amateur," Kantrovitz said. "You don't often see it, particularly at the high school level, but also at the college level. When we see a pitcher that has what we deem a plus changeup and then also has a solid breaking ball to go with it, we don't see too many things that a pitcher needs to add to his arsenal to be successful in pro ball."
After making six starts as a freshman at Florida State, Weaver had a breakout year for the Seminoles as a sophomore in 2013. He made 15 starts (17 appearances) for the Seminoles that season, posting a 7-2 record and 2.28 ERA in 98 1/3 innings. His 10.89 strikeouts-per-nine innings ranked 11th-best in the nation.
Weaver closed that season by earning Most Outstanding Player honors in the Tallahassee Regional after pitching Florida State to a shutout win over Troy (Ala.) while striking out 14 and allowing four hits in eight innings.
His final collegiate appearance this season came on Saturday, when Weaver suffered a loss to the University of Alabama. Weaver allowed three runs (one earned) on five hits and one walk in five innings as the Seminoles were knocked out of their regional.
"I had to pick up a bigger workload and go deeper into the game," Weaver said of his season. "Though the statistics aren't as pretty as the sophomore season and where I would have liked to have been at, I don't regret anything. It's made me more of an all-around better pitcher, and [I learned to] work to both sides of the plate. It's made me more into a mature human being and pitcher."
This was the latest the Cardinals have had to wait for their first Draft selection since 2006, when they chose Adam Ottavino with the 30th overall selection.
The Draft will continue on Friday with Rounds 3-10. The MLB.com pregame show begins at 11:30 a.m. CT, with exclusive coverage of Rounds 3-10 beginning at noon. The final 30 rounds will then take place on Saturday.
Jenifer Langosch is a reporter for MLB.com. Read her blog, By Gosh, It's Langosch, and follow her on Twitter @LangoschMLB. This story was not subject to the approval of Major League Baseball or its clubs.