Wacha cruises then crumbles as Cardinals fall
Club builds two-run lead before succumbing to three-run sixth inning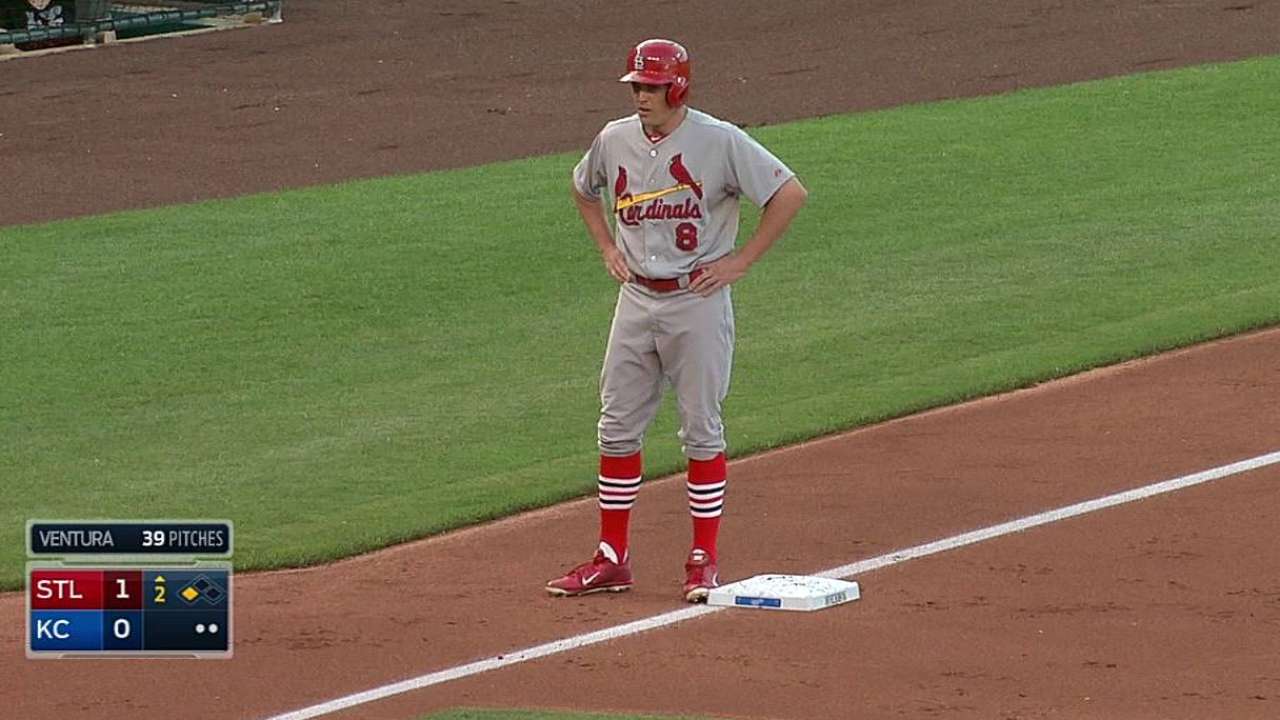 KANSAS CITY -- With a two-run lead and Michael Wacha on the mound, the Cardinals were right where they wanted to be heading to the sixth inning on Thursday night. But when that nightmarish inning for St. Louis had concluded, the Cardinals were right where they didn't want to be.
The Royals wiped out a two-run deficit with a five-hit, three-run rally against Wacha in the sixth, and Salvador Perez delivered what proved to be the game-winner with an RBI single up the middle which snapped a tie. That set the stage for Kansas City's bullpen to do its thing in preserving a 3-2 Royals victory at Kauffman Stadium in the I-70 Series finale.
Falling behind the Royals in the late innings is risky business these days, with Wade Davis and Greg Holland emerging as a dynamic one-two pitching punch for the eighth and ninth. Throw in a clean seventh inning delivered by lefty Francisley Bueno and it left the Cardinals bemoaning that one bad inning that did them in.
"We just hit a wall [in the sixth] and weren't able to get enough offense back after that point," Cardinals manager Mike Matheny said. "All of a sudden, they were putting the ball in play hard, and we couldn't get it hit at somebody."
So, instead of a road-dominated split with their Interstate 70 rivals in a four-game set that covered both venues, the Cardinals headed on to Toronto having lost three of four to the Royals this week. Nobody will care about Missouri state bragging rights in October. But for one week in early June, it stung.
"I think we all know we aren't playing to our potential," Wacha said after the reigning National League champions fell to 31-30. "We just keep grinding, and we come to the park each day trying to get better. I think the results will change, for sure."
The Cardinals pecked away early with a run in the second and another in the fourth, courtesy of Peter Bourjos' RBI triple and an RBI single by Matt Carpenter off Royals starter Yordano Ventura. Wacha had good fortune with a couple of line-drive outs and worked around a leadoff double in the fifth.
But it all went haywire for Wacha in the sixth.
"I just didn't have the command I needed to get out of that sixth inning," Wacha said.
Alcides Escobar opened the sixth with a scorching double to left, and Nori Aoki followed with an RBI double just inside the left-field line. Omar Infante advanced Aoki with a groundout, and a run-scoring single by Eric Hosmer tied the game. Wacha got Billy Butler on a fly ball, but Alex Gordon blooped a single to center, and Perez followed with his RBI ground ball that found a hole up the middle and drove home what proved to be the winning run.
For the first time since May 20, 2011, the Royals beat their in-state rivals at their own stadium.
"It's such a fun series every year, because of the rivalry and the I-70 Series," Hosmer said. "I know it has been awhile since we beat these guys at home. So, to get the win here and beat these guys for the series was real big for this team."
The Cardinals had a chance against Holland in the ninth, when Oscar Taveras led off with an infield hit. He was initially ruled out on a close play at first before umpires opted to review the play, and the call was overturned. Matheny had already lost a challenge earlier in the game, when Yadier Molina was called out trying to stretch a single into a double and replay ruled the call to stand.
Taveras advanced on a wild pitch as Jhonny Peralta struck out. Holland revved it up to strike out Jay and then Bourjos to end the game.
Davis hasn't allowed a run in his last 14 appearances, and Holland has converted 57 of 59 save opportunities dating back to last season.
"When you start getting to the back end of that bullpen, the numbers don't lie," Matheny said. "These guys have been shutting the door."
Robert Falkoff is a contributor to MLB.com. This story was not subject to the approval of Major League Baseball or its clubs.