Royals rise late to claim I-70 Series vs. Cardinals
KC earns first home win vs. St. Louis since '11 after three-run sixth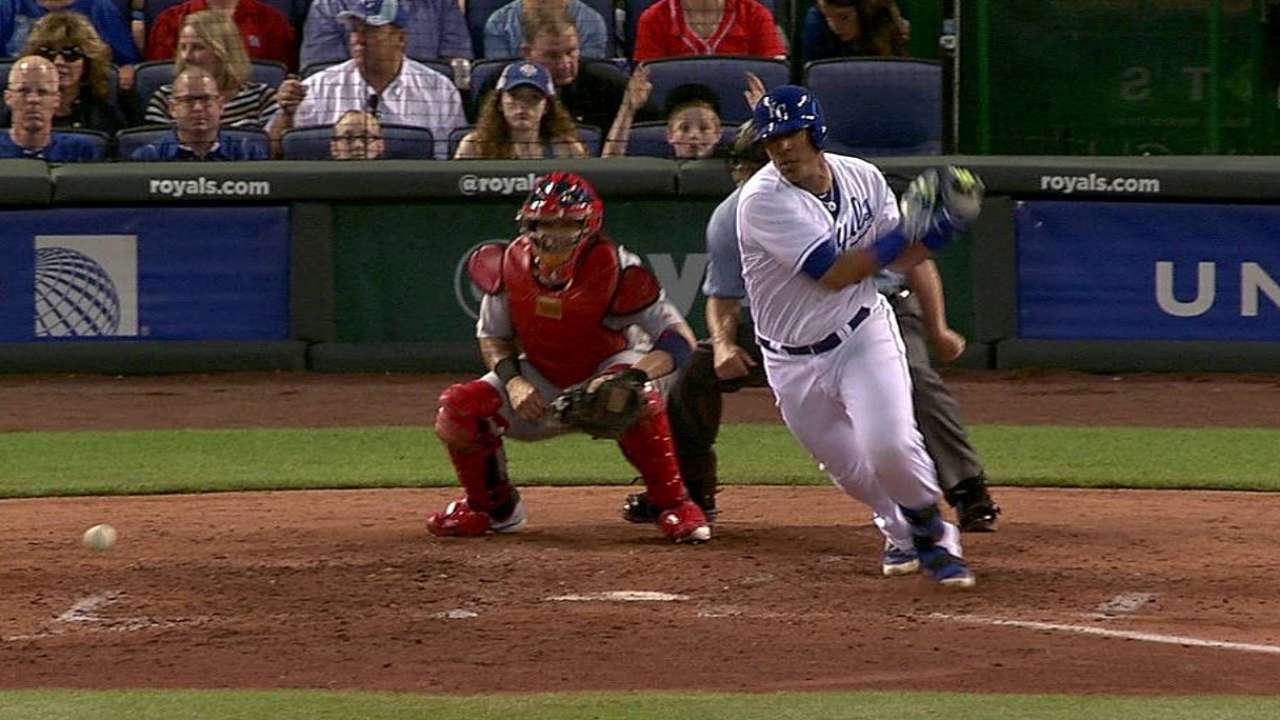 KANSAS CITY -- It only took a few swings of the bat, and a couple of well-placed hits, for five innings of pent-up frustration to evaporate.
The Royals used a three-run sixth inning to reverse a two-run deficit in Kansas City's 3-2 win over the Cardinals on Thursday night at Kauffman Stadium.
For the first time since May 20, 2011, the Royals beat their in-state rivals at their own stadium.
"It's such a fun series every year, because of the rivalry and the I-70 Series," Royals first baseman Eric Hosmer said. "I know it's been a while since we beat these guys at home, so to get the win here and beat them for the series was real big for this team."
Kansas City claimed the four-game I-70 Series, three games to one. Despite still sitting in a tie for last place in the American League Central, the Royals closed the gap between themselves and the first-place Tigers from 6 1/2 games to four.
"We just focus on one priority: winning a ballgame today," Royals manager Ned Yost said. "But your secondary priority is winning the series. That's important. You'll take a split in a series, but you don't pick up ground when you take splits."
Salvador Perez delivered the dagger with a comebacker off St. Louis starter Michael Wacha that slipped into center field and scored Hosmer to put the Royals up for good.
Three batters earlier, Hosmer snuck a single past a pulled in Cardinals' defense to tie the game at 2.
Rookie sensation Yordano Ventura was encouraging in his return from a disastrous start last time out against the Astros on May 26, when he exited with an elbow injury.
Ventura's velocity returned after a troubling decrease in his last start. His fastball sat in the mid-to-upper-90s, with Kauffman Stadium's gun recording a 100 mph heater as late as the fourth inning.
His electric fastball did not culminate in the usual results, however, as he recorded a career-low one strikeout and yielded seven hits. But only two runs crossed on his watch, and he threw six innings with a fairly economical 91 pitches.
"He looked fine, threw the ball well, had good velocity on his fastball," Yost said. "He settled down, got us through six innings. I really thought about sending him back out in the seventh, but 91 pitches, I didn't really want to take him much over 100."
Kansas City finally provided Ventura with support in his last inning.
Back-to-back doubles by Alcides Escobar and Nori Aoki to start the sixth pulled the Royals within a run. Hosmer followed two batters later with his RBI single, then Perez delivered the game-winning hit off Wacha, who had allowed just two hits in the previous five innings.
The Royals couldn't find a hole during that span, and the frustration was evident.
It could be seen on the face of Mike Moustakas twice: first when his screaming liner was snared by first baseman Allen Craig for an easy double play; then in the second, when his drive to center stranded two runners in scoring position.
"Poor Moose, he just smoked the ball his first at-bat. He hit it so hard I didn't know where he hit it," Yost said. "I couldn't turn fast enough. He hit it, and I heard it slap the glove. That's how hard he hit it."
Hosmer showed it with an emphatic shout when he battled Wacha for nine pitches in the fourth inning, only to be robbed by Wacha on a hot-shot back up the middle.
The Royals' bullpen cleaned up the final three innings, with Francisley Bueno tossing a scoreless seventh, then Wade Davis and Greg Holland again dazzling in their respective roles.
Yost was particularly impressed with Bueno's inning.
"That was a huge thing right there -- that was huge to be able to get through the seventh inning and get to Wade and Holly," Yost said.
Davis was perfect in the eighth inning, and Holland first gave up a leadoff single to Oscar Taveras, who was initially called out on a close play before the umpires opted to review and overturn the call. Cardinals manager Mike Matheny had already lost his challenge earlier in the game, when Yadier Molina was called out trying to stretch a single into a double and replay ruled the call to stand.
But Holland calmly proceeded to strike out the side and secure his AL-leading 17th save.
"The level of confidence is huge with those two guys," Yost said. "I manage the whole game around that. I try to figure out how I can get to Wade in the eighth and Holly in the ninth."
St. Louis tallied first on an RBI triple by Peter Bourjos in the second. Ventura left a 2-1 fastball over the heart of the plate, and Bourjos split the right-center gap. Jon Jay (single) scored easily, and Bourjos cruised to third without a throw.
Two innings later, Matt Carpenter added to the lead with a two-out RBI single. Jay again captained the rally with a two-out bases-empty single. Bourjos walked, then Carpenter skipped a hard grounder Hosmer's way. He laid out and clipped the ball with his glove, but it trickled behind him far enough for Jay to scamper home.
"Three of the first four innings he would get two outs really, really quick and then trouble would start to develop, and the only damage he gave up were two-out runs," Yost said.
Ventura stood his ground and did not allow a run from that point on.
Jackson Alexander is an associate reporter for MLB.com. This story was not subject to the approval of Major League Baseball or its clubs.